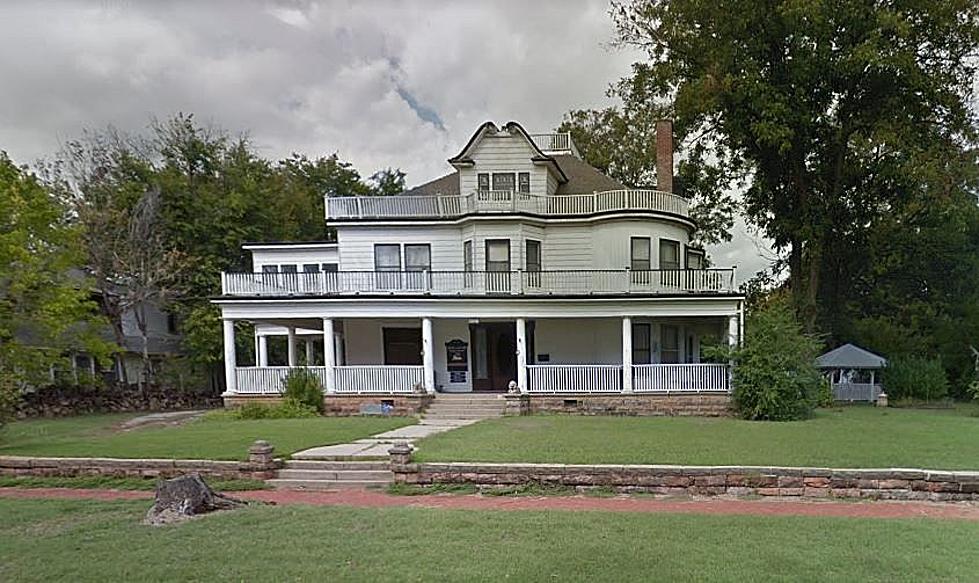 Book a Stay at this Haunted Oklahoma Bed & Breakfast!
Google Maps
If you're feeling a little daring you could always book an overnight stay at this haunted Oklahoma bed and breakfast, the Stone Lion Inn in Guthrie, OK. It's just a short 2-hour drive from Lawton, Fort Sill and it sounds like the perfect paranormal staycation destination. It's one of the most haunted places in the Sooner State.
I've heard all kinds of crazy things about this place and look forward to experiencing it for myself one day. This haunting is very active and includes ghosts, mummies, witchcraft, and all kinds of nightmare fuel. Hit play on the video below for an inside look into the Stone Lion Inn and all the terrifying tales that go with it.
The Stone Lion Inn in Guthrie, OK. is one of the most haunted places in the state!
The Stone Lion Inn is rumored to be the most haunted place in Oklahoma. It was originally built back in 1907 and at one time was used as a funeral home. Today it's a bed and breakfast. That's right you can book a room here and do a little paranormal investigating for yourself. The Stone Lion Inn also hosts murder mysteries!
This place really has it all when it comes to ghost stories and the supernatural. With it only being a short trip from Lawton I have to go some time. If you're interested in the Stone Lion Inn you can visit their official website or their Facebook page for all the details on the bed and breakfast and the murder mystery events.
Top 10 most terrifying towns & scary cities in Oklahoma
While Oklahoma is well known for its beauty and friendly people there are a few places in the Sooner State you'll want to avoid. These are the most terrifying towns and scary cities in the state. It's not that they're bad places, or plagued with crime and other negative factors. The towns and cities below have one single thing in common. They all have active paranormal and supernatural phenomenons. From ghost stories to urban legends and tragic tales. A lot of these places are well known to those who live in Oklahoma and even all over the nation. If you're looking to get scared or do a little ghost hunting you can start with the list below.
Look inside this insane Mansion that's for sale in Oklahoma
Take a tour of this incredible mansion in Mustang, OK. that's for sale. If you have
$3,395,000
you could be the proud new owner of this one-of-a-kind estate. It's located at
12300 S. Highway 4 in Mustang, OK.
It's listed by
Nathan Barta
of
Ken Carpenter Realty
in Mustang, OK. Can you imagine actually living here?
Scroll through all the pictures for a look inside and take a virtual tour of this one-of-a-kind Mustang mansion.
The Dreadful Downtown Hauntings of Lawton, OK.
When it comes to ghost tales and hauntings Lawton, Fort Sill has more than a few scary stories to tell. The most active hauntings and paranormal/supernatural occurrences that have been reported seem to be centered around downtown Lawton. If you've lived here a while I'm sure you've heard a few of these terrifying tales yourself. If not check out the photo gallery below of the dreadful downtown hauntings of Lawton, OK.
The most unusual and beautiful Airbnb rental in Oklahoma
Check out
the Silo at Lake Tenkiller
. It has to be one of the most unusual and beautiful Airbnb rentals in Oklahoma. It's a 3 bedroom, 1.5 bath home located at Lake Tenkiller and yes it's a silo. It can comfortably sleep up to 6 people and comes with all the best creature comforts including a fire pit out back where you can kick back, relax and take in the view. Not only is this one of the most unusual rentals available on Airbnb in Oklahoma it's also one of the highest-rated. It currently boasts a solid 5 out of 5 stars and everyone who has stayed there have been very complimentary about how wonderful it is. This place looks amazing!