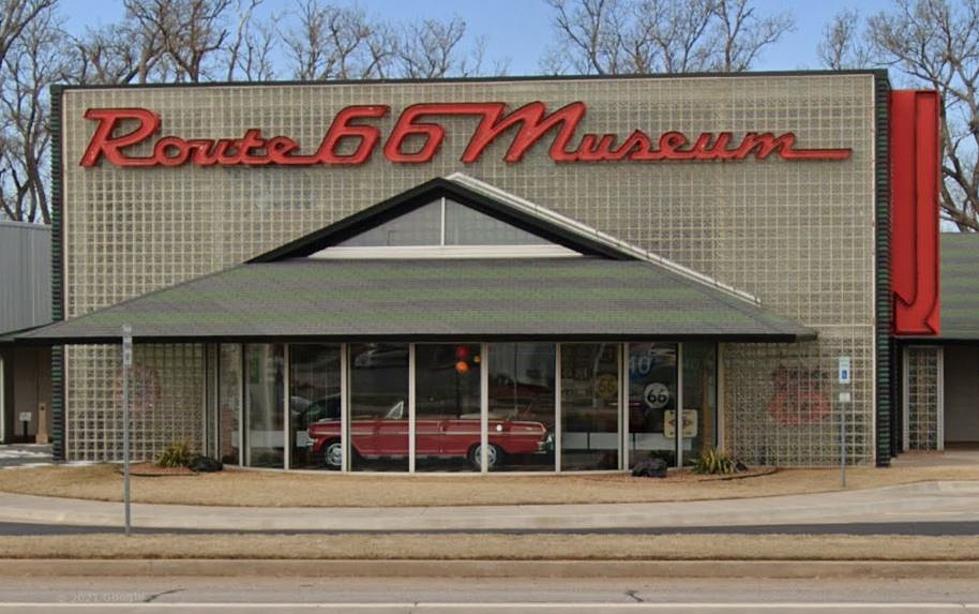 Get Your Kicks at the Route 66 Museum in Clinton, OK.
Google Maps
Oklahoma is home to the longest stretch of the "Mother Road" with a little under 400 miles of Route 66 AKA "Will Rogers Highway" in the Sooner State. While the interstate and other forms of travel have eclipsed the once-popular roadway it still remains iconic and people still enjoy driving and vacationing along Route 66 to this day. There's a ton of history on Route 66 and it's the most known and celebrated roadway in the U.S.
Originally Route 66 ran a total of 2,448 miles and went through several states. Starting in Chicago, Illinois and making its way through Missouri, Kansas, Oklahoma, Texas, New Mexico, Arizona then ending in Santa Monica California. Out of all the states that have miles of Route 66 running through it, Oklahoma has the most. Not only that, we also have some of the most popular attractions and sights along U.S. Highway 66.
If you take the drive through Oklahoma on Route 66 you'll get to see famous landmarks like the Round Barn in Arcadia, the Blue Whale of Catoosa, the historic Coleman Theater in Miami, and of course the Route 66 Museum in Clinton, OK. If you've never been to the museum it houses one of the largest collections of Route 66 memorabilia around. You can learn the history of the "Mother Road" and take a step back in time.
HIT PLAY TO LEARN MORE ABOUT THE ROUTE 66 MUSEUM IN CLINTON, OKLAHOMA
The Route 66 Museum in Clinton, OK. is run by the Oklahoma Historical Society. It's open Monday through Saturday from 9:00-am to 5:00-pm and Sunday's 1:00-pm to 5:00-pm. Tickets are just $7.00 for adults, seniors (65+) are $5.00, students (6-18) are $4.00, and kids, veterans, active-duty military, and Oklahoma Historical Society members are FREE! They also offer discounts for groups as well. Click here to visit the official Route 66 Museum website for all the details and to start planning your trip today.
There's a ton of great food, stops, and shops along Route 66 in Oklahoma. I'm thinking this Spring/Summer the family and I will pile into the car and take the trip. I've driven several miles of the U.S. 66 but never the entire thing from one side to the other. It would be an awesome family vacation and we'll get to see parts of the state we've never visited before. Sure it'll cost a few bucks with gas prices what they are, but it's only 400 miles or so. And can you really put a price tag on taking a historic road trip with the family? I think not!
Funny, Crazy & Unusual Street Names Found in Oklahoma
One thing's for sure, Oklahoma has a ton of funny, unusual, and downright crazy street names. Across the Sooner State in every town, city, and rural community you'll find hilarious streets and roads with some of the most bizarre names you can think of. When they were named, more than likely years ago, I'm sure no one thought they would be considered crazy or funny at the time. Well, times have changed! Now some of these street names had to be deliberately named by someone with a great sense of humor. At least in my opinion anyway. Scroll through the photo gallery to check out some of Oklahoma's funniest and craziest street names. If you know of a funny or crazy street or road name in Oklahoma take a quick photo of the sign and submit it to critter@townsquaremedia.com and we'll include it in the photo gallery below.
The most unusual and beautiful Airbnb rental in Oklahoma
Check out
the Silo at Lake Tenkiller
. It has to be one of the most unusual and beautiful Airbnb rentals in Oklahoma. It's a 3 bedroom, 1.5 bath home located at Lake Tenkiller and yes it's a silo. It can comfortably sleep up to 6 people and comes with all the best creature comforts including a fire pit out back where you can kick back, relax and take in the view. Not only is this one of the most unusual rentals available on Airbnb in Oklahoma it's also one of the highest-rated. It currently boasts a solid 5 out of 5 stars and everyone who has stayed there have been very complimentary about how wonderful it is. This place looks amazing!
LOOK: Route 66's quirkiest and most wonderful attractions state by state
Stacker
compiled a list of 50 attractions--state by state--to see along the drive, drawing on information from historic sites, news stories,
Roadside America
, and the National Park Service. Keep reading to discover where travelers can get their kicks on Route 66.
The Beauty Of Southwest Oklahoma
Too many people spend too much time complaining about being in Southwest Oklahoma. If only they'd shut their mouths and open their eyes from time to time, then they'd see the true beauty of this place.
The Wonders of Palo Duro Canyon in the Texas Panhandle
Often called the Grand Canyon of Texas, it's easy to feel small when surrounded by the towering land. Palo Duro offers stellar hiking and biking, camping, and even cabins to plan more of a family or lovers getaway. Explore it on foot, on wheels, on horses, etc... Cap off the day with an authentic taqueria meal in Amarillo, if you can stand the smell. They don't call it "Cow Town" for nothing...