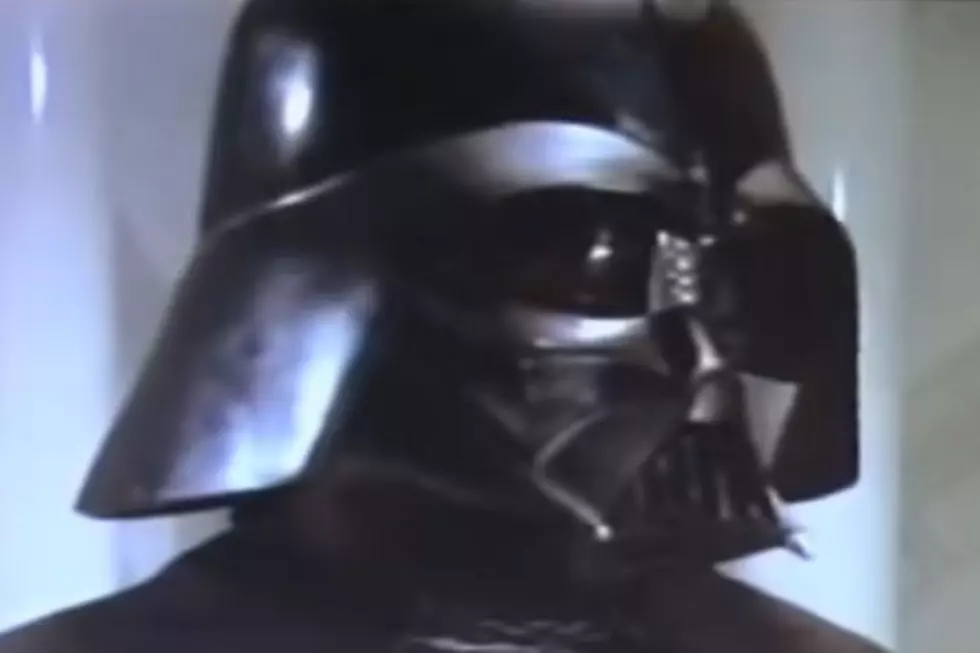 Happy Star Wars Day Lawton, Fort Sill!
YouTube.com- ThemEpicTrailers
Happy Star Wars Day Lawton, Fort SIll! Today is a very special day for Star Wars fans, geeks, Sci-Fi nerds, non-Star Trek watchers, those who still live with their moms, and all the unfortunate souls who've been afflicted with terminal everlasting virginity. It's Star Wars Day, May the fourth be with you!
Exactly how did this holiday get started? Because today May the fourth sounds a lot like "May The Force". That's how it all began, a long time ago in a galaxy far, far away...
I have to admit I'm a fan of Star Wars and have been since I was a kid. Luckily for me, I'm married, and admitting this openly won't necessarily affect my chances of getting laid, or will it?
Hit play on the original 1977 Star Wars Episode IV "A New Hope" trailer below.
Honey if you're reading this I'm not a Star Wars fan. Hell, I've never seen the films, not even once! That's a lie, actually, the wife and I are both HUGE FANS of Star Wars and enjoy watching not only the movies but all the other specials, shows, and min-series as well. If it has Star Wars in the title, we've seen it.
I have to say celebrating Star Wars day is a whole lot easier when you're a Disney + subscriber. They have all the films and most of, if not all of the other Star Wars specials, shows, and mini-series including "The Mandalorian" and "The Book of Boba Fett." Both are amazing if you've never seen them.
Tonight we'll be watching all our favorites in honor of Star Wars day and in my house everyone seems to agree that "The Empire Strikes Back" is the best Star Wars movie ever made. So what is your all-time favorite? Take the quick poll below and let's find out what the most popular Star Wars movie is in Lawton:
Look Inside Lawton's most luxurious & beautiful Airbnb!
This amazing
French-style lakeside chateau
costs
$500.00 a night.
It's one of the most beautiful and luxurious
Airbnb rentals
in all of Lawton, Fort Sill.
It's a 4 bedroom 4.5 bath home
that can comfortably
accommodate 10 guests.
The home sits right on the waterfront of a lake with the backyard and patio facing the water. The entire home inside and out has an incredible atmosphere and breathtaking views. The outside spaces are as beautiful as the inside.
Check out the photo gallery to see what $500 a night will get you!
Fun & Kid Friendly Oklahoma Vacation Destinations
Far too often, some bored Karen whose only personality trait is complaining about everything will say something along the lines of "There's nothing to do in Oklahoma..." That's simply not true. There is a ton of stuff to do in Oklahoma that you and the kids will love, you just have to know where to find that stuff and have the gumption to hop off the couch and go do some of it.
Check out the most expensive house for sale in Lawton!
Take a virtual tour inside of the most expensive house for sale in Lawton, Fort Sill. It's a massive, mini-mansion and epic estate that's listed for
$599,900.00
by
Julie Bridges of RE/MAX PROFESSIONALS
. You may have seen this house it's
located at 204 N.W. Mockingbird Road.
It's a 3,300 square foot, 4 bedroom, 3 bath home and oh' so much more!
See what $599,900.00 would buy, check out the photo gallery below:
Funny, Crazy & Unusual Street Names Found in Oklahoma
One thing's for sure, Oklahoma has a ton of funny, unusual, and downright crazy street names. Across the Sooner State in every town, city, and rural community you'll find hilarious streets and roads with some of the most bizarre names you can think of. When they were named, more than likely years ago, I'm sure no one thought they would be considered crazy or funny at the time. Well, times have changed! Now some of these street names had to be deliberately named by someone with a great sense of humor. At least in my opinion anyway. Scroll through the photo gallery to check out some of Oklahoma's funniest and craziest street names. If you know of a funny or crazy street or road name in Oklahoma take a quick photo of the sign and submit it to critter@townsquaremedia.com and we'll include it in the photo gallery below.