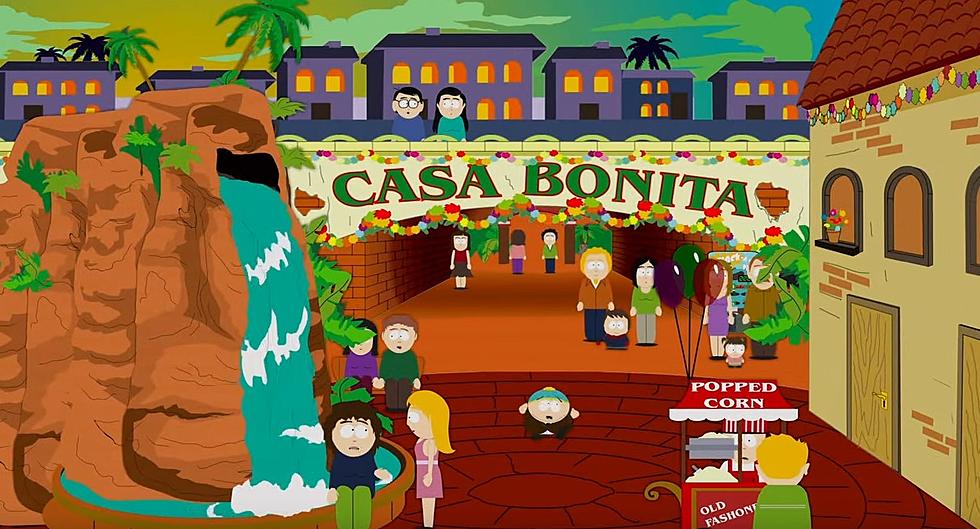 Iconic Casa Bonita Officially Open, But With New Policy
Screenshot Courtesy of Comedy Central
Sadly Oklahoma no longer has a Casa Bonita, but our friends in Colorado just re-opened the restaurant with a new policy.
The Iconic Casa Bonita
So, I legitimately learned a few years ago that Casa Bonita was a real restaurant. I thought it was a made up restaurant in South Park. Turns out, Casa Bonita originally opened in Oklahoma City in 1968. They had five locations in total when they operating, including an additional one in Oklahoma over in Tulsa. Sadly, the Fort Worth, Texas location failed after only three years in operation.
Casa Bonita is Back in Colorado
Casa Bonita is doing soft openings the next few weekends before they officially have a grand opening. If you don't know what a soft opening is, it's basically a test for the restaurant to see if they're ready to operate. Hiccups can happen on these nights, so never get mad if you ever attend a soft opening.
Casa Bonita New Policy?
Apparently, customers who attended the soft opening last weekend experienced a new policy that the restaurant has - no tipping! That's right, customers who attempted to tip were given their money back. That is because Casa Bonita employees do not take tips. Their hourly wage is meant to compensate them for the non tip revenue.
"In order to provide a higher-than-average, dependable wage, we shifted to a no-tipping model and doubled the hourly rate to more than $30/hr for our service staff," management told News 8. "This shift also benefits our guests, who can enjoy Casa Bonita without incurring unexpected costs."
Casa Bonita Food
Enchiladas with red or green chile
Carnitas
Adobo chicken
Picadillo (a ground beef, green chile and potato stew)
Calabacitas (veggie dish)
Camarones (shrimp served in an adobo sauce)
Mole
Taco salad
Also, can't forget about the unlimited sopapillas that come with your meal as well. Alcoholic beverages are also available for those of age.
So, if you happen to visit the Lakewood, Colorado area just outside of Denver, stop on by and try it out. I have not seen plans to open more locations. It would be cool if Oklahoma got one in the future, since after all. That is where the iconic restaurant started.
Check Out the Brand New Cabins at The Big Texan in Amarillo
Did you know just up the road from the famous Big Texan Steakhouse with the free 72 oz steak, they have a RV Park? They just upgraded their cabins and here is what they look like.
You Can Own an Abandoned Oklahoma High School
This high school has not been open since 1968 and it has now been converted into a 'home'. Check out the definitely not haunted abandoned high school below.