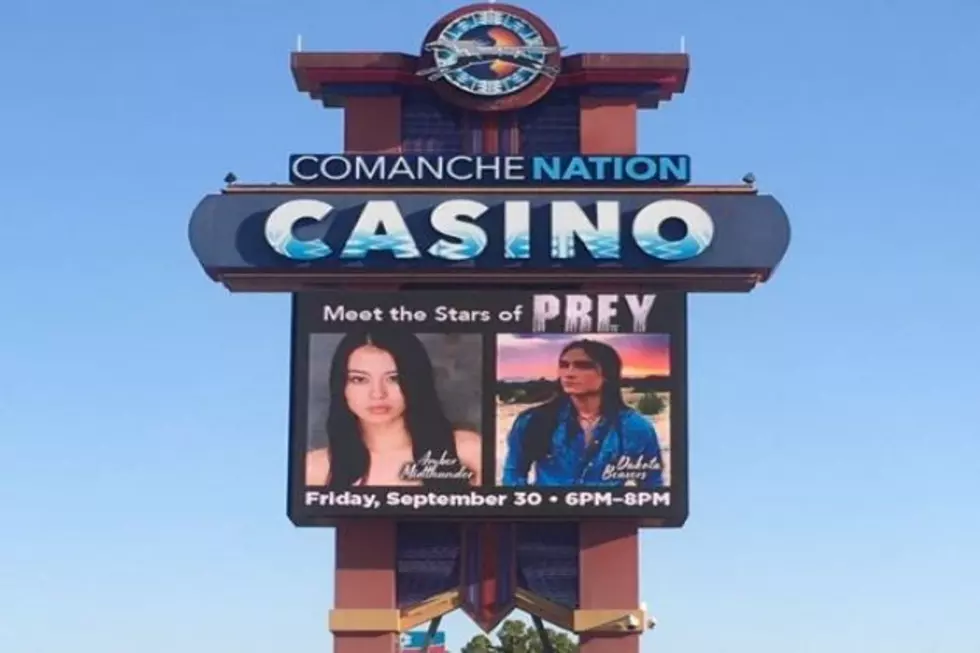 Meet the Stars of 'Prey' at Comanche Nation Casino in Lawton, OK. This Friday!
TSM Lawton: Critter
'Prey' is one of the most viewed and highly rated action/sci-fi movies of 2022 since its release on Hulu earlier this summer. It's an amazing film and easily one of the best 'Predator' movies in the entire franchise.
The main actress and actor from the movie, Amber Midthunder and Dakota Beavers will be coming to Lawton, Fort Sill for a special meet and greet with fans at Comanche Nation Casino this Friday night.
The Comanche Nation Casino just made the announcement on their official Facebook page and billboards that the two stars would be coming to town. It's an amazing opportunity for fans to meet in person these two very talented actors. To answer your question, yes, they will be doing pictures and autographs as well.
Make plans now to attend this special event on Friday, September 30th (09-30-22) from 6:00-pm until 8:00-pm at Comanche Nation Casino located at 402 S.E. Interstate Dr. in Lawton, OK. You won't want to miss it!
If you haven't seen 'Prey' yet, what the hell are you waiting for? It's currently streaming on Hulu, so log on and hit play! Now if you've been living under a rock and have never heard of this movie before, watch the trailer.
Hit play on the video below to watch the official movie trailer for 'Prey.'
This special 'meet & greet' with Amber Midthunder and Dakota Beavers is happening at the exact perfect time with the Comanche Nation Fair happening this week. It kicked off on Monday (09-26-22) and will run until Sunday (10-02-22).  Click here to visit the official Comanche Nation Fair website for all the details.
If you've never been to the Comanche Nation Fair you have to go! They'll have all kinds of incredible events, games, activities, vendors, contests, bull and bronc riding, carnival rides, and the Comanche Nation Powwow on Friday, Saturday, and Sunday. The fair will take place at the Comanche Nation Tribal Headquarters located at 584 NW Bingo Rd. Click here for Mapquest directions. It's just outside of town, and super easy to find.
Get all the details and a complete listing of events that are scheduled for the 2022 Comanche Nation Fair by clicking here and visiting the official website. It's going to be a great week at the fair and the weekend is going to be EPIC! It's been a while since I've had the opportunity to go, and I'm really looking forward to it.
Spirit Halloween Lawton, Oklahoma
Spirit Halloween utilized all the space at their location on NW Cache Road in Lawton, Oklahoma. The spooky establishment is housed in the old Wichita Furniture building. Check out the pics below from our recent visit!
The top 10 Oklahoma pumpkin patches & corn mazes
If you're looking for a place to go for a little fall family fun you're in luck! Oklahoma is home to some of the biggest and best pumpkin patches and corn mazes in the U.S. People from all over travel to the Sooner State every fall to visit these incredible farms. Not only do they offer pumpkin patches along with corn and hay mazes, they also have all kinds of other activities like petting zoos, rides, arts & crafts, food, games, haunted attractions, and a whole lot more. So no matter what your idea of fall fun is, you can find it all in one place!
Top 10 most terrifying towns & scary cities in Oklahoma
While Oklahoma is well known for its beauty and friendly people there are a few places in the Sooner State you'll want to avoid. These are the most terrifying towns and scary cities in the state. It's not that they're bad places, or plagued with crime and other negative factors. The towns and cities below have one single thing in common. They all have active paranormal and supernatural phenomenons. From ghost stories to urban legends and tragic tales. A lot of these places are well known to those who live in Oklahoma and even all over the nation. If you're looking to get scared or do a little ghost hunting you can start with the list below.
2022's Most Popular Halloween Costumes
It's not hard to guess which Halloween costumes will be the most likely to win you contest gold, you just have to look at the last year of entertainment out of Hollywood. With massive hits like Stranger Things, Top Gun, and whatever Jurassic Park their on now, 2022's Halloween costume offerings are a breeze.