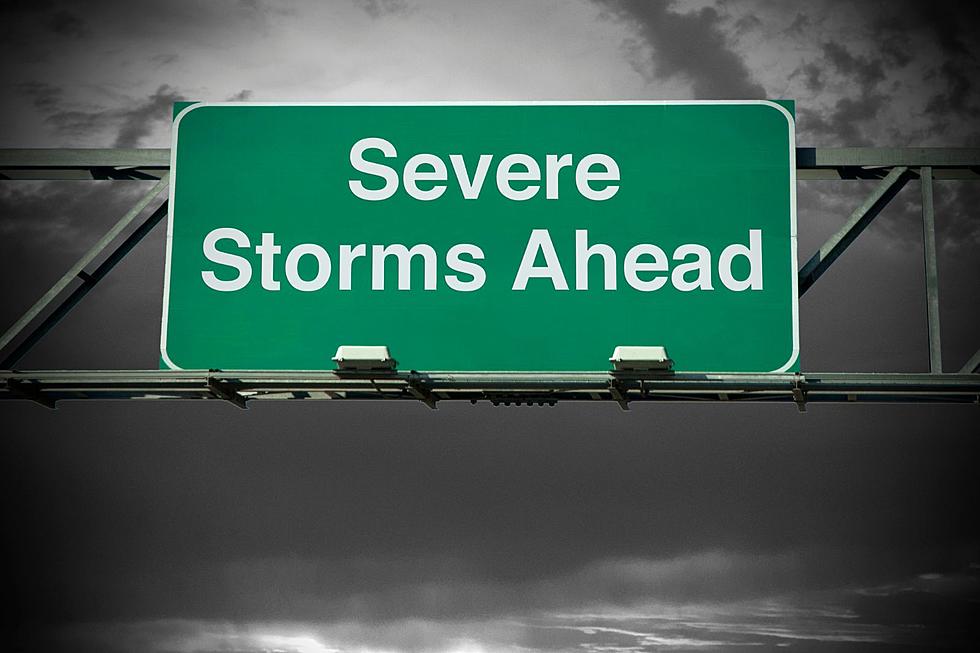 Multiple Rounds Of Severe Storms Headed To Oklahoma Thursday
Canva
Since Monday, March 20, was the first day of spring, Oklahomans have been rejoicing in the warmer weather! But with this season comes Oklahoma's severe storms, and it looks like Thursday, March 23, is going to be a busy weather day with multiple rounds of storms expected.
According to the National Weather Service in Norman, strong storms could begin as early as 7 a.m. Thursday, but the first round is most likely to ramp up between 8 a.m. and 11 a.m. The first round of strong storms is expected to bring rain, small hail and wind gusts.
Severe storms could ramp up between noon to 2 p.m. Thursday.
As we roll into the afternoon and evening Thursday, we'll most likely be seeing severe storms enter the area with round two. These could bring large hail, damaging wind and heavy rain that could lead to flooding in some areas, which according to the National Weather Service, is the primary concern. Timing storms is definitely a science, and as of Wednesday, March 22, the National Weather Service in Norman is predicting that the severe storms will ramp up between noon and 2 p.m. Thursday.
Tornado risk is "very low" for Thursday.
Of course, during Oklahoma spring severe storms, we can't rule out a possible tornado threat. As of Wednesday, the National Weather Service in Norman is predicting a "very low" tornado threat with Thursday's storms. But, as always, Oklahomans are encouraged to stay weather aware!
Large hail and flooding are primary concerns with Thursday's storms.
Even if we don't get a tornado, there are still several other elements that can cause significant damage! As of Wednesday, the National Weather Service in Norman is predicting that several areas of Oklahoma will either experience a slight or marginal risk of flash flooding Thursday. So remember, turn around, don't drown if you're driving during or after these storms.
Also, if you may want to park your car under some kind of protection Thursday because the large hail threat for Thursday is ranging from low to medium, but those in the crosshatched area in the graphic below could hail over 2 inches in diameter.
Stay weather aware Thursday!
Remember to stay weather aware this Thursday! Check the National Weather Service in Norman's website for updated infographics. And be sure to follow them on Facebook and Twitter for real-time updates.
The Very Best Out-of-Context David Payne Quotes
Oklahoma's favorite weatherman gets so excited when tornadoes break out, he lets his mouth run just as wild as the weather.
Things You'll Need in Your Oklahoma Tornado Prep Kit
Even though the odds of your life being affected by a tornado are extremely thin, there's no harm in being prepared with basic necessities. Even if the storm misses your home you could still find yourself without power or water for days to weeks. Here's a quick rundown on the basics every home should have for tornado season in Oklahoma.