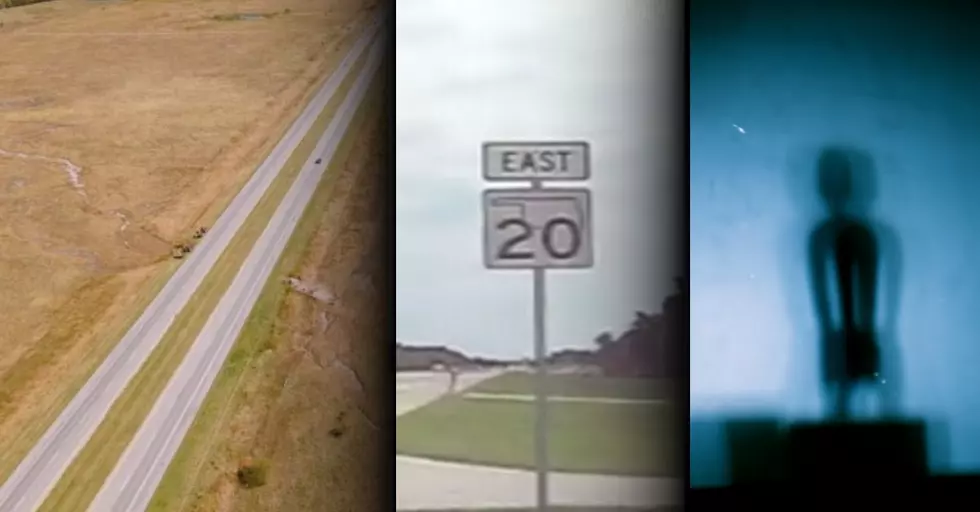 Take a Terrifying Road Trip On This Oklahoma Haunted Highway!
Canva
Oklahoma has more hauntings and ghost stories per capita than any other state in the union. There's an uncountable number of scary places, urban legends, and strange tales that can be heard just about everywhere you go in the Sooner State. We have haunted houses, forests, hotels, restaurants, hospitals, asylums, and even a haunted highway! It's one of Oklahoma's most mysterious, scary, and active hauntings.
SCROLL DOWN TO WATCH THE VIDEO ABOUT OKLAHOMA'S HAUNTED HIGHWAY
Have you ever heard the legend of HWY 20? This spooky stretch of road that runs from Pryor to Tulsa, OK. is rumored to be haunted by a phantom hitchhiker looking for a ride. The spirit is described as a young boy around 10-12 years old by those who have seen him. A few people have even stopped and given him a ride!
I have some friends and family that live in that area who have actually seen this ghost. I've traveled the route myself on several occasions but haven't experienced anything, yet. If you're going to Rocklahoma more than likely you'll be on HWY 20 at some point. That's how I first heard about this ghost story. So you might want to keep the doors locked and whatever you do, don't slow down or pull over to the shoulder for any reason.
Hit play on the video below to learn more about the ghostly legend of Oklahoma's HWY 20
So when did this ghost story or urban legend get started? It's actually quite old and is traced back to 1965. A woman named Mae Doria was traveling down Highway 20 heading to Pryor, OK. late one night when she passed a school and saw a young boy out front. She stopped to make sure he was alright and ended up giving him a ride home, or so she thought. What started out as a normal drive quickly became paranormal!
KEEP SCROLLING TO WATCH ANOTHER VIDEO ABOUT THE HAUNTING OF HWY 20
After Mae Doria picked up the young man to give him a lift home they headed towards Pryor, OK. They began talking and the boy tells her he was into basketball and was an athlete. The conversation centers around his love of sports and the school where she picked him up at. Eventually, the boy asked to be let out and tries to describe where he lives. At some point, the boy becomes upset, begins to cry, and asks her to pull over.
When she pulls over and looks in the backseat the boy had vanished! Since then several people have reported seeing the young hitchhiker while traveling HWY 20. He's been seen at various spots along the road between Pryor and Tulsa. Sometimes walking along the road and other times standing by the roadside where his old school was located. Some have even stopped and attempted to give him a ride not realizing he's a ghost!
Hit play on the video below for more on the haunting of Highway 20 in Oklahoma
You can bet if I'm ever traveling down HWY 20 and see someone on the side of the road, especially if they're a young-looking hitchhiker I won't be stopping! Again I've been down this road numerous times and haven't seen anything out of the ordinary, but there's always a chance according to the family and friends I have who live in the area and travel the road all the time. Maybe I should avoid traveling HWY 20 at night time!
If you're into the paranormal and supernatural Oklahoma has a ton of haunted places, urban legends, and eerie tales. It seems almost every county, town, and place you can go to in the Sooner State there are ghost stories being told. We've got something for everyone. Click here for even more Oklahoma hauntings!
The Dreadful Downtown Hauntings of Lawton, OK.
When it comes to ghost tales and hauntings Lawton, Fort Sill has more than a few scary stories to tell. The most active hauntings and paranormal/supernatural occurrences that have been reported seem to be centered around downtown Lawton. If you've lived here a while I'm sure you've heard a few of these terrifying tales yourself. If not check out the photo gallery below of the dreadful downtown hauntings of Lawton, OK.
Top 10 most terrifying towns & scary cities in Oklahoma
While Oklahoma is well known for its beauty and friendly people there are a few places in the Sooner State you'll want to avoid. These are the most terrifying towns and scary cities in the state. It's not that they're bad places, or plagued with crime and other negative factors. The towns and cities below have one single thing in common. They all have active paranormal and supernatural phenomenons. From ghost stories to urban legends and tragic tales. A lot of these places are well known to those who live in Oklahoma and even all over the nation. If you're looking to get scared or do a little ghost hunting you can start with the list below.
See How The Ten Most Dangerous Cities In Oklahoma Rank
While some of Oklahoma's most dangerous cities may not be a total shocker, there are some real surprises on this Top Ten list.
The Top 20 Oklahoma Towns That Suck To Live In
No matter what road you've traveled brought you to Lawton, at least you aren't stuck living in one of these sucky Oklahoma towns.