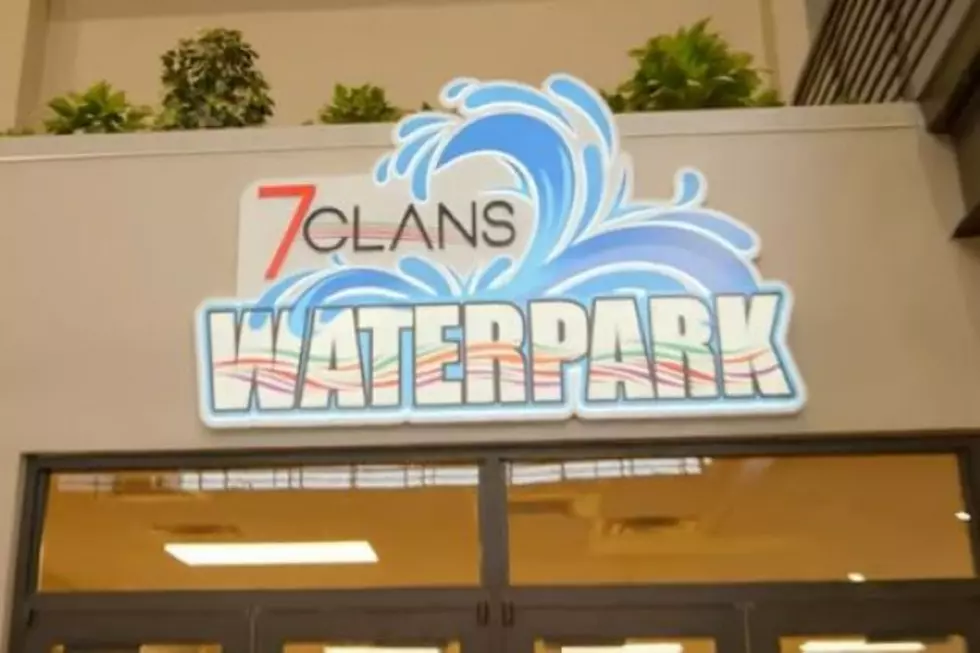 Kick Back, Relax and Cool Off at This Oklahoma Indoor Water Park!
YouTube.com- 7 Clans First Council Casino Hotel
As hot as it's been this summer I'm sure you're looking for someplace to kick back, relax and cool off. It's been brutal outside and Mother Nature has been more than a little moody as she continues to hammer us with the excessive heat. Luckily there's a place you can go where the entire family can cool off and enjoy a fun-filled day swimming and playing in the water all while indoors and away from the sun's oppressive heat!
SCROLL DOWN TO WATCH A VIDEO ABOUT 7 CLANS 1ST COUNCIL CASINO RESORT
So where is this oasis of wet and wild fun? You can find it in Newkirk, OK. at the 7 Clans First Council Casino Resort. This place really does have it all, from the casino, and live entertainment to an indoor water park! It's your all-in-one stop for a staycation, vacation, or quick weekend getaway that the entire family will enjoy. There's literally something for everyone. It's the absolutely perfect place to unwind or go wild, your choice!
Hit play on the video below to learn more about the 7 Clans First Council Casino Resort
The 7 Clans First Council Casino Resort is the one and only casino and water park in the Sooner State. You'll find all the best in gaming, live entertainment, and of course the 7 Clans Waterpark. It features 4 different waterslides, a lazy river, a splash pad, a pool with an obstacle course, and contains 127,328 gallons of water! And the best part, it's all inside so regardless of what the temperatures are from hot to cold you're good!
The 7 Clans Waterpark is open Thursday through Sunday. It's open on Thursday from 4:00-pm to 8:00-pm and Friday through Sunday from 11:00-am to 8:00-pm. Day passes for the waterpark are only $25.00 for adults and $20.00 for children. You can get all the details to start planning your trip by visiting the official 7 Clans First Council Casino Resort website or check them out on Facebook. Before the summer is over the family and I are definitely going. It looks like an amazing place for a staycation or quick weekend getaway!
See the Most Epic & Unusual Oklahoma Airbnb Rentals!
Take a break from the boring and ordinary and make your next overnight stay more spectacular and memorable. These rentals are a lot more than just a place to stay, all of them could easily be a vacation destination and experience all on their own! If you're planning a staycation or vacation in Oklahoma you should definitely check out these epic and unusual
Airbnb
rentals versus booking just a plain old room at a hotel or motel. You could make your accommodations a part of the experience itself by staying at any of these amazing places in the Sooner State.
Scroll through the photo gallery below to check them out.
Top Mispronounced Towns That Show You're Not From Oklahoma
Just for funs, try to pronounce these town names before hopping to the phonetics...
Take a look inside this epic 1960s retro motel in Oklahoma!
It's the ultimate retro vintage motel stay in the Sooner State! If you've ever wanted to step back in time and experience the "good old days" once again, or maybe for the very first time, you're in luck. Take a break from the usual, boring, and mundane hotel room by booking a stay at this 60s-style motel in Oklahoma City, OK.
The Classen Inn
is one of the most unique and colorful motels in the state, if not the entire nation. It was originally built back in 1963 and has been completely remodeled, refurbished, and reimagined. If you're looking for a place to stay while on vacation, staycation, or on a weekend getaway why not make your accommodations a part of the vacation fun by staying at the Classen Inn in OKC.
You can click here to book your stay.
Scroll through the photo gallery below to take a virtual tour of this EPIC 1960s retro motel!
Oklahoma's Most Legendary Food Challenges
While you can certainly accept social trends in eating at chain restaurants for the rest of your life, you'd at least get a show with your dinner while watching the iron stomachs of Oklahoma tackle the biggest and most legendary food challenges at the various mom & pop restaurants spread all across the Sooner State.