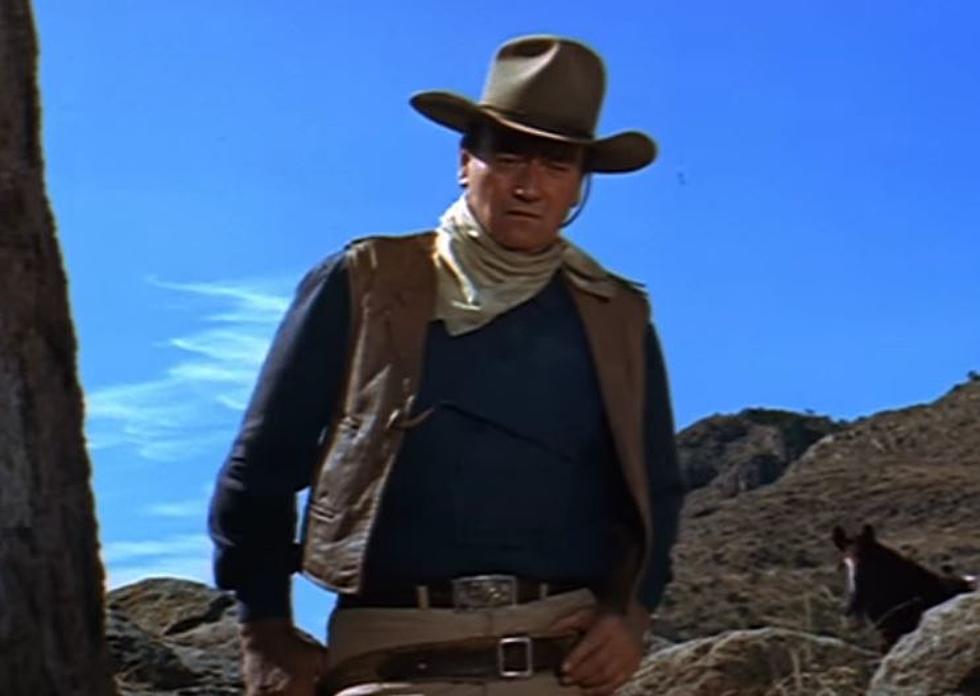 This Small Town in Oklahoma Inspired a John Wayne Western
YouTube.com- Paramount Movies Digital
You might be surprised that there's a John Wayne movie that has direct ties to a small town in S.W. Oklahoma. This classic western was inspired by true events and real people that became legends of the American West. If you're a fan of the Duke more than likely you've seen this movie, several times.
It's one of my all-time favorite westerns, "The Sons of Katie Elder." Released in 1965 and starred John Wayne, Dean Martin, Earl Holliman, and Michael Anderson Jr. as the Elder brothers who reunite to bury their mother and right the wrongs of the past. Did you know it's based on a true story about the Marlow brothers?
A lot of the film follows the real-life story of the Marlow Brothers who were wrongfully arrested for rustling, horse theft, murder, and the most serious charge, killing a sheriff. The town of Marlow is actually named after them. Hit play on the movie trailer for "The Sons of Katie Elder" for the basic story of the Marlow brothers.    
Most of the movie was filmed in Mexico and the story takes place in Clearwater, Texas. They changed up the names and locations but it's all based on the Marlow Brothers: George, Charley, Alfred, Boone, and Llewellyn. You can get more of their story here. There's even a museum in Ouray, Colorado that has artifacts from some of the Marlow Brothers who eventually settled there after leaving Oklahoma.
If you've never seen the movie you have to check it out, it's a great film and one of my all-time favorites. Being a huge John Wayne fan it's really cool that there's a western that's based on a group of Oklahoma brothers. I think I'll head to Marlow and see if they may have some artifacts and additional history on the Marlow family. In the meantime, I'll just re-watch "The Sons of Katie Elder."
John Wayne: An American Experience museum Ft. Worth, TX.
If you're a fan of the Duke you have to make the trip to Ft. Worth and visit the
John Wayne: An American Experience
museum. It's located in the Ft. Worth Stockyards at 2501 Rodeo Plaza. The gallery below isn't even close to half of what you'll see there. With 10,000 square feet and several rooms, the exhibit has everything from John Wayne's early childhood to his final days. You can get up close and personal with all the costumes, wardrobe, and props that John Wayne used in his films and throughout his career. Along with all the great displays throughout the exhibit, there are quotes from the Duke, interactive video and audio sections, and most, if not all of the walls are covered in photo murals and picture collages of the Duke.
Top 10 most popular carry guns in Oklahoma
Check out the top 10 most popular carry guns in the Sooner State. While there are a wide variety of firearms and calibers to choose from for everyday carry (EDC) the handguns listed below are among the most purchased and widely used personal and home defense weapons in Oklahoma. These models and brands account for the majority of gun sales in the state and are among the most popular choices for EDC or home defense weapons (HDW). If you're looking for a quality reliable EDC/HDW these are all solid picks. Which by default makes them the most popular. WARNING: Seek proper training and instruction on firearm safety rules and the practice of safe gun handling skills prior to the loading and carrying and/or shortage of a firearm. The time to learn what to do and how to do it isn't when your safety and life depend on it. BE SAFE!
Take a tour of this Oklahoma 'Yellowstone' style ranch!
Take a virtual tour of this EPIC
'Yellowstone'
style ranch that's for sale in Oklahoma! If you have a spare
$1,900,000
you could be the round new owner of this awesome property. It's located at
39111 South Highway 82 in Vinita, OK.
it's near Langley, OK. on the Grand River. It features 1,320 feet of riverfront on 69.3 acres. The house, more like a mini-ranch mansion, is a log home with a whopping 6,800 square feet of living space. It contains 6 bedrooms and 4.5 bathrooms. It's listed by
Diana Patterson
of
McGraw REALTORS
.
Scroll through all the pictures below to take a quick look inside and out of this incredible OK. ranch estate!
Top 10 safest towns & cities in Oklahoma
These 10 Oklahoma towns and cities have been ranked and named as the safest in the entire Sooner State. If you're looking for someplace to move, retire or visit and are worried about crime, these are the safest places. They have some of the lowest crime rates in the state, some have the lowest in the Nation according to
FBI crime statistics
and the most recent survey report from
safewise.com
. Most of the cities and towns that made the top 10 safest places this year are located in the southwest central portion of the state.
One town made it to the very top of the list at #1 for its 4th consecutive year, that's quite an accomplishment!