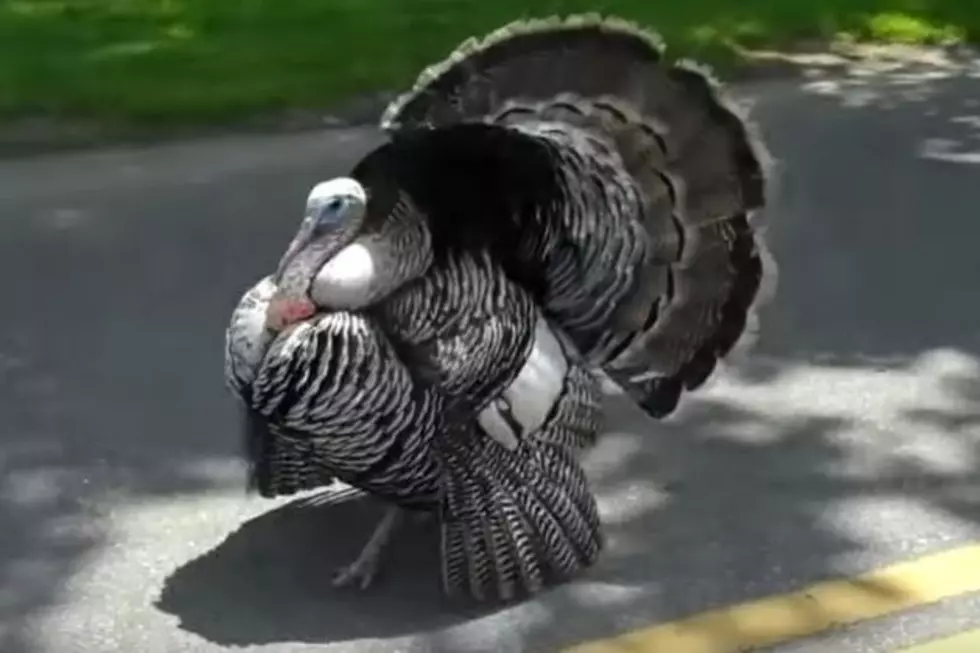 Oklahoma Beware of Wild Turkey Attacks This Thanksgiving
YouTube.com- Barry Goldstein
Thanksgiving is almost here and as we prepare for our annual feast it's only appropriate that we take a moment to recognize the majestic turkey. These birds make the ultimate sacrifice to make our holiday meal possible and delicious. It's not Thanksgiving without turkey, at least in my honest, humble non-bias opinion.
SCROLL DOWN TO WATCH THE TOP 10 MOST TERRIFYING TURKEY ATTACKS!
Millions of turkeys will give their lives this year for the cause and I thank them for that. I'm not the only person who thinks highly of this majestic, noble and proud bird. Benjamin Franklin once stated that the turkey should be the National bird. Of course, this all changed when everyone realized how amazing they taste!
While I agree with Mr. Franklin that the turkey is without a doubt beautiful, respectable, hearty, and earnest. However, there is a darker, more sinister side to these birds that is rarely seen. Luckily for us, we have video evidence of such behavior. Maybe it's payback for all those Thanksgiving meals or are they trying to dismantle mankind and place themselves at the top of the food chain? These are some ill-tempered toms. Judge for yourself and witness the savage and shocking brutality of when turkeys attack. Oh, the humanity!
THE TOP 10 MOST TERRIFYING TURKEY ATTACKS CAUGHT ON VIDEO:
WARNING: The following videos contain shocking, horrifying, and even graphic images of turkey attacks in vivid full-color detail. The content below is disgusting and disturbing. Viewer discretion is strongly advised.
#01) Psycho Turkey & The Cyclist
This cyclist found himself face-to-face with a big bike-hating bird. Luckily he survived the encounter, barely!
#02) The King Of The Road
"You shall not pass!" This gobbler does his best Gandolf impression from 'Lord of the RIngs' and it's spot on!
#03) Turkey Going Postal
#04) Jurassic Turkey
#05) Born To Be Wild
#06) The Presidential Pardon
#07) News Reporter Gets The Exclusive
#08) There Goes The Neighborhood
#09) Peeping Toms
#10) Tom Terrorizes Trail Walkers

You've just witnessed the horrific carnage and terrifying devastation of when turkeys attack! I'd say we're all screwed if they revolt in an all-out war against mankind, it would be the end of civilization as we know it.
Payback's a bitch and these pissed-off gobblers are on the rampage! Having said that please don't let these videos negatively affect your opinion or influence your attitude toward turkeys. They're not all bad birds.
Most are hard-working, honest, and rarely hostile toward humans. There are always a few bad birds in the bunch and those are the ones getting all the attention. No need to panic. Unless, of course, they organize...
Top 10 Best Christmas Towns In Oklahoma
While Christmas may not always feel like Christmas in Oklahoma, we put on that holiday spirit all over the Sooner State. Here are the top destinations to find a little holiday cheer.
See the Most Epic & Unusual Oklahoma Airbnb Rentals!
Take a break from the boring and ordinary and make your next overnight stay more spectacular and memorable. These rentals are a lot more than just a place to stay, all of them could easily be a vacation destination and experience all on their own! If you're planning a staycation or vacation in Oklahoma you should definitely check out these epic and unusual
Airbnb
rentals versus booking just a plain old room at a hotel or motel. You could make your accommodations a part of the experience itself by staying at any of these amazing places in the Sooner State.
Scroll through the photo gallery below to check them out.
The Real Wild West Outlaws of Oklahoma
In the years before Oklahoma gained statehood, there was a major shift happening trying to convert the wilds of Indian Territory into a mild-mannered turn-of-the-century metropolitan place. It's amazing how many of America's famed outlaws made headlines in our state.
Peek inside this EPIC Oklahoma castle that's for sale!
Take a virtual tour of this EPIC medieval-style castle in Oklahoma City, OK. that's for sale. If you have
$1,999,999
you could be the proud new owner, better yet king or queen of this one-of-a-kind estate! It's located at
6424 S.W. 104th Street in Oklahoma City, OK.
It's listed by
Karl W. Oltermann
and
Rhonda Oltermann
of
Coldwell Banker Select
. Can you imagine actually living here and being this kingdom's ruler?
Scroll through all the pictures below to take a quick look inside this incredible one-of-a-kind home.