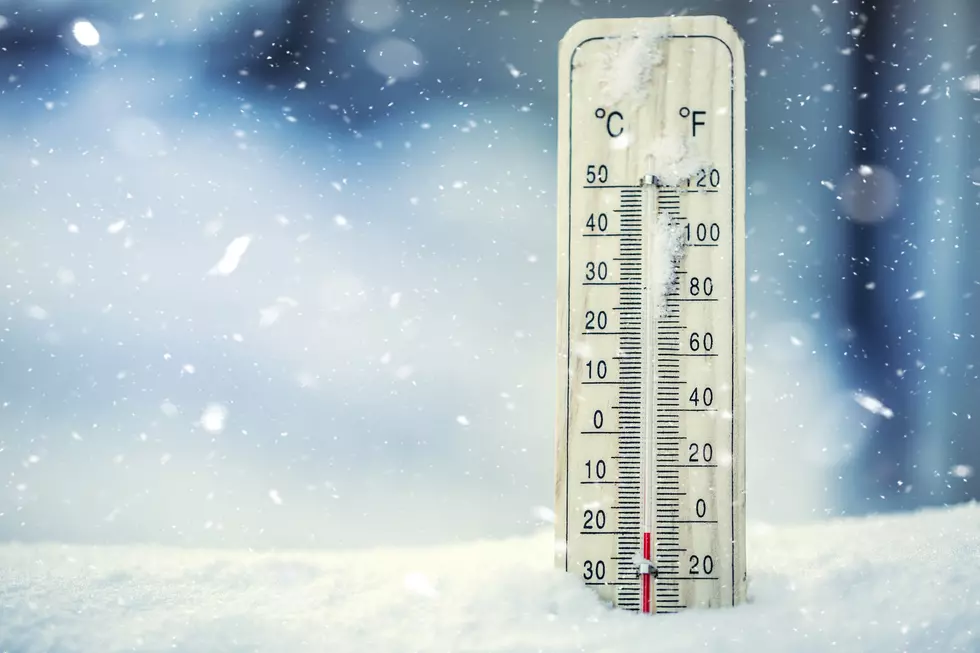 Oklahoma Winter Weather Prediction- Snow & Ice for Thanksgiving 2022
MarianVejcik
Turkey day is on the way. It's hard to believe that Thanksgiving is just a short couple of weeks away, this year has flown by. While we're all looking forward to spending some time with family and friends, not to mention eating. However, weather predictions are calling for snow and ice during the Thanksgiving holiday, oh boy!
HIT PLAY ON A VIDEO ABOUT OKLAHOMA'S WINTER WEATHER PREDICTIONS BELOW
From what it's sounding like Mother Nature might be throwing an icy hissy fit that could create some problems. Especially when it comes to travel plans this Thanksgiving. So far several of the winter weather predictions for Oklahoma suggest early snow, sleet, and icy conditions. Looks like frozen turkey for 2022.
I can't remember the last really cold Thanksgiving we had, much less a Thanksgiving when it snowed. Typically it's sunny and pleasant, even warm outside. So freezing temperatures aren't exactly the norm. As a matter of fact, more often than not I'm in a short sleeve t-shirt outside frying turkeys sweating like crazy.
Hit play on the video below to learn more from KFOR Oklahoma's News 4
From everything we're seeing and hearing right now, it looks like it'll be seeing a very early winter for the Sooner State. The Farmer's Almanac, which is about 80% accurate when it comes to weather predictions is saying to prepare for snow. Maybe even as soon as this Thanksgiving. The almanac's extended forecast has bitterly cold temperatures along with snow and ice throughout the winter months, almost into spring 2023.
wwwNow if you're the type of person who enjoys the winter weather, snow, ice, and the cold you're probably welcoming all of this. For the rest of us, at least people like me AKA cold wussies, it's a nightmare. I hate the cold, so needless to say this winter's forecast isn't good news, to say the least. We're talking about the possibility of well below-average cold temperatures with snow and ice for weeks, maybe even months.
You'll definitely want to plan ahead and be prepared just in case Mother Nature decides to get moody and throw a frozen wrench into our Thanksgiving plans and travel this year. Start looking through the closets and find your coats, hats, gloves, and winter weather clothing. Sounds like you're going to need it. Keep a close eye on the weather if you'll be traveling during the Thanksgiving holiday just to be on the extra safe side.
Funny, Crazy & Unusual Street Names Found in Oklahoma
One thing's for sure, Oklahoma has a ton of funny, unusual, and downright crazy street names. Across the Sooner State in every town, city, and rural community you'll find hilarious streets and roads with some of the most bizarre names you can think of. When they were named, more than likely years ago, I'm sure no one thought they would be considered crazy or funny at the time. Well, times have changed! Now some of these street names had to be deliberately named by someone with a great sense of humor. At least in my opinion anyway. Scroll through the photo gallery to check out some of Oklahoma's funniest and craziest street names. If you know of a funny or crazy street or road name in Oklahoma take a quick photo of the sign and submit it to critter@townsquaremedia.com and we'll include it in the photo gallery below.
New Oklahoma Laws That Took Effect November 1st
Another year, another bunch of new laws to learn. Most of them have little to no impact on the average citizen, the rest are so subtle in bureaucratic wording, they aren't important enough to even mention. Here are the notable things to take away and store in your brain-box.
Where to Find the many murals by Justin Hackney's Spreading PAINT in Lawton, Fort Sill.
If you've driven around town you've probably seen all the murals we have in Lawton, Fort Sill. If you take the time to look you'll notice that they're everywhere. We're lucky to have so many talented artists that share their work with us regularly by painting murals. One name you've probably heard before is Justin Hackney and
Spreading PAINT
. His work of masterful murals can be found all over town. He's done some of the very best and has painted everything from rock stars to celebrities and everything in between. He has a style all his own and has painted murals in full color, vivid transposed negative style, and in black and white. Be on the lookout for his latest mural masterpiece he's going to keep painting them so long as people want them and there's wall space. Looking forward to seeing his next one! Check out the gallery below of Justin Hackney's Spreading PAINT murals and where to find them. We'll continue to add to the gallery as he paints them.
Where To See Fall Colors In Oklahoma
Whether it's the feeling you get when you see falls warm colors in the trees, or the comfort of a memory you recall from a younger time in your life, there are places in Oklahoma to see the beauty of autumn.