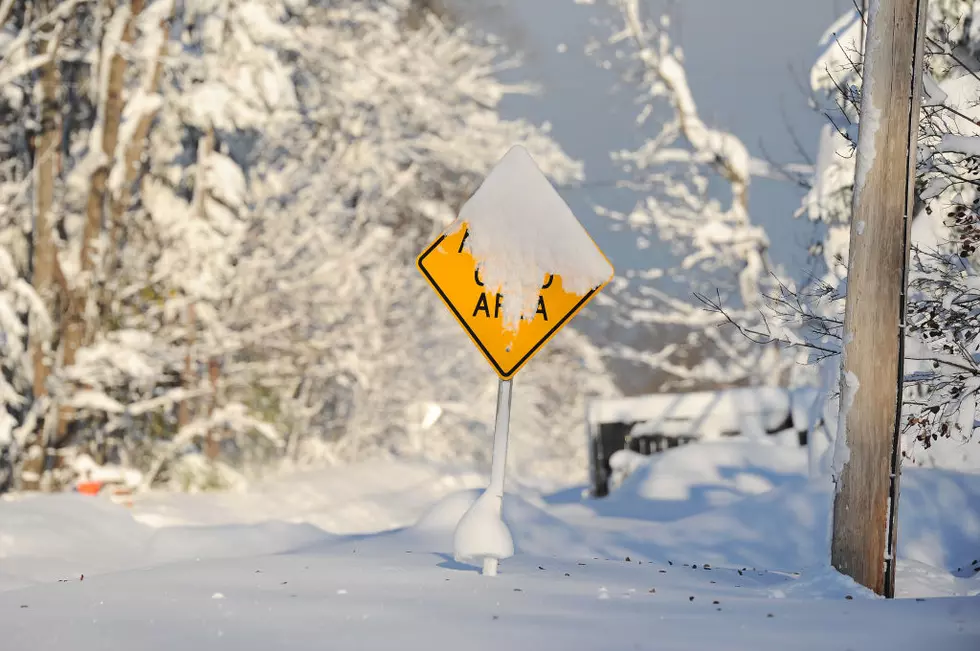 Oklahoma's Winter Forecast, According to Farmer's Almanac
Getty Images
When it comes to hot topics such as the weather, I'm a whole-hearted believer that nobody can predict the future. Nobody.
Our local weather experts often get close, but they almost never nail accurate predictions. The same goes for the beloved Farmers' Almanac.
If you haven't read Farmers' Almanac, I like to equate it to snake-oil. Growing up in rural Oklahoma, it might as well have been a bible for farmers. Some even planned their whole year of agriculture around that forecast, but it's written in a way that reflects other hokum like astrology and horoscopes.
When questioned after a busted prediction, Farmers' Almanac always deflects questions and claims accuracy by having massive forecasted areas. They never single out individual states, but instead write predictions for regions.
Example: In May 2022, the Farmers' Almanac half-accurately predicted our region would have a scorching summer. That held up in Oklahoma. The heat was a true killer this year.
Farmers' Almanac predicted also predicted normal rainfall during that time. Let me remind you how bad the drought was. Oklahoma averages about ten inches of rain during summer. 2022 had just over three, well below average for the season.
Farmers' Almanac didn't get it wrong?
There were areas of our region included in our summer forecast that actually did get normal rainfall, so the Almanac considers that a win.
All the same, even I have to give Farmers' Almanac a little credit for their fall predictions.
In August, the Farmers' Almanac predicted:
A wintry mix leading up to Thanksgiving, followed by significant snows in the state's higher elevations through the end of November.
Sharply colder air during the week approaching Christmas, followed by snows or cold rains as 2022 winds to a close.
If you remember November, the week leading up to Thanksgiving was a brutally cold one that dumped cold rain and tons of snow across the country. Looking ahead at the current forecast, with overnight temps leading up till Christmas hovering around 0° for most of the state, it seems the Almanac is 2-for-2 ending the year.
So what does it say about January and February?
Officially, Farmers' has framed our extended winter as colder and on the chilly side, but with normal precipitation.
Winter '21-'22 kicked off New Year's Eve when temps plunged from the very mild 70s and 80s into a pattern of snow and ice storms every two weeks through April. Seven warned winter storms in total for Oklahoma. That was not normal.
If you're new to the state, we usually get two mild falls of snow and a mix of cold and comfortable temperatures. Usually an inch or three of snow that's usually gone after a day or two. Just enough to enjoy winter without having to drudge through slush for weeks on end... normally.
In the colder, wetter years, Oklahoma suffers brutal ice storms that cut the power off from our more rural towns. In drier years we've experienced cold-weather droughts that lead to poor summer crops. The weather is often unpredictable and unbearable when not seasonably average.
If we make it to spring having had cold temps but steady precipitation, it'll be a good winter. I know I can't wait to see if Farmers' Almanac gets it right.
16 Annoying Things Oklahoma Drivers Do
I can't even begin to tell you how often the conversation turns to bad driving in my circle. Now I've lived in a bunch of different states, and driven in many more as my family's safe vacation driver, I can tell you some of the most common driver complaints are universal... but as Oklahoma drivers seem to swear they're the best, here are some of the things that annoy the rest of us.
New Oklahoma Laws That Went Into Effect In 2022
Another year, another bunch of new laws to learn. Most of them have little to no impact on the average citizen, the rest are so subtle in bureaucratic wording, they aren't important enough to even mention. Here are the notable new laws that went into effect in 2022.
Oklahoma's Highest Rated Steakhouses
Being a Top-5 cattle producer, you might expect to find a great steak on the menu of nearly every restaurant in the state, but life is never that simple or easy. The biggest hurdle isn't a lack of steak options on menus, it's the variation of personal tastes that drives reputations and reviews, but here are the steakhouses most Oklahomans can agree on.