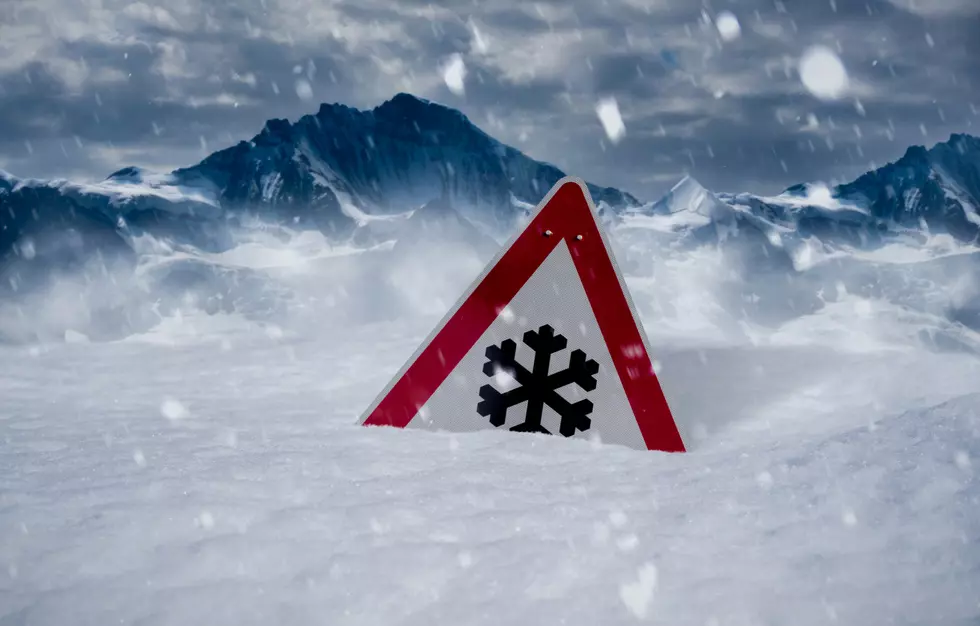 Grab the Bread & Milk Oklahoma the Snowpocalypse is Coming
ofc pictures
Better get the milk and bread while you still can! We could be seeing a severe winter storm with snow, ice, and freezing temperatures tomorrow. Now is the time to grab your essential supplies and get prepared.
All of the weather forecasts for every news outlet predict a frozen, icy Tuesday. The NWS (National Weather Service) has most of Oklahoma under a winter storm advisor or watch. To get all the details, click here.
Hit play on the video below and witness the full hysteria winter storms create
Of course, this could all change and probably will at least two or three times between now and tomorrow. By now we're used to it, it's Oklahoma. If you don't like the weather give it a minute or two and it'll change.
We're the only state in the union that can have all four seasons and a monsoon in a day. Gotta love it! Maybe it'll be like last time where we get a couple of inches then it melts away by the next day. Hope so.
That's the best, it's here just long enough so you can enjoy it, but not long enough to cause any major issues. So we'll see tomorrow if we get any snow. It'll definitely be colder out, well below freezing, oh boy.
Watch the video below as the "Bread & Milk" hysteria and hilarity continues
It's looking like another late winter for S.W. Oklahoma. Time to stock up on milk and bread. Why is it that every time there's severe weather we feel the need to stockpile and gang rush the grocery stores?
I'm just as guilty and as I'm typing this I'm already making a mental list of things I'll need, more like want. If you're trapped indoors you want your favorite food, drinks, and snacks. As it turns out all it takes is two or three inches of snow to put the fear of God into some people. Whatever the weather is like tomorrow, snow or not, stay warm and be safe. Maybe you'll get lucky and get to stay home. We could all use a snow day.
The Frozen Wichita Mountains
When Southwest Oklahoma gets a rare blizzard with serious snowfall, the mountains take on a fresh and stunning look. It's something we all get to experience thanks to the video and camera work of a few awesome locals with a stellar YouTube channel,
The Pemberton Boys
. They flew their drones and explored the mountains across SWOK while the views were grand, putting it online for everyone to enjoy.
Take a look inside this epic 1960s retro motel in Oklahoma!
It's the ultimate retro vintage motel stay in the Sooner State! If you've ever wanted to step back in time and experience the "good old days" once again, or maybe for the very first time, you're in luck. Take a break from the usual, boring, and mundane hotel room by booking a stay at this 60s-style motel in Oklahoma City, OK.
The Classen Inn
is one of the most unique and colorful motels in the state, if not the entire nation. It was originally built back in 1963 and has been completely remodeled, refurbished, and reimagined. If you're looking for a place to stay while on vacation, staycation, or on a weekend getaway why not make your accommodations a part of the vacation fun by staying at the Classen Inn in OKC.
You can click here to book your stay.
Scroll through the photo gallery below to take a virtual tour of this EPIC 1960s retro motel!
Basic Driving Tips For Snow & Ice
While you would assume that these are common knowledge, you'd be surprised how many people haven't lived in a place where they would learn these skills.
See the Most Epic & Unusual Oklahoma Airbnb Rentals!
Take a break from the boring and ordinary and make your next overnight stay more spectacular and memorable. These rentals are a lot more than just a place to stay, all of them could easily be a vacation destination and experience all on their own! If you're planning a staycation or vacation in Oklahoma you should definitely check out these epic and unusual
Airbnb
rentals versus booking just a plain old room at a hotel or motel. You could make your accommodations a part of the experience itself by staying at any of these amazing places in the Sooner State.
Scroll through the photo gallery below to check them out.