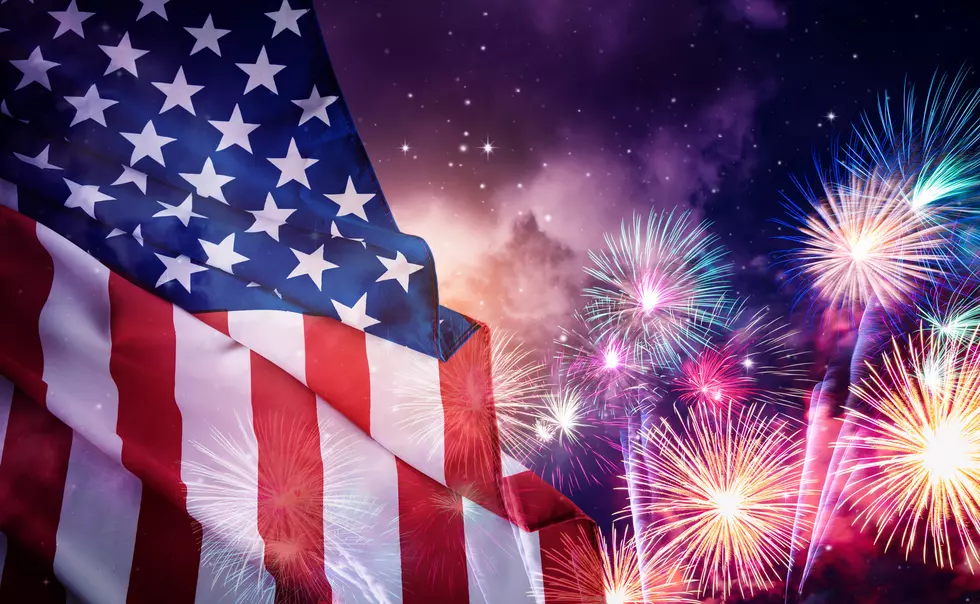 The Lawton Fort Sill 'Freedom Festival' is This Friday and Saturday at Elmer Thomas Park!
Nednapa
The 2022 Lawton, Fort Sill 'Freedom Festival' is coming up this week. This year it will be a 2 day Independence Day bash at Elmer Thomas Park 501 N.W. Ferris Ave. on Friday, July 1st, and Saturday, July 2nd (04-01-22 & 04-02-22). It's going to be an all-American, red, white, and blue, star-spangled good time!
Here's the best part IT'S FREE! That's right it's totally free, there's no charge to get in or for parking, just come out and enjoy two full days of July Fourth activities at the park. Complete with food trucks, vendors, bounce houses, zip line, fun family games, street performers, the "Let Freedom Ring" parade, live music, and of course it wouldn't be the fourth without FIREWORKS! Get ready to celebrate your independence with a BANG!
The fireworks display at Lawton, Fort Sill's 'Freedom Festival' will be one of the largest in S.W. Oklahoma and choreographed to music! Looking forward to that and the concerts scheduled for Saturday (04-02-22). We'll be seeing the 77th Army Band live and Emily Faith will be headlining the Amphitheater Stage that night.
For all the details and listing of daily activities visit the Lawton, Fort Sill 'Freedom Festival' official Facebook page. You're welcome to bring out lawn chairs, blankets, umbrellas, and pop-up tents. Don't forget sunscreen and insect repellant and you can also bring out your picnic baskets as well. No alcohol, drones, pets, or personal fireworks are allowed. Pop-up tents will need to be taken down prior to fireworks around 8:00-pm.
A BIG THANKS to the Freedom Festival Committee, the Lawton City Council, the City of Lawton Arts and Humanities Division along with all the City of Lawton staff and volunteers who make all of this possible. A HUGE THANKS TOO to all of this year's sponsors: the Lawton Fort Sill Chamber of Commerce Convention and Visitors Bureau, Arvest Bank, Great Plains AMBUCS, Pam & Barry's Team at RE/MAX, BancFirst, Fort Sill Credit Union, and Liberty National Bank. Thanks to all of the organizers, sponsors, and volunteers.
If you would like to get involved or volunteer at this year's festival contact the City of Lawton Neighborhood Services Supervisor Corey Bowen at corey.bowen@lawtonok.gov or by phone (580)-581-3592. For more information on the 2022 Lawton, Fort Sill 'Freedom Festival' contact the City of Lawton Arts & Humanities Division at (580)-581-3470 or (580)-581-3471 or visit the City of Lawton's website at www.lawtonok.gov.
Look Inside Lawton's most luxurious & beautiful Airbnb!
This amazing
French-style lakeside chateau
costs
$500.00 a night.
It's one of the most beautiful and luxurious
Airbnb rentals
in all of Lawton, Fort Sill.
It's a 4 bedroom 4.5 bath home
that can comfortably
accommodate 10 guests.
The home sits right on the waterfront of a lake with the backyard and patio facing the water. The entire home inside and out has an incredible atmosphere and breathtaking views. The outside spaces are as beautiful as the inside.
Check out the photo gallery to see what $500 a night will get you!
Where to Find the many murals by Justin Hackney's Spreading PAINT in Lawton, Fort Sill.
If you've driven around town you've probably seen all the murals we have in Lawton, Fort Sill. If you take the time to look you'll notice that they're everywhere. We're lucky to have so many talented artists that share their work with us regularly by painting murals. One name you've probably heard before is Justin Hackney and
Spreading PAINT
. His work of masterful murals can be found all over town. He's done some of the very best and has painted everything from rock stars to celebrities and everything in between. He has a style all his own and has painted murals in full color, vivid transposed negative style, and in black and white. Be on the lookout for his latest mural masterpiece he's going to keep painting them so long as people want them and there's wall space. Looking forward to seeing his next one! Check out the gallery below of Justin Hackney's Spreading PAINT murals and where to find them. We'll continue to add to the gallery as he paints them.
Getaway, Relax, Unplug & Unwind at Oklahoma's Premier & Most Luxurious "Glampgrounds" Located in Lawton, OK.
The best Lawton, Fort Sill Facebook pages & groups to join, follow & be a part of.
If you just moved here, welcome to Lawton, Fort Sill we're glad you're here. It can be difficult moving and starting up in a new place. Trying to make friends, find things to do, get more information about the town itself, and just get acquainted with all the goings-on. We're here to try and help you out with a list of the best Lawton, Fort Sill Facebook pages and groups you should join, follow and be a part of.