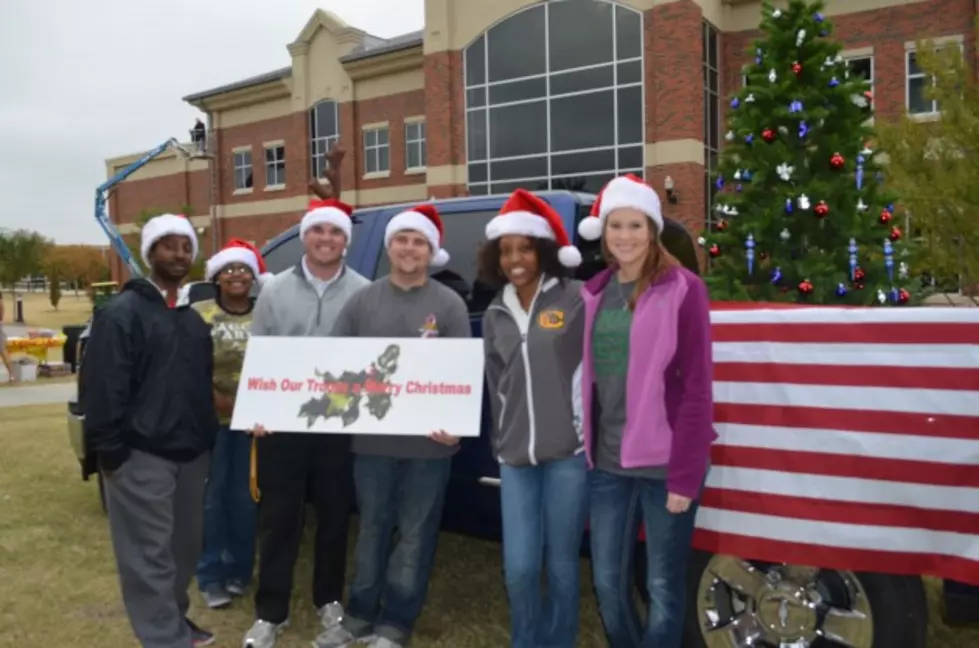 Cameron University: Wish Troops A 'Merry Christmas'
Cameron Students went behind the Science Complex building at Cameron University to send their Holiday greeting to deployed soldiers (Photo courtesy of CU School of Business)
The Advertising class in the School of Business at Cameron University partnered up with Red River Chevy dealers. This project was aimed to raise awareness for breast cancer, show support for firefighters and celebrating Veteran's Day.
Associate Professor of Marketing Dr. Theresa Billiot engages in an advertising campaign project with her students during the fall semester as part of their classwork.
"The purpose of the class is to integrate corporate social responsibility with the Red River Chevy dealers," Dr. Billiot said. "My goal, every fall that I teach it, is to have students step up the campaign efforts."
During the campaign, the Red River dealers gave Dr. Billiot and her class a 2014 Chevy Silverado to help with their promotion.
"Our students have been having a lot of fun with this promotion," Dr. Billiot said.  "They've gotten a lot of hands on experience where they can take their classroom knowledge and apply it to real-life events,"
With this, her students came up with the idea to have people send Veteran's Day greetings and Christmas wishes videos to soldiers that are deployed overseas.
"Our students had the truck out and had the American flag with a Christmas tree and had the truck dressed up as Rudolph," Dr. Billiot said. "We then recorded their messages that said either 'Happy Veteran's Day' or 'Merry Christmas.'"
Students, faculty, staff, administration and ROTC members came out to give Christmas greetings and messages to the deployed troops.
Dr. Billiot states that she plans to upload all the video message by next week on the CU School of Business Youtube page. This will allow deployed troops to view each person's message anytime they want. Billiot also states that through the help of social media sites such as Facebook they hope to spread the messages to more people that will share the link for the troops to find.
"We're also going to get in contact with military wives if they have a Facebook page and see if they would also like to post it on their page," she said. "We're also looking to see if there is anyone else that can help us get the videos out."
Although the students have worked hard on their projects and campaigns, Dr. Billiot hopes that her students simply enjoy the work they have done.
"I hope they enjoy their work because it's a lot of work. I tell them all the time that if you're happy with what you are doing, then the people that you are going to impact are going to be as happy as you are; regardless of what you are trying to promote," Dr. Billiot said.
Those wishing to help Dr. Billiot and her students deliver the video messages to deployed troops you can email her at tbilliot@cameron.edu. Dr. Billiot will have the Youtube link avaliable on the CU School of Business - Marketing Facebook page when the messages are ready for viewing.
Below Is A Cameron University ROTC Student Giving His Message For The Troops: