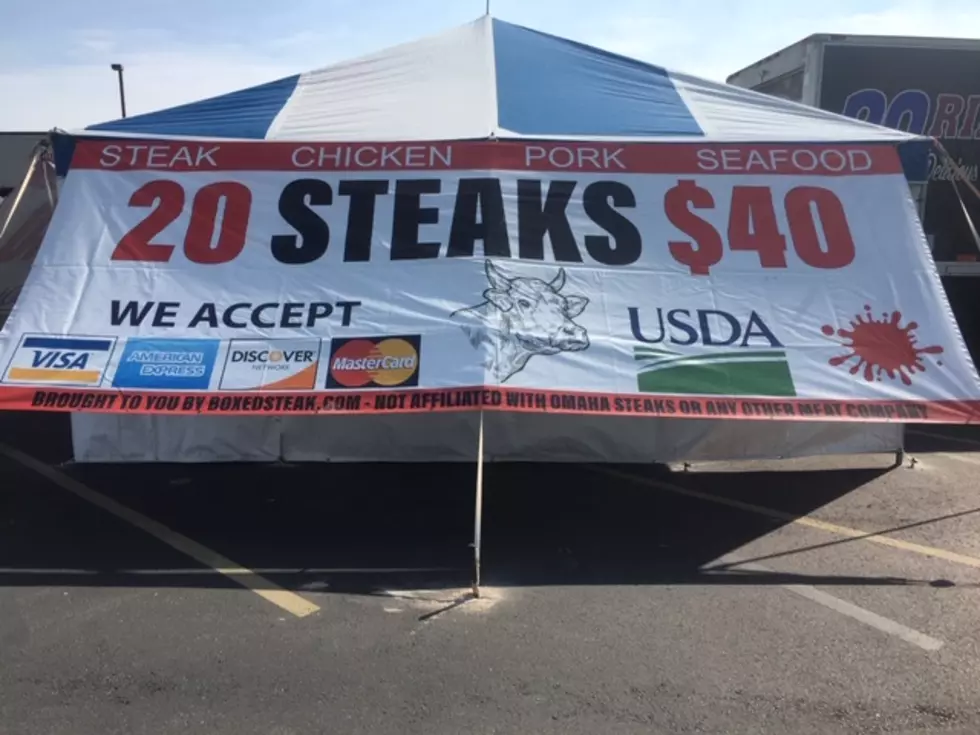 For a Limited Time Get 20 Ribeyes For Just $40.00
They're back! Essential Food Sales has returned to Lawton, Fort Sill with unbeatable deals on steaks, chicken, pork and even seafood. For a limited time you can get 20 ribeyes for just $40.00 while supplies last. They're set up on the corner of Ferris Avenue and Sheridan Road in the Goodwill parking lot across from Sam's Club/Walmart. You can't missing the giant tent or truck. Pull in to get great deals on all meats.
We'll be broadcasting live this week and throughout the weekend so stop by and grab a sticker, hang out and get special pricing on various meat packages. While we're there live you can get half off the "Family Pack." Ask about the all new "Tailgate Variety Pack Sampler" and you can get crazy bulk deals on Kansas City Strips, New York Strips, Mega Ribeyes, T-Bones, Filets plus premium chicken, pork and seafood.
All payments are accepted: credit, debit and cash. Essential Food Sales won't be in town too long before they head out to their next location. Don't let this opportunity pass you by, get stocked up for your next cook out and for the upcoming Winter. 20 ribeyes for just $40.00 you can't beat that deal!
Essential Food Sales has premium reserve beef steaks like Porterhouse T-Bones, Filet Medallions, Kansas City Strips, Mega Ribeyes and New York Strips. You can get great seafood like Mississippi Catfish, Maine Lobster, Snow and Dungeness Crab and Jumbo Peeled Shrimp. Essential Food Sales also has gourmet chicken like Lemon Pepper, Garlic and Herb, All Natural chicken and Mesquite BBQ. If you're looking for pork they have St. Louis style ribs, Bone-In Chops, Boneless Chops and bulk Italian Sausage.
Of course they also have 20 ribeyes for just $40.00 while supplies last. Time is running out so stop by the truck and tent today and get stocked up.
What is the best type or cut of steak? I'm sure you have a favorite, that one steak that you prefer above all others. I've grilled just about every type or cut of steak and like to mix it up from time to time. However I always return to the ribeye, it's the absolute best in my opinion. So how about you, what's your favorite? Take the poll below and let us know your thoughts. Lets find out what's the most popular steak in Lawton.
KEEP READING: 3-ingredient recipes you can make right now