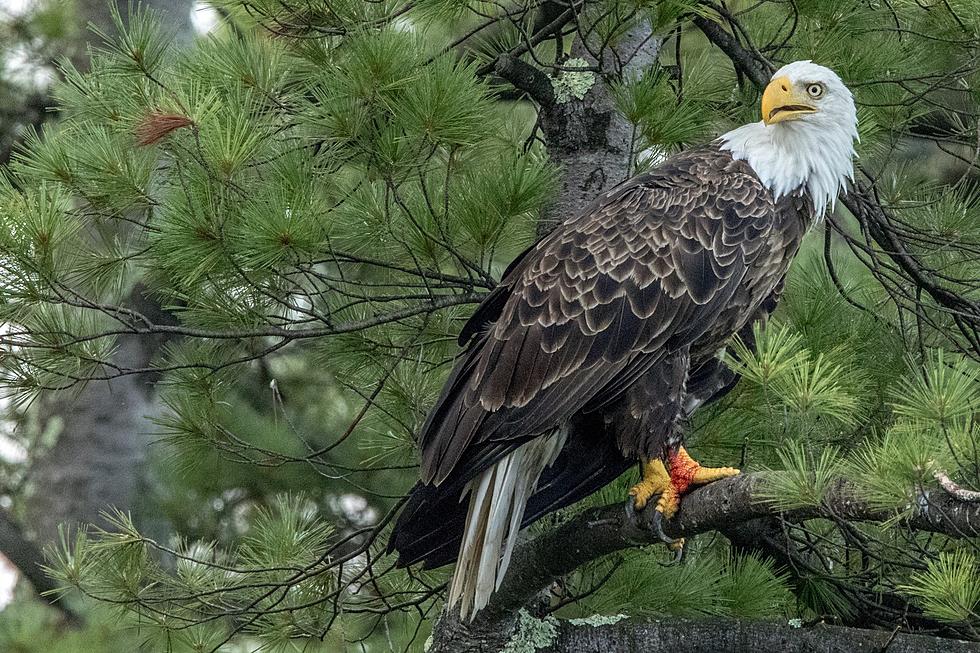 It's Almost Bald Eagle Season In Southwest Oklahoma
Kevin Burke
If the trees along Cache Road are any indication, fall is in full swing in Southwest Oklahoma, and it's only a matter of time before the temps fall to freezing and we all get to peep at our national bird in the wilds around Lawton.
I can't for the life of me remember the name of the YouTube channel that always seems to find and keep tabs on bald eagle nests around the part of the state, but I want to say it's a father/son team of videographer/photographers from Cache or Indiahoma. I know I've shared a ton of their videos over the years, but I can't find any of it at the moment. The point being, those two have made it a science of spotting these huge birds of prey in our corner of the state and it makes for amazing viewing.
If it seems random that these amazing birds would find a winter home in Oklahoma, it shouldn't. As their normal territories react to the weather conditions, their habitat freezes. These eagles are some of nature's most lethal anglers, and as our lakes and rivers so rarely freeze over, Oklahoma is easy winter pickings for these birds. In fact, that's where you'll find them the most, along waterways and reservoirs.
While it's never been impossible to spot a bald eagle in the Wichita Mountains once in a while, that's a relative rarity. While we consider lakes like Lawtonka and Ellesworth to be pretty big, they pale in comparison to the bald eagle hot spots in Oklahoma. Keystone Lake and Eufala Lake host some of the highest concentrations of migrating birds here... but that doesn't mean you can't venture out a little and find dozens roosting in the same tree down this way.
The Chickasaw National Recreation Area - AKA - Oklahoma's National Park hosts a healthy population of these creatures every year. With great vantage and visibility points all around the park and some supremely helpful federal-level park rangers, it's relatively easy to lay your eyes on America's most majestic bird.
If you're up for more of a challenge a little closer to home, the Quartz Mountains North of Altus also provide a temporary home to a small population of these birds. It's also kind of cool walking among the flooded town when the water is so low during these winter months.
Before you walk out the door planning a birding trip just yet, it's not quite time. Eagle viewing starts now in the far northwestern corner of the state, and it'll slowly move towards us with the daily low temperatures.
Peak season for seeing these birds down here is in January and the early part of February when the weather here is at its coldest. If you wanted to plan an earlier trip, or make this activity part of a broader trip you already have planned, you might start with these tips from TravelOK.
LOOK: 50 famous memes and what they mean
With the infinite number of memes scattered across the internet, it's hard to keep track. Just when you've grasped the meaning of one hilarious meme, it has already become old news and replaced by something equally as enigmatic. Online forums like Tumblr, Twitter, 4chan, and Reddit are responsible for a majority of meme infections, and with the constant posting and sharing, finding the source of an original meme is easier said than done. Stacker hunted through internet resources, pop culture publications, and databases like
Know Your Meme
to find 50 different memes and what they mean. While the almost self-replicating nature of these vague symbols can get exhausting, memes in their essence can also bring people closer together—as long as they have internet access.
30 famous people you might not know were college athletes
Stacker
dug deep to find 30 celebrities who were previously college athletes. There are musicians, politicians, actors, writers, and reality TV stars. For some, an athletic career was a real, promising possibility that ultimately faded away due to injury or an alternate calling. Others scrapped their way onto a team and simply played for fun and the love of the sport. Read on to find out if your favorite actor, singer, or politician once sported a university jersey.
LOOK: Things from the year you were born that don't exist anymore
The iconic (and at times silly) toys, technologies, and electronics have been usurped since their grand entrance, either by advances in technology or breakthroughs in common sense.
See how many things on this list
trigger childhood memories—and which ones were here and gone so fast you missed them entirely.