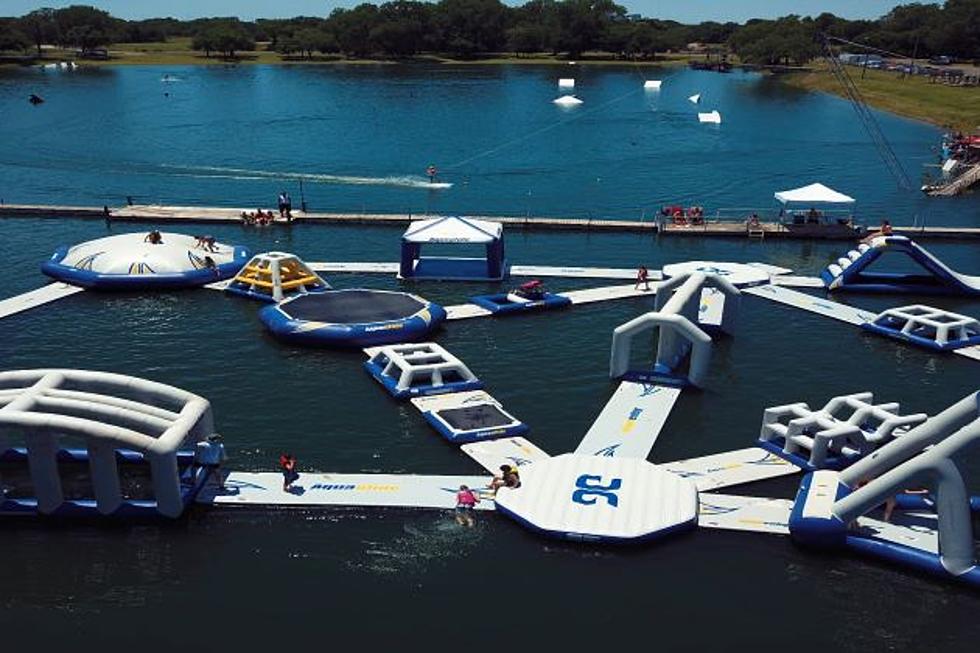 It's the Coolest Place to Cool Off in Oklahoma this Summer!
Facebook.com- Wake Zone Cable Park,
Spring is here and before you know it Summer will be officially upon us, along with the insane Summer heat we all know and love in the Sooner State. As the days and weeks go by it will become hotter and hotter, so how exactly are you going to cool off? Well, check out the absolute coolest place to cool off in Oklahoma!
Have you ever heard of Wake Zone Cable Park? It's located in Oklahoma City, OK. and has to be one of the coolest places you can cool off. The park features wakeboarding and a HUGE inflatable/floating aqua park. It's one of the most unique and imaginative water parks of its kind and the only wake park in the state.
Wake Zone Cable Park in OKC is the Coolest place to cool off this Summer
What makes Wake Zone Cable Park so unique is its overhead cable system. No boats are used or needed to wakeboard and it can pull up to 8 people at the same time. I've never tried to wakeboard, but it looks awesome! According to the website, no experience is necessary and the staff will teach you everything you need to know. I'm thinking sometime this Summer I have to try it myself, challenge accepted!
The aqua park looks amazing too! I've never had the opportunity to go so this Summer the family and I will head to OKC for a weekend getaway/staycation. We'll hit Wake Zone then head to Bricktown to hang out, grab a bite to eat, and maybe even hit a show/concert while we're at it. Now that sounds like a great weekend.
You can wakeboard right now and the aqua park will more than likely open on May 1st. To get more information, ticket prices and to plan your trip visit their official website. You can also check them out on their official Facebook page to stay up to date with everything that's going on at Wake Zone Cable Park.
Fun & Kid Friendly Oklahoma Vacation Destinations
Far too often, some bored Karen whose only personality trait is complaining about everything will say something along the lines of "There's nothing to do in Oklahoma..." That's simply not true. There is a ton of stuff to do in Oklahoma that you and the kids will love, you just have to know where to find that stuff and have the gumption to hop off the couch and go do some of it.
The most unusual and beautiful Airbnb rental in Oklahoma
Check out
the Silo at Lake Tenkiller
. It has to be one of the most unusual and beautiful Airbnb rentals in Oklahoma. It's a 3 bedroom, 1.5 bath home located at Lake Tenkiller and yes it's a silo. It can comfortably sleep up to 6 people and comes with all the best creature comforts including a fire pit out back where you can kick back, relax and take in the view. Not only is this one of the most unusual rentals available on Airbnb in Oklahoma it's also one of the highest-rated. It currently boasts a solid 5 out of 5 stars and everyone who has stayed there have been very complimentary about how wonderful it is. This place looks amazing!
Oklahoma Diner's, Drive-In's, and Dive's Guy Fieri Raved About On TV
We all know Guy Fieri is the self-proclaimed Mayor of Flavortown, and as such, we generally trust his discerning palate to guide us to the best food any place has to offer. At least the places he tends to go often offer up some really good eats, and in looking at this list, having eaten at most of these places a handful of times, he's not wrong. Here are the Oklahoma original restaurants that have been featured on Triple-D.
Top 10 most terrifying towns & scary cities in Oklahoma
While Oklahoma is well known for its beauty and friendly people there are a few places in the Sooner State you'll want to avoid. These are the most terrifying towns and scary cities in the state. It's not that they're bad places, or plagued with crime and other negative factors. The towns and cities below have one single thing in common. They all have active paranormal and supernatural phenomenons. From ghost stories to urban legends and tragic tales. A lot of these places are well known to those who live in Oklahoma and even all over the nation. If you're looking to get scared or do a little ghost hunting you can start with the list below.