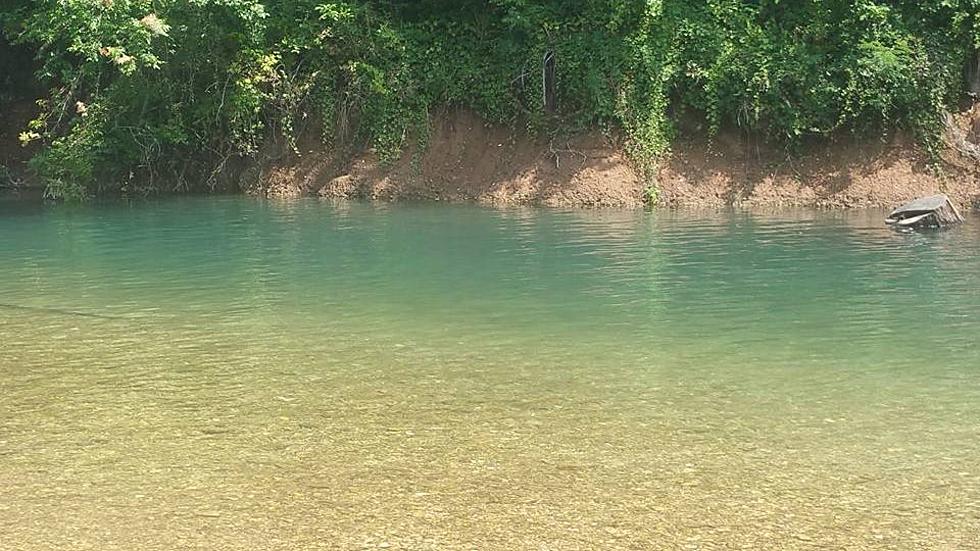 This Blue Crystal Clear Oklahoma Creek and Campground is the Coolest Place to Cool Off
Facebook.com- Smokey Valley Campground
Summer is fast approaching and before you know it, Mother Nature will crank the heat up and the misery will begin. To say it gets hot during the summertime in Oklahoma is a huge understatement. It gets blazingly hot.
SCROLL DOWN TO LEARN MORE ABOUT THIS CRYSTAL CLEAR CREEK & OKIE OASIS
Soon we'll be looking for a reprieve from the scorching heat and Mother Nature's moodiness. One of the coolest places to cool off is Spring Creek in N.E. Oklahoma in Locust Grove with its blue crystal clear water.
Spring Creek at Smokey Valley Campground is an amazing place to swim and cool off
Spring Creek in Locust Grove, OK. is a natural creek formed and fed by deep spring wells. It features some of the prettiest, bluest, and crystal clear water around. So how do you get to this somewhat hidden Okie oasis?
"GET YER CREEK ON" AT SMOKEY VALLEY CAMPGROUNDS IN LOCUST GROVE, OK.
Most of Spring Creek is located on private property and is inaccessible. However, you can access it and legally swim there thanks to Smokey Valley Campsite. They offer low-cost entrance to Spring Creek to all.
Smokey Valley Campgrounds is located at

2223 S.E. 61.6 Drive in Locust Grove, OK

.
If you enjoy natural places and swimming holes vs pools and water parks to cool off, Spring Creek at Smokey Valley Campground is one of the Sooner State's very best. They offer both day-use and overnight passes.
YOU CAN STAY THE DAY OR CAMP OVERNIGHT AT SMOKEY VALLEY CAMPGROUND
Day passes are only $6.00 per person ages 13 and up, everyone else is just $4.00. The overnight camping passes are $9.00 per person ages 13 and older, $7.00 per person under the age of 13. Click here for details.
With its blue and crystal clear water Spring Creek at Smokey Valley is an Okie Oasis
Smokey Valley Campground in Locust Grove, OK. looks like an amazing destination for a quick daycation, staycation, or weekend getaway. It's the perfect place to escape the heat, kick back, unwind, and relax.
IF YOU'RE WANTING TO ESCAPE THE HEAT THIS SUMMER SPRING CREEK IS THE TICKET
So if you're searching for places to cool off this summer the crystal clear waters of Spring Creek sure look inviting. For more information on Smokey Valley Campground visit the official Facebook page here.
Five epic & unusual Oklahoma Airbnbs you should check out
Take a break from the boring and ordinary and make your next overnight stay more spectacular and memorable. These rentals are a lot more than just a place to stay, all of them could easily be a vacation destination and experience all on their own! If you're planning a staycation or vacation in Oklahoma you should definitely check out these epic and unusual
Airbnb
rentals versus booking just a plain old room at a hotel or motel. You could make your accommodations a part of the experience itself by staying at any of these amazing places in the Sooner State.
Scroll through the photo gallery below to check them out.
Oklahoma's Ten Best Fishing Lakes
If you know, you know. When it comes to fishing, not all lakes are equal. While you can fish and catch fish in just about every body of water in the Sooner State, there are only a handful of lakes Oklahoma anglers get serious about.
Here are the top fishing lakes in Oklahoma.
Check out Oklahoma's premier glampground getaway
Fun Kid Friendly Oklahoma Vacation Destinations
There is a ton of stuff to do in Oklahoma that you and the kids will love, you just have to know where to find that stuff and have the gumption to hop off the couch and go do some of it.