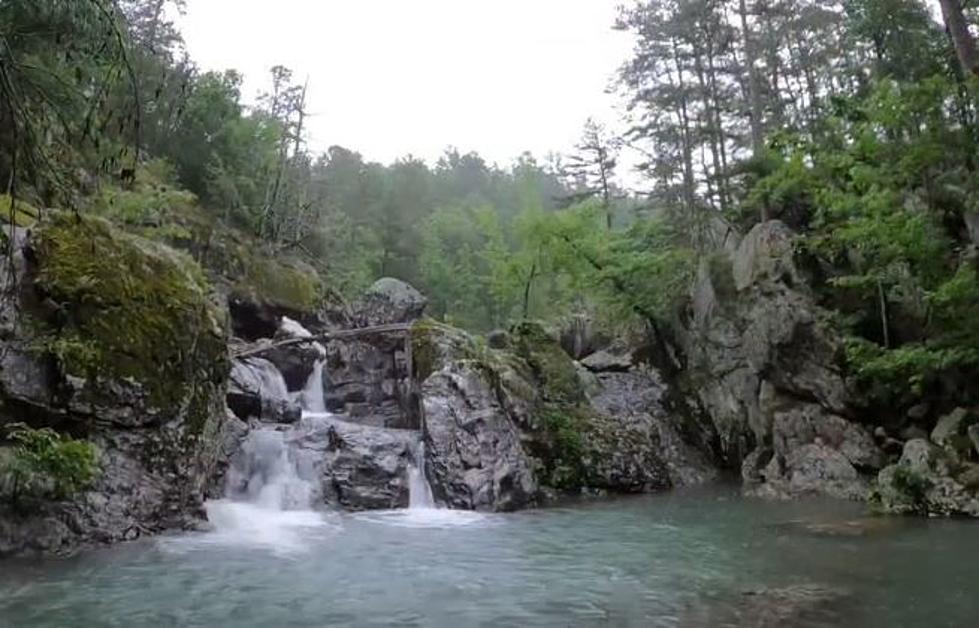 The Oklahoma 'Secret Hole' is a Sooner State Hidden Oasis and a Cool Place to Cool Off
YouTube.com- The Pemberton Boys
It's one of Oklahoma's best-kept secrets. This amazing swimming hole is a Sooner State hidden oasis. If you can manage to find it, this place is one of the coolest places to cool off with deep pools and natural falls.
SCROLL DOWN TO LEARN MORE ABOUT OKLAHOMA'S HIDDEN SECRET HOLE
Maybe you've heard of it before, it's called the "Secret Hole" and for good reason. Those who have had the good fortune of finding it say it's the single greatest swimming hole in the state. Maybe even the Nation.
The Secret Hole is an Oklahoma hidden oasis and one of the coolest places to cool off
A lot of people talk about this place but only a select few have actually been there. More than likely if you've lived in Oklahoma for a while you've no doubt heard about this epic, beautiful, and secluded swimming hole.
TAKE A VIRTUAL TOUR OF OKLAHOMA'S STATE PARKS & OUTDOOR SPACES BELOW
With it being officially springtime now it won't be long before we start seeing warmer temperatures. Summer will be here before you know it, along with the oppressive heat so we'll be looking for places to cool off.
Hit play on the video below to check out the Secret Hole in S.E. Oklahoma
As moody as Mother Nature can get, especially in the summertime in Oklahoma with the miserable heat this place seems like the perfect place to visit. Well, if you can find it. It's not called the 'Secret Hole" for nothing.
IT'S A SECRET AND WELL HIDDEN BUT THE SECRET HOLE ISN'T IMPOSSIBLE TO FIND
From what we know the "Secret Hole' is located in Southeast Oklahoma in McCurtain County somewhere in the Ouachita Mountains. At least that narrows it down a little. With some investigating maybe you can find it.
Located in S.E. Oklahoma in the

Ouachita Mountains

the Secret Hole is amazing
You can watch the two videos in the article for more clues on where to find the "Secret Hole." You could also ask around some of the towns that are located in McCurtain County like Idabel and Broken Bow for details.
KEEP SCROLLING TO SEE A LISTING OF GREAT STAYCATION DESTINATIONS BELOW
It's rumored that the "Secret Hole" is about an hour or so away from Broken Bow on the east side of Mountain Fork River. It will require a hike to get to. From what the video shows the path is fairly easy and well-worn.
Watch the video below to take a virtual tour of the Secret Hole in

McCurtain County

, OK.
This summer I'm planning a trip to McCurtain County to visit Broken Bow and hopefully find the "Secret Hole." S.E. Oklahoma is one of the state's most scenic and beautiful areas. A great place for a weekend getaway.
S.E. OKLAHOMA IS HOME TO SOME OF THE MOST PICTURESQUE LOCATIONS
There's so much to see and do in that part of the state and along the way. So if you're looking for a quick family staycation destination with lots of outdoor fun and adventure this looks like the perfect match.
Oklahoma State Parks
Get out and enjoy one of Oklahoma's amazing state parks sometime. From the high desert of Black Mesa to the swampy lowlands and tall pines of Southeast Oklahoma, there's a place of recreation for everyone in the Sooner State.
Take a tour of this epic Oklahoma 6.5 million dollar country club mansion
This EPIC-ESTATE is located at
3226 East 62nd Street in Tulsa, OK.
and is listed by
Stuart Gallagher
of
Coldwell Banker Select
. It's a HUGE 9,115 square foot 3 story home that was originally built back in 2010. It features 4 bedrooms, 7 bathrooms, a 5 car garage, and is centered on 2.11 acres. It's a one-of-a-kind Palatial Estate that's located right next to the
Southern Hills Country Club
right on the golf course's 12th tee box.
Check out the photo gallery below to take a quick virtual tour and see what $6,500,000 could buy you.
Fun Kid Friendly Oklahoma Vacation Destinations
There is a ton of stuff to do in Oklahoma that you and the kids will love, you just have to know where to find that stuff and have the gumption to hop off the couch and go do some of it.
7 Oklahoma "Must Experience" Drive-In Movie Theaters
If it's been a while since you've been to the drive-in movie theater or if you've never had the chance to go before, now's the time. Oklahoma has several drive-in theaters all across the Sooner State. Chances are you're close to one or close enough no matter where you're at. We have drive-in theaters in OKC, Chickasha, Tulsa, Guthrie, Poteau, Springer, and Shattuck. And that's just to name a few places where you can find them. So if you're looking for a nostalgic good time and an epic evening head to any of these amazing drive-ins.