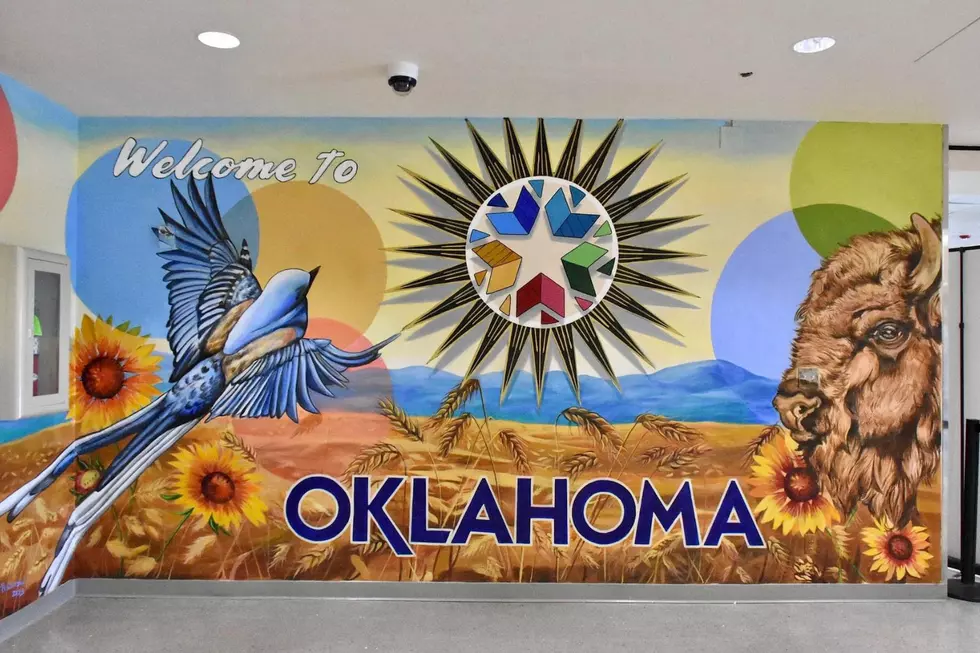 Regional Airport In Lawton, Oklahoma Receives New Mural
Lt. Governor Matt Pinnell, Facebook
A lot has been happening at the Lawton Fort Sill Regional Airport over the last few years! There's been much needed construction and updates to the airport itself, along with the addition of the military welcome center and now a beautiful mural to greet passengers to Oklahoma.
In September of last year, the Oklahoma Arts Council put out a call to artist to design and paint a new mural for the Lawton Fort Sill Regional Airport.
This mural is part of the Oklahoma Art Council's series "Art In Public Places," and is a partnership between the council at the Oklahoma Department of Tourism.
According to Oklahoma Lieutenant Governor Matt Pinnell, who oversees the state's tourism department, stated in a Facebook post that the mural features "Oklahoma's iconic imagery (and) will be a warm welcome to visitors passing through Lawton Fort Sill Regional Airport for years to come."
As you can see in the image of the mural above, it depicts the Wichita Mountains Wildlife Refuge, surrounded by a scissortail flycatcher, a bison head, Indian paintbrushes, wheat and colorful abstract circles representing Oklahoma's beautiful color palette. In the center is a sun of Oklahoma's current tourism emblem. The mural was done by artist Scott Henderson - a mixed media artist, painter, curator and muralist based out of Oklahoma City.
Lawton's airport sees people from all over the world!
Since Lawton is a proud military community thanks to its neighbor of the Fort Sill Army Post, the community sees visitors from around the country and the world! Whether they're coming to stay a short time for military training or will be stationed here for a few years, the first taste they get of Lawton is at the airport. So this mural will definitely give visitors a taste of Oklahoma's beauty!
Where to Find the many murals by Justin Hackney's Spreading PAINT in Lawton, Fort Sill.
If you've driven around town you've probably seen all the murals we have in Lawton, Fort Sill. If you take the time to look you'll notice that they're everywhere. We're lucky to have so many talented artists that share their work with us regularly by painting murals. One name you've probably heard before is Justin Hackney and
Spreading PAINT
. His work of masterful murals can be found all over town. He's done some of the very best and has painted everything from rock stars to celebrities and everything in between. He has a style all his own and has painted murals in full color, vivid transposed negative style, and in black and white. Be on the lookout for his latest mural masterpiece he's going to keep painting them so long as people want them and there's wall space. Looking forward to seeing his next one! Check out the gallery below of Justin Hackney's Spreading PAINT murals and where to find them. We'll continue to add to the gallery as he paints them.
Oklahoma Diner's, Drive-In's, and Dive's Guy Fieri Raved About On TV
We all know Guy Fieri is the self-proclaimed Mayor of Flavortown, and as such, we generally trust his discerning palate to guide us to the best food any place has to offer. At least the places he tends to go often offer up some really good eats, and in looking at this list, having eaten at most of these places a handful of times, he's not wrong. Here are the Oklahoma original restaurants that have been featured on Triple-D.