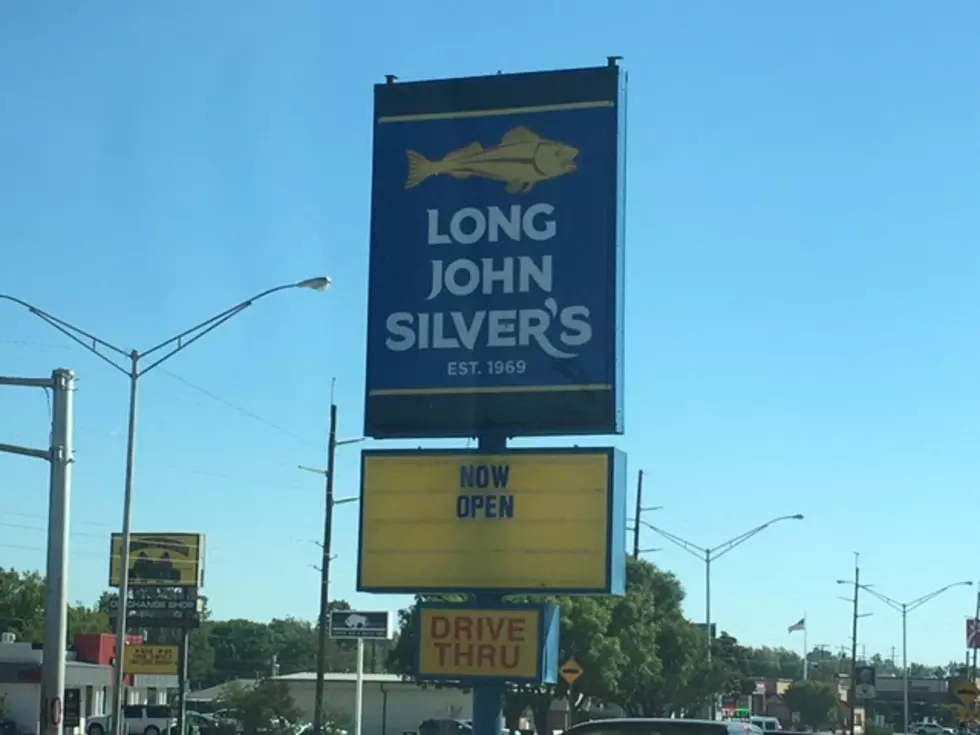 Long John Silver's is Officially OPEN in Lawton, Fort Sill!
TSM Lawton: Critter
It's been two long years but the wait is over. Long John Silver's in Lawton, Fort Sill has officially reopened! The glorious news broke over the weekend that LJS on the corner of N.W. Cache Rd. and 26th St. is BACK!
If you've been anywhere near the corner of N.W. Cache Road and 26th Street over the past few days, you've probably seen all the commotion and traffic. TONS of people are dining in and hitting the drive-thru at LJS.
Worth the wait! There were a lot of setbacks and all kinds of issues that delayed Long John Silver's from being reopened. One of the biggest was the COVID-19 pandemic. But now it's finally finished and OPEN!
In February 2020 a fire broke out that severely damaged the property and almost burned it to the ground. You can click here to read the story from KSWO. Ever since that time, it's sat empty and most thought it would never return. Luckily for us they completely rebuilt, remodeled, and reopened the old Long John Silver's.
While it sat abandoned for the past couple of years, YouTuber WallieB26 did a video about the Lawton Long John Silver's. It shows the state of the building and how a few items, tables, and chairs were left behind.
Hit play on the video below from WallieB26 highlighting the Lawton Long John Silver's
The video now serves as a "Before" picture since it's been remodeled and reopened. It's located at 2636 N.W. Cache Road on the corner of 26th Street and Cache Road. Looking forward to stopping by for lunch or dinner.
If you're looking for a job Long John Silver's is hiring. You can get all the details by visiting the official LJS website. Now that they've reopened, the "Now Hiring"  section on the site has updated to allow applications.
The top 10 Oklahoma scream parks & haunted attractions
From truly terrifying to kid-friendly and everything in between. Oklahoma has some of the biggest, best and scariest haunted attractions and scream parks in the country. If you're looking for some fall family fun check out these amazing attractions for a frighteningly good time! If haunted houses aren't your thing you could always
hit the pumpkin patches & corn mazes by clicking here
.
In alphabetical order here are your top 10 "best" or "scariest" Oklahoma haunted attractions & scream parks to check out this Halloween if you dare:
Spirit Halloween Lawton, Oklahoma
Spirit Halloween utilized all the space at their location on NW Cache Road in Lawton, Oklahoma. The spooky establishment is housed in the old Wichita Furniture building. Check out the pics below from our recent visit!
The top 10 Oklahoma pumpkin patches & corn mazes
If you're looking for a place to go for a little fall family fun you're in luck! Oklahoma is home to some of the biggest and best pumpkin patches and corn mazes in the U.S. People from all over travel to the Sooner State every fall to visit these incredible farms. Not only do they offer pumpkin patches along with corn and hay mazes, they also have all kinds of other activities like petting zoos, rides, arts & crafts, food, games, haunted attractions, and a whole lot more. So no matter what your idea of fall fun is, you can find it all in one place!
2022's Most Popular Halloween Costumes
It's not hard to guess which Halloween costumes will be the most likely to win you contest gold, you just have to look at the last year of entertainment out of Hollywood. With massive hits like Stranger Things, Top Gun, and whatever Jurassic Park their on now, 2022's Halloween costume offerings are a breeze.