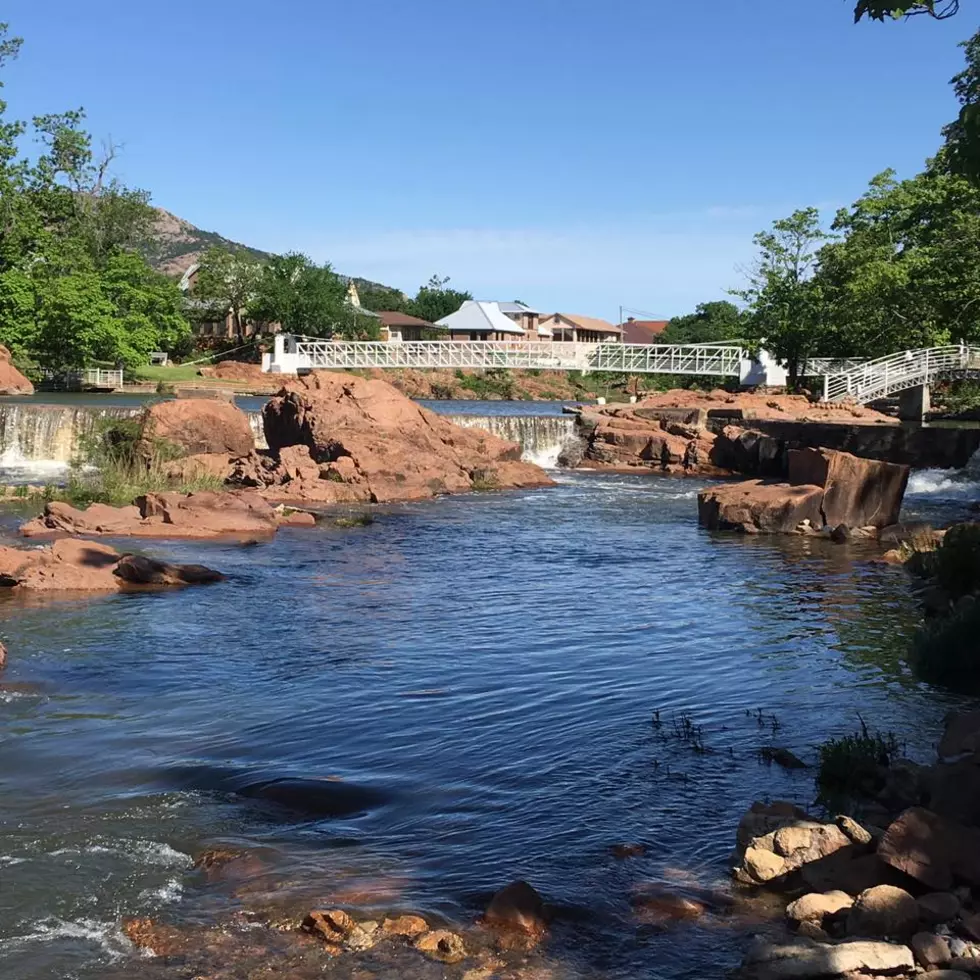 Medicine Park Named As Top 3 Oklahoma Day Trip Destination
Michelle Anders
There's a phrase people use to describe when someone is so used to something, they no longer appreciate it. Taken for granted. As time goes on, and our current amazing trend of American prosperity continues, people seem to lack an appreciation for it. Case and point, Medicine Park.
Lets be honest, how many times have you been to Medicine Park? Once? Thrice? Odds are, you probably feel like you've been there, seen it, opted to not buy the t-shirt, but everyone else around Oklahoma feels differently about the cobblestone village. Not only is Medicine Park the #3 listed "Greatest Day Trip Destination" in Oklahoma, it very narrowly missed being declared the #1 "Coolest Small Town" in the nation a few years ago. So what makes it so cool?
*takes a giant inhale of oxygen*
One of my favorite things in the entire world of small towns along the Wichita Mountains is to just pick a random day and go sit by the creek that runs through it. The waters there flow almost all the time, though there have been days so cold, the waters froze still.
It's relaxing. I also love to fish. It's easy, also relaxing, and this time of year is perfect for fishing because you won't be sitting around in your own miserable sweat.
You might be thinking that it's just the type of touristy place and that the only reason it exists is to convince you to spend money, and while that's a fair thought for the uninformed, it's actually full of free charm and some pretty stellar history. I'd share some of it here with you now, but then I'd be robbing you of the experience you have discovering it for yourself.
Medicine Park is the jumping off point for a lot of outdoor activities in and around the Wichita Mountains Wildlife Refuge too. You can kayak, mountain bike, hike, trek, and probably a few more things I haven't quite experienced myself. Don't have a kayak, mountain bike, hiking goods or trekking poles? You can pick those up through the pro and rental shops there in town. That way you can dip your toes into a new experience without breaking the bank on something you'll likely use only once.
Of course, the music festivals that happen there, but as we're still dealing with rona at the moment, and for the foreseeable future, we'll just leave that off this particular list since the odds of them happening are iffy at best.
Sure, you might be thinking "But there's no movie theater or amusement park..." and that's the point. People looking for simple-minded entertainment can find it easily enough North and South of SWOK. The true wonder of Medicine Park is how chill it is. I've been known to take an evening and just walk around in Medicine Park. Between the bridges and small population, it can be a really quiet place to just reflect on your life and enjoy a little peace. The people are nice to talk with also... and it's all just eleven-ish miles from Lawton.
The only day trip ideas that beat out our Medicine Park are the insanely cool Heartland Flyer Amtrak train that runs from OKC to Fort Worth, and a quick trip to Broken Bow Lake way down in Meth-Country SEOK.
See the Must-Drive Roads in Every State