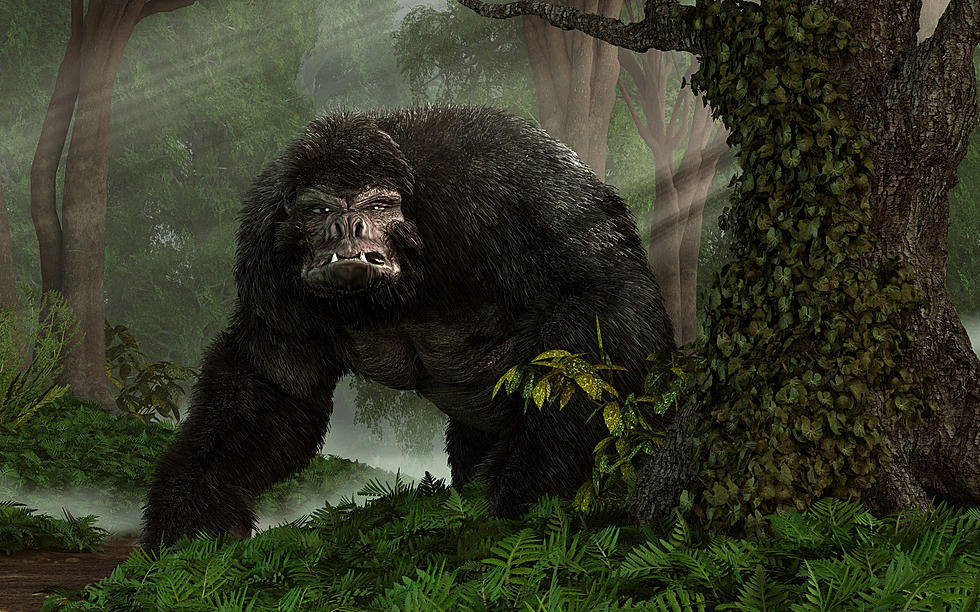 The Kiamichi Mountains Bigfoot Conference is Coming to Talihina, OK.
Daniel Eskridge
Oklahoma has its fair share of myths, monsters, and urban legends but one of the most well-known and talked about is Bigfoot. The wilds of the Sooner State have produced numerous sightings and reports of the legendary creature. He, she, or it has been spotted all over, but there are hotspots including Talihina, OK.
SCROLL DOWN TO LEARN MORE ABOUT OKLAHOMA'S BIGFOOT CONFERENCE
Not only is the town of Talihina, OK. and the surrounding valleys and mountains prime sasquatch territory, but it's also the location for the Kiamichi Mountains Big Foot Conference. That's right, a bigfoot conference. It's a 3-day event featuring subject experts, witnesses, authors, and even famous TV hosts from popular shows.
The conference is scheduled for this May. It kicks off on Friday, May 19th (05-19-23) and will run through Sunday, May 21st (05-21-23). Opening night on Friday will be a FREE EVENT at the Bigfoot Museum Of Oklahoma for a special VIP donation ceremony and book signing. You can "meet and greet" your favorite authors and experts. Robert Kryder of KX- Kryder Exploration will be donating items to the museum.
The Kiamichi Mountains Bigfoot Conference is coming to Talihina, OK. this May
Then the weekend gets underway, and both Saturday and Sunday (05-20-23 & 05-21-23) will be the main Bigfoot conference at the Choctaw Nation Community Center located at 100 Railroad Street in Talihina, OK. 2 full days of special panels, guest speakers plus get autographs and meet the authors and personalities.
CHECK OUT OKLAHOMA'S MOST EPIC & UNUSUAL AIRBNB RENTALS BELOW
Make plans now to attend the Kiamichi Mountains Bigfoot Conference. You can get all the details and ticket pricing by visiting the official website, click here. Tickets are very reasonable and you can go for one day or the full weekend. They also have special prices for kids, so bring the whole family for some Bigfoot fun.
Some of the most beautiful and scenic views in the Sooner State can be found in Talihina, OK. in the Kiamichi valley and mountains. It's an amazing place and definitely worth visiting. It would make for a good staycation, vacation, or weekend getaway. Plus while you're there you could always do a little Bigfoot hunting yourself. 

See the Most Epic & Unusual Oklahoma Airbnb Rentals!
Take a break from the boring and ordinary and make your next overnight stay more spectacular and memorable. These rentals are a lot more than just a place to stay, all of them could easily be a vacation destination and experience all on their own! If you're planning a staycation or vacation in Oklahoma you should definitely check out these epic and unusual
Airbnb
rentals versus booking just a plain old room at a hotel or motel. You could make your accommodations a part of the experience itself by staying at any of these amazing places in the Sooner State.
Scroll through the photo gallery below to check them out.
25 hilarious Oklahoma personalized tags DENIED by the DMV
A great way to personalize your vehicle is with a custom license plate. There are some pretty creative and funny tags running around the Sooner State. Some are easy to get, others will have you scratching your head trying to figure it out what it says. Personalized plates are very popular and we're seeing more of them on the road every day. However, there are some rules and restrictions when it comes to what you can and can't put on your plate. If it's considered obscene, vulgar, demeaning, or includes any mention of drugs, alcohol, or illegal activities it will be DENIED. Check out the photo gallery below of some of the most hilarious tags that were rejected by the Oklahoma Department of Motor Vehicles. WARNING: some of these could be considered offensive so if you're easily offended proceed with caution. You have been officially warned.
Getaway, Relax, Unplug & Unwind at Oklahoma's Premier & Most Luxurious "Glampgrounds" Located in Lawton, OK.
Funny, Crazy & Unusual Street Names Found in Oklahoma
One thing's for sure, Oklahoma has a ton of funny, unusual, and downright crazy street names. Across the Sooner State in every town, city, and rural community you'll find hilarious streets and roads with some of the most bizarre names you can think of. When they were named, more than likely years ago, I'm sure no one thought they would be considered crazy or funny at the time. Well, times have changed! Now some of these street names had to be deliberately named by someone with a great sense of humor. At least in my opinion anyway. Scroll through the photo gallery to check out some of Oklahoma's funniest and craziest street names. If you know of a funny or crazy street or road name in Oklahoma take a quick photo of the sign and submit it to critter@townsquaremedia.com and we'll include it in the photo gallery below.