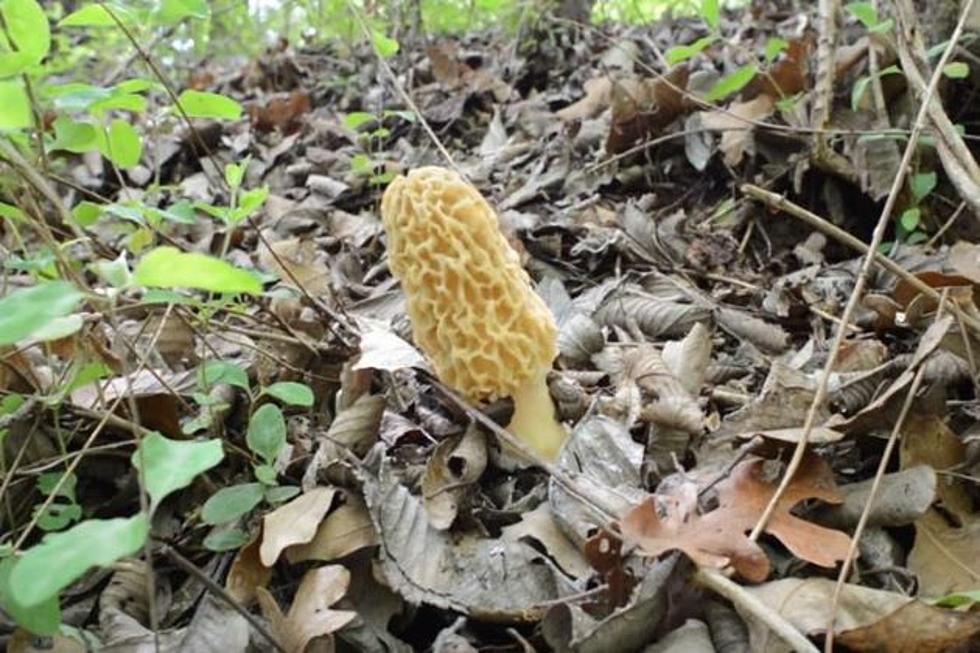 It's Springtime in Oklahoma & That Means Morel Mushrooms
YouTube.com- OutdoorOklahoma
It's Morel mushroom hunting season in Oklahoma! These tasty little treats are only found for a limited time throughout the spring. Early spring is the best time to hunt and find Morels all across the Sooner State.
SCROLL DOWN TO LEARN MORE ABOUT HUNTING MORELS IN OKLAHOMA
For the next 4-6 weeks it's prime hunting season so get out there and start looking for Morels. Once the Red Buds start blooming, which they are, it's about the right time to get off the pavement, and head to the woods.
A handful of Morel mushrooms ready to be cooked and enjoyed!
If you've never had one, you're missing out, they're the most delicious mushrooms hands down! So what do they taste like? To me, they have a nutty, earthy flavor when lightly fried they take on a more meaty flavor when fully cooked. Some even say they taste a little like steak depending on how they're prepared.
MOREL MUSHROOMS HAVE AN INCREDIBLE "MEAT-LIKE" FLAVOR WHEN FRIED
Some people eat them raw, but I prefer cooked or fried. One of the best ways to fry them is in bacon grease, it may sound a little weird but believe me, it takes the flavor to a whole new level and tastebud experience!
Sometimes you get lucky and find a big one, this one's a meal in itself!
Because they only grow for a limited time during the early spring months and once harvested they have to be eaten quickly, they're very expensive to purchase. Not only that Morels aren't farmed like other mushrooms.
EARLY SPRING IS THE BEST TIME TO HUNT FOR MOREL MUSHROOMS IN OK.
They have to be collected in the wild. I've seen them for $20.00 to $30.00 a pound and that's when you can find them. If you've never hunted for Morel mushrooms before hit play on the video below to learn more.
You can find Morels in the woods, typically they grow near creeks, areas of higher moisture, and in dead foliage. Look around the base of trees and if you see a dead or near-dead tree make sure to look closely.
THE MIGHTY MOREL MUSHROOM CAN BE FOUND ALL ACROSS THE SOONER STATE
Morels love to grow near the bases of dead trees. You'll see them sprouting out or slightly covered by leaves and dirt so make sure you look closely and move vegetation around using a stick, small rake, or by hand.
The more the merrier! If you too have 'Morel madness' you know what I'm talking about.
If you've never hunted for Morels you'll want to be careful and make sure that what you're picking and eating are indeed Morels. There are some types of mushrooms that look like Morels but are harmful and poisonous.
MAKE SURE WHAT YOU'RE PICKING AND EATING AREN'T HARMFUL OR POISONOUS
So make sure to do your research. It wouldn't hurt to go with someone who knows what they're doing and has knowledge of the various mushroom types on the first few trips into the woods just to be on the safe side.
Time to hit the woods and do a little Morel hunting while the hunting is good!
Starting now through May is prime Morel season in Oklahoma and you'll have the greatest chance of finding these incredible mushrooms. They grow best in 60-degree temperatures and when overnight temps don't drop below the 40s. We're fast approaching these temps so get out there and hunt for Morel mushrooms.
TIME TO HEAD INTO THE WOODS AND START HUNTING FOR MOREL MUSHROOMS
Happy hunting. Grab a basket or mesh bag, a walking stick, or a rake, and head out into the woods. We only have a few short weeks more often than not to hunt Morel mushrooms in Oklahoma. I've already had friends and family harvest Morels and have seen several pics on Facebook of people finding them. I can hardly wait!
Getaway, Relax, Unplug & Unwind at Oklahoma's Premier & Most Luxurious "Glampgrounds" Located in Lawton, OK.
Look inside this Lawton, OK. 1.5 million dollar mansion
Take a quick virtual tour of this massive 1.5-million-dollar mansion in Lawton, OK. It's one of the largest, most luxurious, and most expensive homes on the market right now. It's truly a one-of-a-kind property that boasts 4 bedrooms, 5 bathrooms, and 5,900 square feet on 2 acres. It's located at
350 North West Hillary Road in Lawton, OK.
and for
$1,500,000
it could all be yours! This impressive home is one of the most epic estates on
Zillow.com
. It's currently listed by
Barry Ezerski
of
RE/MAX Professionals
.
Scroll through the photo gallery below and take a peek inside this 1.5-million-dollar mansion for sale in Lawton, Oklahoma.
Oklahoma State Parks
Get out and enjoy one of Oklahoma's amazing state parks sometime. From the high desert of Black Mesa to the swampy lowlands and tall pines of Southeast Oklahoma, there's a place of recreation for everyone in the Sooner State.
Top 10 most popular carry guns in Oklahoma
Check out the top 10 most popular carry guns in the Sooner State. While there are a wide variety of firearms and calibers to choose from for everyday carry (EDC) the handguns listed below are among the most purchased and widely used personal and home defense weapons in Oklahoma. These models and brands account for the majority of gun sales in the state and are among the most popular choices for EDC or home defense weapons (HDW). If you're looking for a quality reliable EDC/HDW these are all solid picks. Which by default makes them the most popular. WARNING: Seek proper training and instruction on firearm safety rules and the practice of safe gun handling skills prior to the loading and carrying and/or shortage of a firearm. The time to learn what to do and how to do it isn't when your safety and life depend on it. BE SAFE!