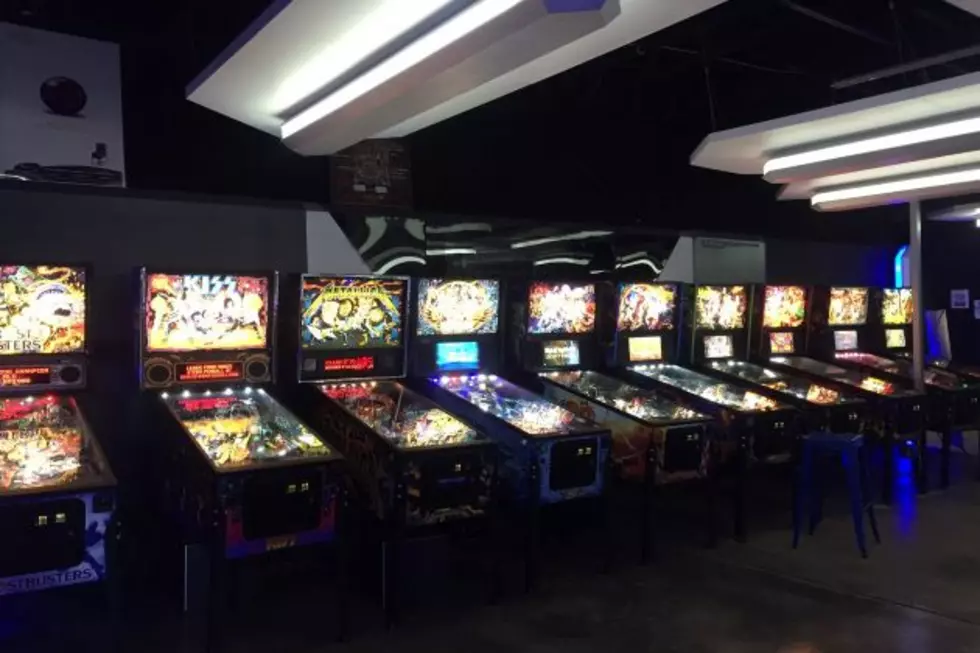 This Oklahoma Arcade has the Largest Collection of Pinball Machines & Games!
Facebook.com- Cactus Jack's Family Fun Center
If you're looking for a good time and something the entire family will enjoy head to Oklahoma City, OK. and check out the Sooner State's biggest, best, and longest-running arcade...Cactus Jack's Family Fun Center!
They have the largest collection of pinball machines in the state and one of the largest collections in the U.S. Here's the best part, you can actually play them! That's right you can play all of their pinball machines.
Not only does Cactus Jack's Family Fun Center have a HUGE selection of classic and modern pinball machines they also have a TON of video games. Play all your favorite games from the golden age to today.
Take a trip down memory lane and play Asteroids, Donkey Kong, Pac-Man, Frogger, Defender, Galaga, Ms. Pac-Man, Joust, Sinistar, and more! They also have all the latest and greatest games like Alien Extreme, House of Dead, Daytona USA, Pump-It-Up, Capcom vs SNK2, Ghost Squad, Tekken 5, and a whole lot more!
Along with an amazing collection of pinball machines and arcade games both classic and modern, Cactus Jack's Family Fun Center also has pool tables, foosball, skeeball, air hockey, and a MASSIVE selection of prize and ticket games you can play. You should see some of the prizes you can win and things you can purchase with your game tickets! Their prize shop is amazing and incredibly well stocked with goodies!
Cactus Jack's Family Fun Center has been around since the 1970s and has been and will always be the place to go to play pinball, video games, and just have a good time. With well over 40 years of experience and history, Cactus Jack's is an OKC landmark. If you've never gone, or if it's been a while head to Oklahoma City!
Unlike some of the other arcades in the city and around the state Cactus Jack's Family Fun Center is open to all ages. So no matter how old you are, from young to old you're welcomed at Cactus Jack's. Want to throw an unforgettable Birthday party or any kind of party? You can do that with Cactus Jack's party packages.
Get all the details on this amazing place by visiting their official website. You can also check them out on Facebook. Cactus Jack's Family Fun Center is located at 1211 N Council Rd, Oklahoma City, OK. They're open 7 days a week. Monday through Thursday from 11:00-am to 10:00-pm, Friday and Saturday from 11:00-am until Midnight, and Sunday from 12:00-pm to 10:00-pm. It's time to get your game on!

Take a look inside this epic 1960s retro motel in Oklahoma!
It's the ultimate retro vintage motel stay in the Sooner State! If you've ever wanted to step back in time and experience the "good old days" once again, or maybe for the very first time, you're in luck. Take a break from the usual, boring, and mundane hotel room by booking a stay at this 60s-style motel in Oklahoma City, OK.
The Classen Inn
is one of the most unique and colorful motels in the state, if not the entire nation. It was originally built back in 1963 and has been completely remodeled, refurbished, and reimagined. If you're looking for a place to stay while on vacation, staycation, or on a weekend getaway why not make your accommodations a part of the vacation fun by staying at the Classen Inn in OKC.
You can click here to book your stay.
Scroll through the photo gallery below to take a virtual tour of this EPIC 1960s retro motel!
Oklahoma's Top-Rated Water Parks
Take a weekend and enjoy the summer weather at one of Oklahoma's top-rated water parks. Spread far and wide all across the Sooner State, there's one pretty much near wherever you are.
See the Most Epic & Unusual Oklahoma Airbnb Rentals!
Take a break from the boring and ordinary and make your next overnight stay more spectacular and memorable. These rentals are a lot more than just a place to stay, all of them could easily be a vacation destination and experience all on their own! If you're planning a staycation or vacation in Oklahoma you should definitely check out these epic and unusual
Airbnb
rentals versus booking just a plain old room at a hotel or motel. You could make your accommodations a part of the experience itself by staying at any of these amazing places in the Sooner State.
Scroll through the photo gallery below to check them out.
Fun & Kid Friendly Oklahoma Vacation Destinations
Far too often, some bored Karen whose only personality trait is complaining about everything will say something along the lines of "There's nothing to do in Oklahoma..." That's simply not true. There is a ton of stuff to do in Oklahoma that you and the kids will love, you just have to know where to find that stuff and have the gumption to hop off the couch and go do some of it.