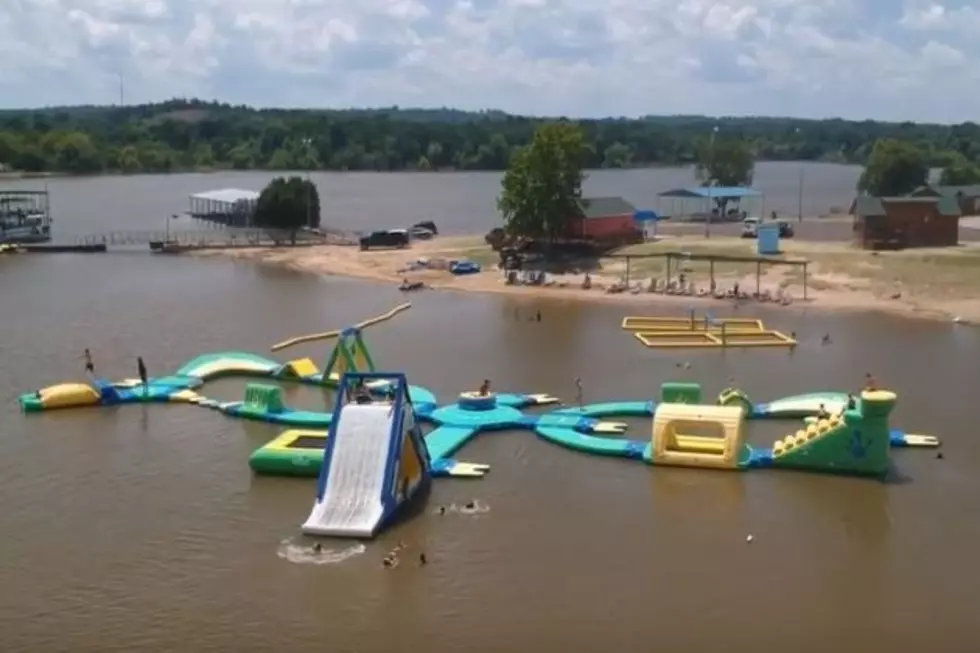 Kick Off Your Summer at Oklahoma's Ultimate Water Park & Resort Getaway Destination
YouTube.com- Floyd Morgan
If you're looking for somewhere to kick off your summer in the most epic way possible, this could be the perfect place. The wait is over, summer is here. Now that the kids are out of school it's time for some fun.
LEARN MORE ABOUT OKLAHOMA'S ULTIMATE WATER PARK & RESORT BELOW
Time to start planning those summer vacations, staycations, and weekend getaways. If you're looking for ideas and destinations the entire family will enjoy, head to Lake Eufaula and check out Jellystone Park.
You never know who you'll run into at Jellystone Park, maybe Yogi Bear & friends
Of course, Jellystone Park was named after the famous Hanna Barbera cartoon Yogi Bear who lived with his friends in Jellystone Park. As a matter of fact, you could meet Yogi, Boo Boo, and Cindy Bear while visiting.
JELLYSTONE PARK ON LAKE EUFAULA IS THE PERFECT PLACE TO COOL OFF
This place is amazing and the perfect vacation, staycation, or weekend getaway. There's a ton to see and do for the entire family. You can hit the lake and water obstacle course, check out splash grounds, and more.
Jellystone Park at Lake Eufaula, OK. is the ultimate summer getaway destination
Jellystone Park is a lot more than just a huge water park, they have all kinds of other activities like miniature golf, hiking, gem mining, foam parties, arts and crafts, fire truck rides, jumping pillow, and more.
JELLYSTONE PARK HAS ALL KINDS OF GREAT FAMILY FUN FOR ALL AGES
So if you're into the whole water park, splash pad, and pool thing you're covered. If that isn't your cup of tea, you're also covered. As hot as summer can be in Oklahoma everyone will enjoy some time in the water.
Hit play and watch the video to see some of the water fun you'll have at Jellystone Park
For young and old alike there are a lot of different activities and things to do at Jellystone Park. The water obstacle course on Lake Eufaula looks incredible. If you aren't a lake person they also have the splash grounds and pool you can enjoy. It's perfect for younger children and inexperienced or new swimmers.
NOT A LAKE PERSON? JELLYSTONE PARK HAS POOLS AND SPLASH PADS
Jellystone Park is located at 610 Lakeshore Drive in Eufaula, OK. It's super easy to find and get to. Depending on where you're at in OK. it could be a quick trip or more of a road trip. It's worth the drive.
Jellystone Park also has a swimming pool & splash pad for you to cool off in
With Jellystone being a camp resort you have a lot of options when it comes to overnight accommodations. You can stay in the campgrounds, they also have RV lots available, or if you'd like you can rent a comfy cabin.
STAY IN A CABIN, BRING THE RV OR THE TENT. IT'S YOUR CHOICE AT JELLYSTONE
Whether you stay in the campgrounds, RV site, or rent a cabin Jellystone Park has all the amenities you'll need or want including free WiFi, a snack shop, golf carts, a restaurant, and outdoor and indoor theaters.
Don't want to rough it? You can always stay in one of the cabins at Jellystone Park
Jellystone Park looks like the perfect place to kick off the summer. It's an Okie oasis filled with all kinds of family fun. Pretty soon we'll all be looking for places to cool off and take a reprieve from the sweltering heat.
HANG OUT WITH YOGI & BOO BOO AT JELLYSTONE PARK IN EUFAULA, OK.
You can get all the details about Jellystone Park by visiting their official website or checking them out on Facebook. Plus you can take a look at the event calendar to see if there's anything going on when you're planning your visit. I'm looking forward to hanging out with Yogi Bear, Boo Boo, Cindy Bear, and Ranger Smith.
Fun Kid Friendly Oklahoma Vacation Destinations
There is a ton of stuff to do in Oklahoma that you and the kids will love, you just have to know where to find that stuff and have the gumption to hop off the couch and go do some of it.
Five epic & unusual Oklahoma Airbnbs you should check out
Take a break from the boring and ordinary and make your next overnight stay more spectacular and memorable. These rentals are a lot more than just a place to stay, all of them could easily be a vacation destination and experience all on their own! If you're planning a staycation or vacation in Oklahoma you should definitely check out these epic and unusual
Airbnb
rentals versus booking just a plain old room at a hotel or motel. You could make your accommodations a part of the experience itself by staying at any of these amazing places in the Sooner State.
Scroll through the photo gallery below to check them out.
Oklahoma State Parks
Get out and enjoy one of Oklahoma's amazing state parks sometime. From the high desert of Black Mesa to the swampy lowlands and tall pines of Southeast Oklahoma, there's a place of recreation for everyone in the Sooner State.
Check out Oklahoma's premier glampground getaway
Unique Things to Do in Oklahoma City
There is no shortage of things to do in OKC. While there are a handful of things everyone knows about--OKC Zoo, Myriad Gardens, Bricktown, etc-- there are even more lesser-known places to experience one-of-a-kind Oklahomaness. Some things cost a little money, others are completely free, but it's all fun for the whole family.