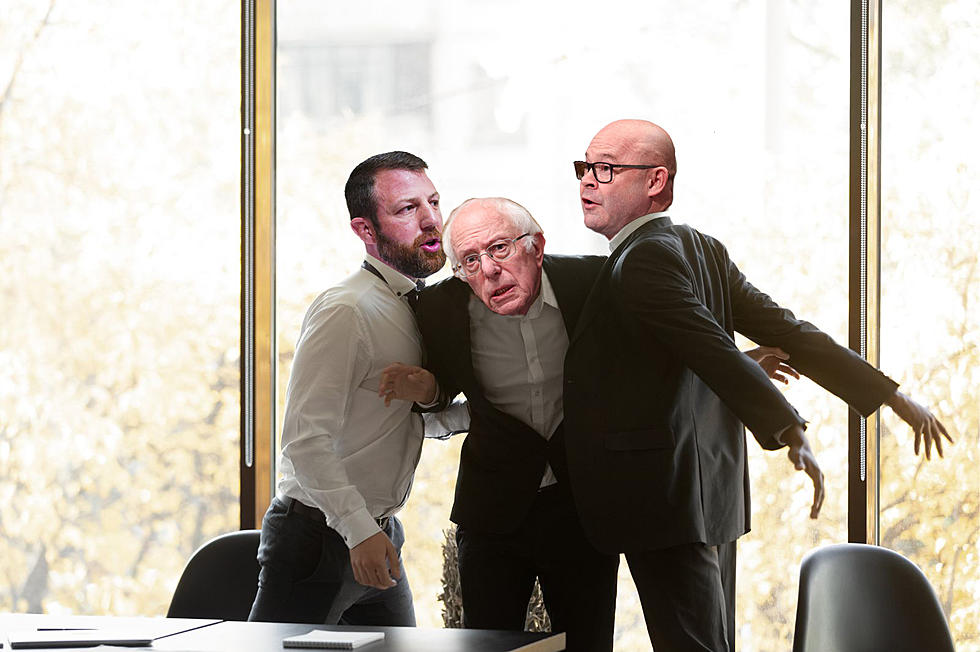 Senator Mullins Gets His Butt Up, OK Liberals Lose Their Minds
Canva, Getty Images
I'm a little behind the cuff on this topic, but it's worth talking about. I was scrolling through TikTok this morning and saw a hoard of shorts of Oklahoma Senator Markwayne Mullins and the Teamsters Union president going at it during a Senate hearing.
@msnbcSenator Markwayne Mullin challenged Teamsters President Sean O'Brien to a fight during a hearing of the Senate Committee on Health, Education, Labor and Pensions. Senator Bernie Sanders attempted to cool things down.♬ original sound - MSNBC
After most of a day peeking in at social media, as the non-political forever fan of chaos, I get the impression I'm the only person who thinks it's hilarious.
In not-so-shocking news, social media site Reddit, particularly our own Oklahoma Reddit, is full of people publicly shaming Senator Mullin for his behavior and trying to use this hilarious incident as grounds for his removal from office.
Of course, like most things do, while Reddit is overwhelmingly left-leaning, other places like Facebook and Twitter/X are swarming with an overwhelming majority of right-leaning opinions on the matter.
Equally not-so-shocking, while there are some that agree Mullin's behavior is less-than appropriate for a Senator, the vast majority are supporting his actions. You can almost hear them say, "That's what we need more of in Worshinton."
I think we're all collectively losing out on a genius way to pay down our ridiculously out-of-control national debt.
I saw this clip and instantly thought about the underwhelming boxing match between Floyd Mayweather and Connor McGregor a few years ago.
Between the two of them, they earned $410-million for forty minutes of meh boxing. The promoters got their huge payout beyond that too.
In true Ultimate Celebrity Death Match fashion, why doesn't CSPAN put together a prize-fighting type of program where politicians, pundits, and whoever else wants to throw hands gets to do so for the whole country to see?
Obviously, our elected public servants wouldn't get to keep any of the payout... they'd be doing their duty for the country. Even though $400-million a week wouldn't even dent the national debt, at least we'd be entertained.
It wouldn't even matter who loses, America would win.
Top 10 Snobbiest Towns & Cities in Oklahoma
Don't shoot the messenger. I'm not calling these places snobby, the internet is. A recent report by
Roadsnacks.net
identified 10 of the
snobbiest towns and cities in Oklahoma
. The methodology behind the study used median household incomes, the percentage of the population with college educations, and median home prices in determining just how snobby a town or city is. Most would agree with the results below. Unless you live in one of these places, then you may disagree. Also, keep in mind this list was all done in good fun. Sure there's some truth to the findings but like most places, you'll find both good and bad.
Keep scrolling to check out Oklahoma's top 10 snobbiest towns and cities to see if your hometown made the list.
Gallery Credit: Don "Critter" Brown
Ten Iconic Oklahoma Restaurants You Have To Try
I think it's fair to say that each state probably has its own legends when it comes to restaurants. Pennsylvania has cheesesteaks, New York has wings and pizza, Texas has Franklin BBQ and Tex-Mex, etc...
Oklahoma is no different.
Birthed into statehood as a cattle state, there's no shortage of beef on any menu here, but there's a little room for chicken and fries too. Here are the absolute, hands down, best restaurants, in no particular order, everyone has to try in The Sooner State.
Gallery Credit: Kelso
Oklahoma's Ten Poorest Cities and Towns
While it's a list no municipality aspires to be on, there's one in every state across America. Whether it's due to limited economic opportunities, the failing popularity of once-booming towns, or a generation of youth running away from their hometowns, but nine out of the ten poorest communities exist on the east side of I-35.
Based on the stats of those living at or below the state poverty level, median household incomes, and unemployment, here are the poorest communities in Oklahoma.
Gallery Credit: Kelso
Oklahoma's Weirdest Thanksgiving Foods
There is no shortage of weird Thanksgiving traditions around the Sooner State. Even my own family celebrates in our own unique way. Half of us hate turkey, and the others hate ham. Mom hates to spend days cooking for a 20-minute meal, and we all get tired of the leftovers. Instead, we have either a taco fiesta or a Chef Boyardee pizza kit party. Nobody complains.
We're not the only family with a weird Thanksgiving tradition, just take a look at these shockingly common Oklahoma TG dishes. It's amazing what the cooks come up with. The list is heavy on gelatin and jello molds, if anything it'd be worth trying at least one this year. They range from mild to wild, best of luck to you.
Gallery Credit: Kelso