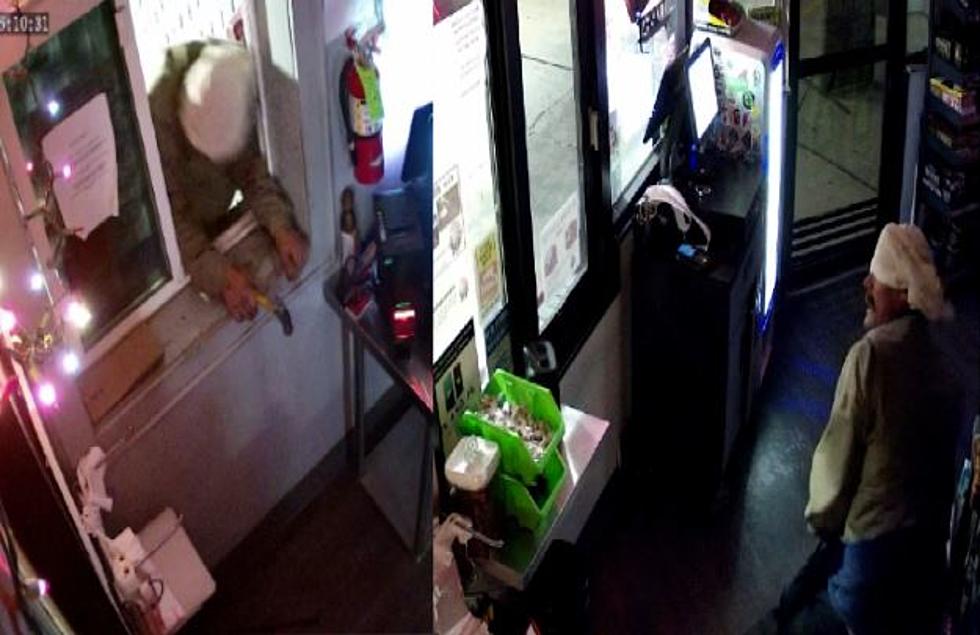 The Lawton Police Department Need Our Help to Catch This Burglar!
Facebook.com- Crime Stoppers of S.W. Oklahoma
LPD (Lawton Police Department) and Crime Stoppers of S.W. Oklahoma are needing our help to identify this burglar. Earlier this week on Monday (04-04-22) morning around 6:10-am this person broke into Chiefs Smokin' Ice House located at 1315 S.W. Lee Blvd. stealing various merchandise and items. The store's video surveillance cameras captured the thief in the act, but he's still on the loose and police are looking for him.
Burglar caught in the act at Chiefs Smokin' Ice House in Lawton, OK.
Take a look at the photos above and below to see if you recognize this person. Unfortunately, these are the only photos we have of the suspect, but police are hopeful that he'll be identified. If you do know who this is you're encouraged to call 355-INFO (4636) or visit lawtoncrimestoppers.com and submit an anonymous tip. If your information and/or tip leads to a felony arrest you could earn a cash reward.
Do you recognize this person who broke into Chiefs Smokin' Ice House in Lawton, OK?
You can also visit the official Facebook page of Crime Stoppers of S.W. Oklahoma for additional details and to contact officers/detectives with any information or tips you may have. You can also report tips to the Lawton Police Department by calling (580)- 581-3270. Visiting the official LPD website by clicking here, or by going to their Facebook page. If you know anything or think you may know the person responsible for this burglary share your tip with Crime Stoppers of S.W. Oklahoma or LPD.
See How The Ten Most Dangerous Cities In Oklahoma Rank
While some of Oklahoma's most dangerous cities may not be a total shocker, there are some real surprises on this Top Ten list.
Lawton Properties Declared Nuisances By City of Lawton
While you can't always judge a book by its cover, homes and businesses are different. Here are the structures the City of Lawton is forcing owners to update or demolish in the most recent update to the Lawton Dilapidated & Dangerous Properties list. Since taking the photos, some of these structures have had fires, others have unrepaired issues... this is just what they looked like the last time Google came through town.
The best Lawton, Fort Sill Facebook pages & groups to join, follow & be a part of.
If you just moved here, welcome to Lawton, Fort Sill we're glad you're here. It can be difficult moving and starting up in a new place. Trying to make friends, find things to do, get more information about the town itself, and just get acquainted with all the goings-on. We're here to try and help you out with a list of the best Lawton, Fort Sill Facebook pages and groups you should join, follow and be a part of.
The Top 20 Oklahoma Towns That Suck To Live In
No matter what road you've traveled brought you to Lawton, at least you aren't stuck living in one of these sucky Oklahoma towns.