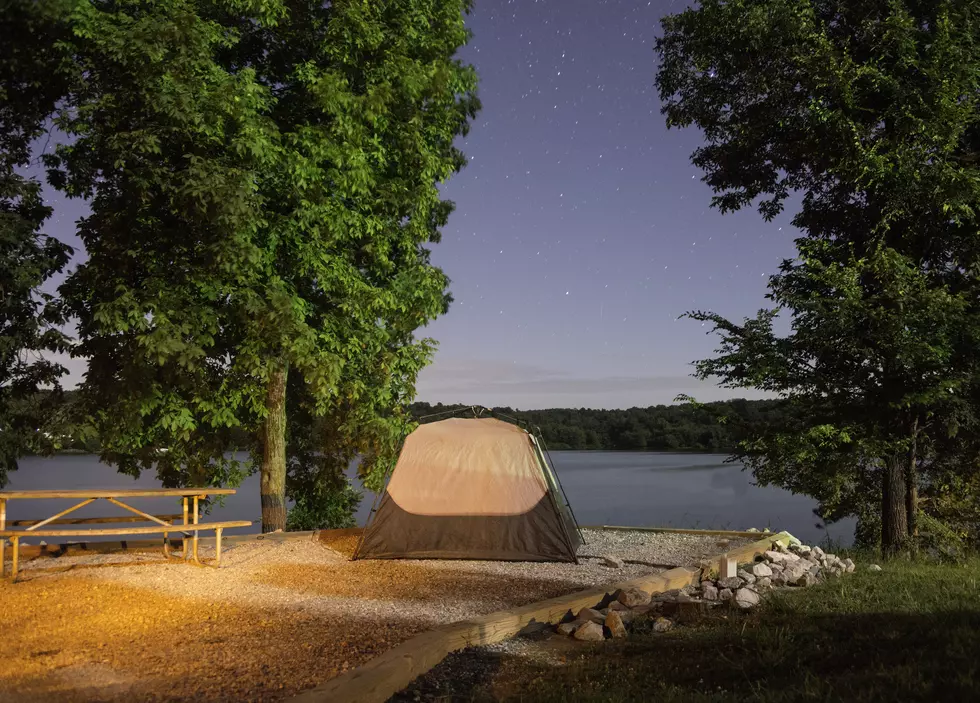 Three Epic Oklahoma Campsites Worth The Trip
dosecreative
As the Wichita Mountains have finally reopened the option of tent camping, we sat around today discussing which campsites across Oklahoma were the best. Luckily for everyone, you don't need to have a bunch of camping gear to enjoy any of them, there are options for housing and lots of outdoor fun and entertainment for the kids. Here are your top three campsites in Oklahoma.
3

Quartz Mountain State Park

It's about an hour and a half drive to and then North of Altus to get to Quartz Mountain State Park, but it's so worth the drive, especially if you're having a weekend on a budget. This state park is home to one of Oklahoma's most infamous lakes, Lake Lugert. Named for the town the lake drowned, and when the water is low enough, you can still walk around the old foundations.

In addition to occasional hot fishing in the clear but tea-stained water, QMSP offers accommodations to any level of budget. You can camp in a tent if you want below the dam, but this time of year the weather is brutal and while there are plenty of shade trees, it's still just too dang hot. What I've always done is rent one of the small cabins above the dam, lake adjacent. They're small, but comfortable to fit up to six people. One pro-tip is to turn the hot water heater up to high when you get there so nobody has to take a cold shower. If you have unlimited funds, there is the revered Quartz Mountain Lodge, offering high end stays and dining. It's a little further up the mountain road, but an incredible place to spend a few days.

The kids will love staying here too because there's plenty for them to do. Miniature golf, go karts, a sandy beach, etc... so it's the best of both worlds for both adults and kids.

2

Chickasaw National Recreation Area

It's about a two hour drive to get to Sulpher, but the national park on the city limit border there is next to none. The campgrounds there are like something you'd see in a documentary about Yellowstone. Big trees framing the road in, low water crossings, bright blue swimming spring creeks along the campsites, and a visitor center that is always staffed with park rangers that make the learning a lot of fun for the kids. It's an amazing place to spend a weekend, but there's a catch....It's pretty much bring your own camping stuff if you want to stay in the prettiest area of the park. While the area you want to stay in is open to RV's, trailers, and tents, those are pretty much your only option.

Alternatively, there are a ton of cabins available elsewhere around the Lake of the Arbuckles there, as well as some high class hotels in and around the big casino in Sulpher. I'm not sure what availability of rooms is these days, but the last time I stopped in there, they were 100% sold out and booked almost a full year in advance. I'm not exactly sure what there is for kids to do in this place, but it would be an adults playground with the casino and fine dining literally across the street from the park.

If you like to fish, drive up the mountains and try your luck at Veterans Lake. That's where I've always had the best luck on green pumpkin colored plastics.

1

Yogi Bear's Jellystone Park

If kids are your priority when it comes to summer fun, you can't beat Keystone Lake's kid themed Yogi Bear's Jellystone Park. It offers fantastic camping along the lakes edge and tons of things for kids to do. There's a massive water park there, fun dry things to do, and an off-road park close by if you have outdoor powersports stuff like ATV/UTV's, motorcycles, Jeep's, etc...

The fishing at Keystone Lake is generally good, especially if you're looking for those big fighting hybrid bass. They're easy to hook from shore. The water park is second to none in the state. It has the little wading pools, a splash pad, big pools, lazy rivers, and even two massive water slides your kids will love. There's a giant floating challenge course there for the kids too... it's like another water park, but it's in the lake. Like most resort type places, you can rent just about anything on the lake too. Boats, kayaks, paddleboards, etc...