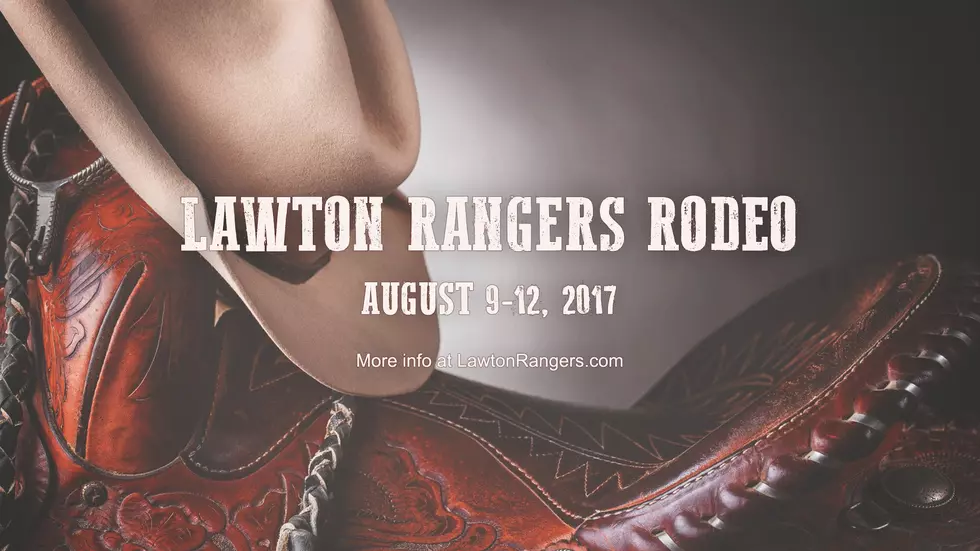 79th Annual Lawton Rangers Rodeo Coming To Town This Week [AUDIO]
photo courtesy of www.facebook.com/pg/lawtonranger/photos/
The 79th annual Lawton Rangers PRCA Rodeo gets underway starting Wednesday night at the Lawton Rangers Rodeo Arena. The excitement kicks off with $5 car loads on Wednesday, fill your car with as many of your friends as you can, and you will all get in for just $5.
There will be military night, dances, the rodeo queens and of course, the main event, the PRCA sanctioned rodeo. The Lawton event is one of the top events in the country every year and not only welcomes over 400 of the top cowboys from across the country, but also brings in cowboys from Canada, Mexico and around the world.
Tickets are available at the gate or online at the Lawton Rangers website or at EZ Ticket Live. Once again, Wednesdsay is $5 car load night, as many as you can fit into your car or truck can get in for just $5. On Thursday and Friday night, ticket price at the gate is $15, on Saturday, it's $20. If tickets are purchased online, in advance, the price for all nights is $12. Children's tickets on all nights are available at the gate and are $7 for children 6 to 12; children 5 and under get in free. All seating is general admission. No coolers, backpacks, or outside food is permitted inside the gate.
Each night will begin with the rodeo court, Hannah Warren, Calli Newman, Shyanne Marcotte and Abbie Wright, Miss Rodeo Lawton 2017, leading the Grand Opening. The Queens will then be followed by Ft. Sill's Artillery Half Section and introductions and a demonstration of bareback riding. Following the opening each evening, there will then be rounds of competition in each of the rodeo 7 events: Steer Wrestling, Saddle Bronc Riding, Tie Down Roping, Calf Scrample (Ages 12 and under), Team Roping, Barrel Racing and Bull Riding. There will also be several specialty act interspersed through out the competitions.
Each night will culminate with a rodeo dance, featuring live music from some of the areas best country music acts. On Thursday night the Casey Abbe Band will have you tapping your toe and cutting a rug, while on Friday night you'll be dancing to the Allan Biffle Band. Finally on Saturday night, cap things off with The Waylon Holley Band playing some great red dirt Texas Country music for your dancing pleasure.
Charley Throckmorton, the legendary "Voice of the Lawton Rangers Rodeo" joined the KLAW Morning Crew to talk about the upcoming event.