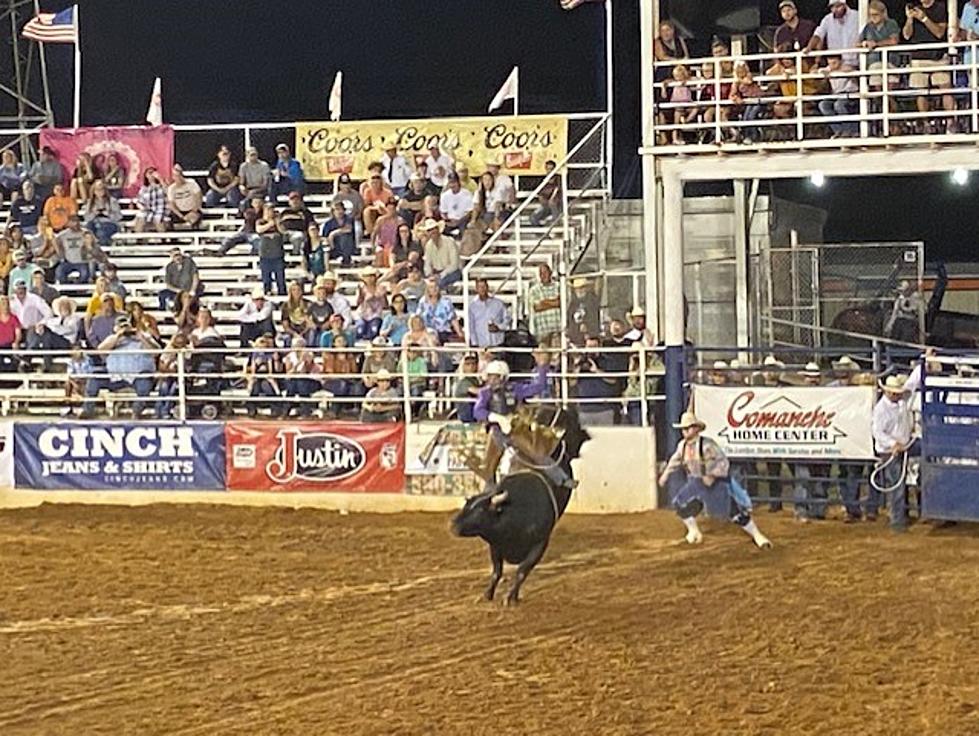 The Bulls Win Wednesday Night at the Lawton Rangers Rodeo
Jeri Anderson
Lawton Rangers Rodeo kicked of it's annual presentation last night for the 83rd time!  As they have done for the past several years, Wednesday night at the rodeo was 'Way Back Wednesday', where rodeo fans were admitted entrance to the rodeo for just $5 per car load.  The special admission on Wednesday serves two purposes; to get butts in seats (which it overwhelmingly accomplished), and to allow first timer rodeo'ers to see just what they can expect for the rest of the week.
Another special price admission is scheduled for Thursday night with a 2 for 1 price admission.  With the rodeo coming a bit later in the month, these two nights are school nights for much of SW Oklahoma, and I'm sure Momma's are happy to save a little money as kids head back to school.
Other ways that the Rangers took care of parents last night was that they ran the program straight through.  No clown performance, and really not much lag between events.  The program concluded around 9pm. Plenty of time to get little ones home and in bed for the first day of school in Lawton/Fort Sill. (Getting out of the parking lot took a bit longer!)
As I mentioned, the stock at the rodeo last night was superb!  Butler and Sons, who supply the stock for the PRCA rodeo really outdid themselves, especially when it came to the bulls.  Only 2 of the bull-riders covered the 8 second buzzer last night, one with an amazing score of 89.5!  Barrel racing, bareback and saddle broncs, and the roping events were all competitive, but at last night's show, the bulls were the star.  From the first rider, we knew they really were meaning business!  And the fact that the cowboys and wranglers couldn't get one of the bulls out of the arena because he was chasing the wranglers...well, it was funny, but a wee bit scary at the same time!
Great entertainment at a great gate price.  Cowboy hats off the the Lawton Rangers.  Can't wait for the Thursday show!
Wednesday Rodeo Lawton Rangers Rodeo
LOOK: Here is the richest town in each state
Just saying the names of these towns immediately conjures up images of grand mansions, luxury cars, and ritzy restaurants. Read on to see which town in your home state took the title of the richest location and which place had the highest median income in the country. Who knows—your hometown might even be on this list.