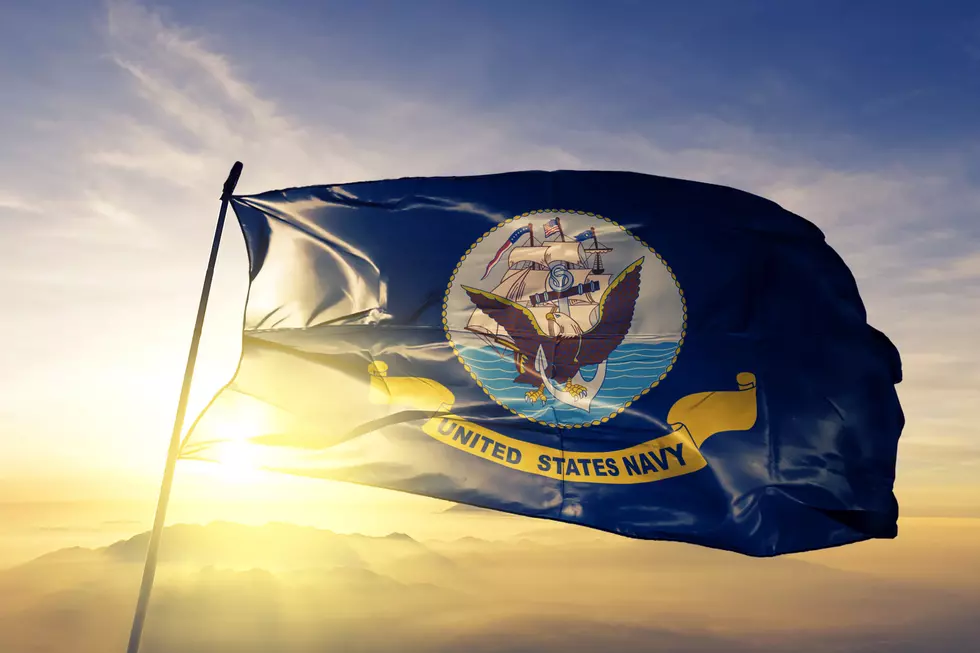 A Local Teen is Working to Build a U.S. Navy Memorial at Elmer Thomas Park in Lawton, OK.
Oleksii Liskonih
Lawton MacArthur High School Junior, Matthew Aguilar, is working to earn his Eagle Scout Badge with the Boy Scouts of America (BSA). He is a local Life Scout with BSA Troop 4176 of Lawton.
Matthew's Eagle Scout project is to create a large memorial display featuring the anchor from the recently decommissioned naval submarine, the USS Oklahoma City. He has been working on raising funds for his project since January. The Navy memorial will be located at Elmer Thomas Park.
Get all the details below on how you can help with the USS Oklahoma City Memorial
The estimated cost of the project is $50,000. Approximately 50% of the funds needed to build this project have been raised to date. Matthew is working to raise the remainder of the funds needed by July of this year.
The memorial in the park will consist of the naval submarine anchor and a section of the chain, a granite memorial wall, and a concrete pad with benches. The anchor has been transported from Washington state to Lawton and is being painted/powder-coated and prepared for installation and display at this time.
Watch the video below to learn more about the USS Oklahoma City (SSN 723)
If you're able to make a donation, whatever you can afford it's all needed and appreciated. 100% of all donations will be used to complete the project and bring the USS Oklahoma City memorial to Elmer Thomas Park. We'll be sure to give you an update and let you know when it's finished and the dedication takes place.
Where to Find the many murals by Justin Hackney's Spreading PAINT in Lawton, Fort Sill.
If you've driven around town you've probably seen all the murals we have in Lawton, Fort Sill. If you take the time to look you'll notice that they're everywhere. We're lucky to have so many talented artists that share their work with us regularly by painting murals. One name you've probably heard before is Justin Hackney and
Spreading PAINT
. His work of masterful murals can be found all over town. He's done some of the very best and has painted everything from rock stars to celebrities and everything in between. He has a style all his own and has painted murals in full color, vivid transposed negative style, and in black and white. Be on the lookout for his latest mural masterpiece he's going to keep painting them so long as people want them and there's wall space. Looking forward to seeing his next one! Check out the gallery below of Justin Hackney's Spreading PAINT murals and where to find them. We'll continue to add to the gallery as he paints them.
Look Inside Lawton's most luxurious & beautiful Airbnb!
This amazing
French-style lakeside chateau
costs
$500.00 a night.
It's one of the most beautiful and luxurious
Airbnb rentals
in all of Lawton, Fort Sill.
It's a 4 bedroom 4.5 bath home
that can comfortably
accommodate 10 guests.
The home sits right on the waterfront of a lake with the backyard and patio facing the water. The entire home inside and out has an incredible atmosphere and breathtaking views. The outside spaces are as beautiful as the inside.
Check out the photo gallery to see what $500 a night will get you!
The best Lawton, Fort Sill Facebook pages & groups to join, follow & be a part of.
If you just moved here, welcome to Lawton, Fort Sill we're glad you're here. It can be difficult moving and starting up in a new place. Trying to make friends, find things to do, get more information about the town itself, and just get acquainted with all the goings-on. We're here to try and help you out with a list of the best Lawton, Fort Sill Facebook pages and groups you should join, follow and be a part of.
Check out the most expensive house for sale in Lawton!
Take a virtual tour inside of the most expensive house for sale in Lawton, Fort Sill. It's a massive, mini-mansion and epic estate that's listed for
$599,900.00
by
Julie Bridges of RE/MAX PROFESSIONALS
. You may have seen this house it's
located at 204 N.W. Mockingbird Road.
It's a 3,300 square foot, 4 bedroom, 3 bath home and oh' so much more!
See what $599,900.00 would buy, check out the photo gallery below: