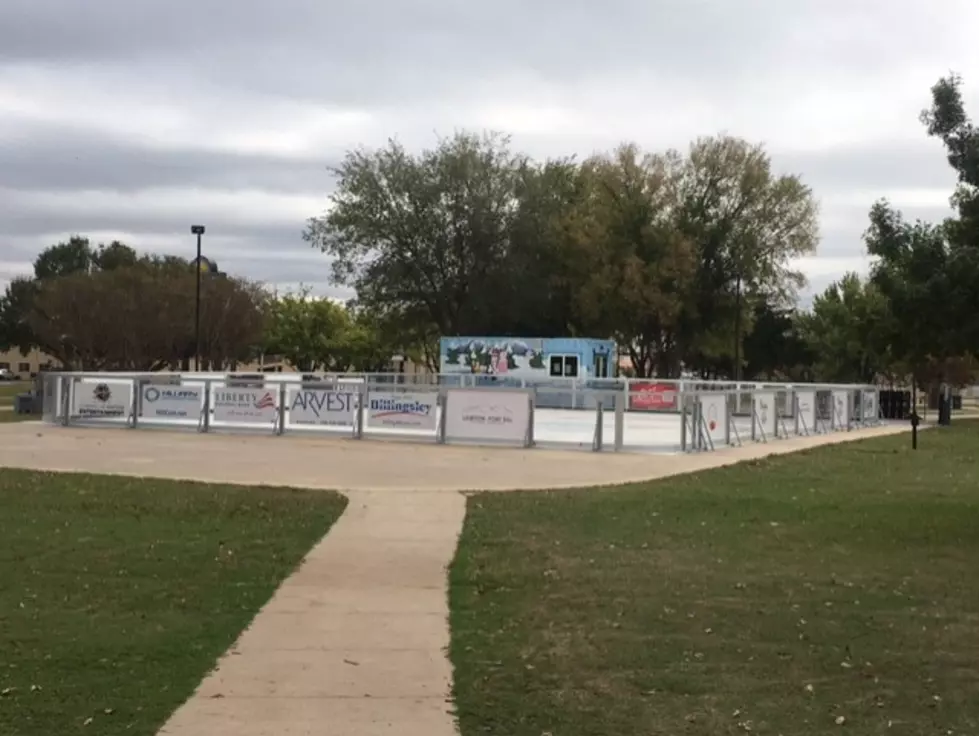 Lawton is Home to One of S.W. Oklahoma's Largest Synthetic Ice Skating Rinks
TSM Lawton: Critter
It's back, bigger, badder, and better than ever before! Last year at Elmer Thomas Park in Lawton, OK. during the annual Holiday in the Park event organizers installed a synthetic ice skating rink. Needless to say, it was a HUGE HIT and they're bringing it back for 2022. Here's the best part, it's twice as big as last year!
SCROLL DOWN TO TAKE A LOOK AT THE NEW & IMPROVED SKATING RINK
We stopped by the park today to check it out and it's EPIC! Once opened it will be one of the largest synthetic skating rinks in S.W. Oklahoma. If you've never tried it you're missing out. It's a little different than regular ice but pretty close to the real thing. It won't be long now before the rink and Holiday in the Park open for 2022!
A BIG THANKS to the Lawton Fort Sill Chamber of Commerce, the Lawton Fort Sill Convention and Visitors Bureau, and all the Holiday in the Park committee members and volunteers who made this possible, we really appreciate it. All of them have been hard at work for weeks getting everything ready for the 2022 holiday season. It isn't a small job to get all those lights, displays and everything else set up in the park.
'Holiday in the Park' features one of S.W. Oklahoma's largest synthetic ice skating rinks
So when will it officially open? This year's Holiday in the Park will open to the public on Saturday, November 19th (11-19-22) right after the Holiday in the Park Parade. If you're interested in the parade and would like to be a part of it click here for all the details. The theme for this year's parade is 'Beloved Christmas Movies.'
Looking forward to Holiday in the Park 2022. Not only will we have the largest synthetic skating rink in S.W. Oklahoma we'll also have the longest pedestrian tunnel in the Sooner State. Not only that there are going to be all kinds of special events, movie nights, and all kinds of other holiday happenings at the park as well.
DON'T MISS THE 2022 HOLIDAY IN THE PARK PARADE ON (11-19-22)
To stay up to date with everything that's going on at Holiday in the Park you'll want to check their official Facebook page often throughout the season. If you're never been before or are visiting from out of town it's located at Elmer Thomas Park 501 N.W. Ferris Ave in Lawton, OK. It's free to get in and parking is free.
Take a virtual tour of the top 5 most luxurious & expensive Airbnb rentals in and around Lawton, Fort Sill
If you're looking for a place to stay for your next staycation. Or maybe you're considering coming to the Lawton, Fort Sill for vacation, military graduation, business, reunion, or family get-together you'll definitely want to check out these incredible Airbnbs. You could make your accommodations a part of the experience itself! Even if you're in town on business instead of pleasure staying at any of these homes would be a welcomed break from the same old, same old. These are some of the most luxurious and expensive Airbnbs in and around Lawton, Fort Sill. Some are in town others are in the mountains, Medicine Park, and Elgin, OK.
Eleven Things Oklahoman's Eat When It's Cold
When it comes to the favorite foods in Oklahoma, most of them revolve around a grill. Whether it's steak, burgers, dogs, BBQ, beer can chicken, etc... If it can be grilled, it will be an instant favorite across all palates in this state. But what do Okies survive on when it's cold enough to require the wearing of pants and a hoodie? Here's the quick list of things every Oklahoma home should be pumping out when the endless Summer finally ends.
Getaway, Relax, Unplug & Unwind at Oklahoma's Premier & Most Luxurious "Glampgrounds" Located in Lawton, OK.
Have some fall family fun at this Lawton, OK. pumpkin patch
Did you know Lawton, Fort Sill has a real pumpkin patch that you can visit to pick a pumpkin right off the vine? Not only that you can enjoy all kinds of fall family fun like a hay maze, photo areas, corn pits, and more!
Heritage Farm & Ranch
is located at
26432 State Highway 58 in Lawton, OK.
near the Wichita Mountains Wildlife Refuge and across from Lake Lawtonka. It's the perfect place to go for a quick day trip and to pick up some amazing eats, treats, gifts, and some of the best hot sauces, salsas, jellies, and jams. For more information and to plan your visit
check them out on Facebook
or at the
Heritage Farm & Ranch website
.