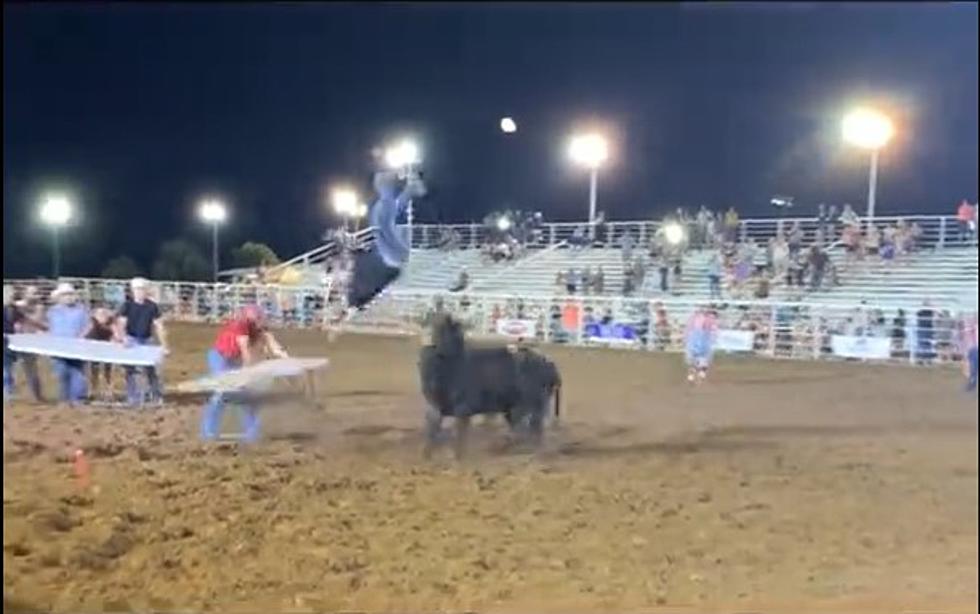 Cowboy Poker Went Bad for This Brave Poteau, Oklahoma Dude
TikTok
Summer is almost universally known as "Rodeo Season" across Oklahoma, and it is in full swing.
While the Sooner State has no shortage of rodeo action during the warm summer months, there are a handful of standouts that are considered "must-see" events.
The Gene Autry Open Rodeo, 101 Wild West Rodeo, Great Plains Stampede, Will Rogers Memorial, Rooster Days, Lawton Rangers Rodeo, and Bullnanza... The rest of them, while judged on a smaller scale are still as entertaining.
Case and point, the Poteau, Oklahoma Rodeo.
While it has gone through changes over the years, it's a good community event that offers as much fun as spectacular sights... as is the case of this round of cowboy poker.
If you've never seen cowboy poker played, this is how it goes. Rodeo organizers invite any willing person to stand in a specified portion of the arena and they turn loose one of the bucking bulls. The last person standing in the circle wins whatever prize they have to offer.
As you can imagine it's as hilarious as it is dangerous... but Okie rednecks like us are built different. This poor guy got his full admissions worth of fun.
It's a classic case of Praise the Cameraman.
Oklahoma's Top 10 Most Dangerous & Deadly Animals
Oklahoma is well known for having some of the most dangerous and deadly wild animals to be found anywhere in the United States. The Sooner State is home to several species of wild animals that could quickly and easily harm or kill you. We have it all, from poisonous snakes and spiders to carnivorous predators and everything in between. You'll want to be aware and avoid these dangerous and deadly animals if at all possible. Most aren't looking to harm or kill you but if disturbed or agitated will absolutely attack.
Oklahoma's Highest-Rated Barbeque Joints, In No Particular Order...
I doubt there's a single topic debated more passionately in Oklahoma than who makes the best BBQ. While they all smoke meat, there are some huge differences in how that process is done. Type of wood, length of cook, foil vs paper wrap, and even the hot topics of seasoning and binders come into play. What you like others may not, and vice versa. Since we can't just pick a top five or ten, here are the Oklahoma barbeque joints that have the biggest fans.
Check Out Oklahoma's Planned New Theme Park
American Heartland Theme Park is the latest huge investment announcement for the Sooner State. Slated to open in 2026 up in Vinita, it sure does look incredible from the renderings. With the project spearheaded by 20+ former Disney Imagineers, we'd expect nothing less than spectacular.