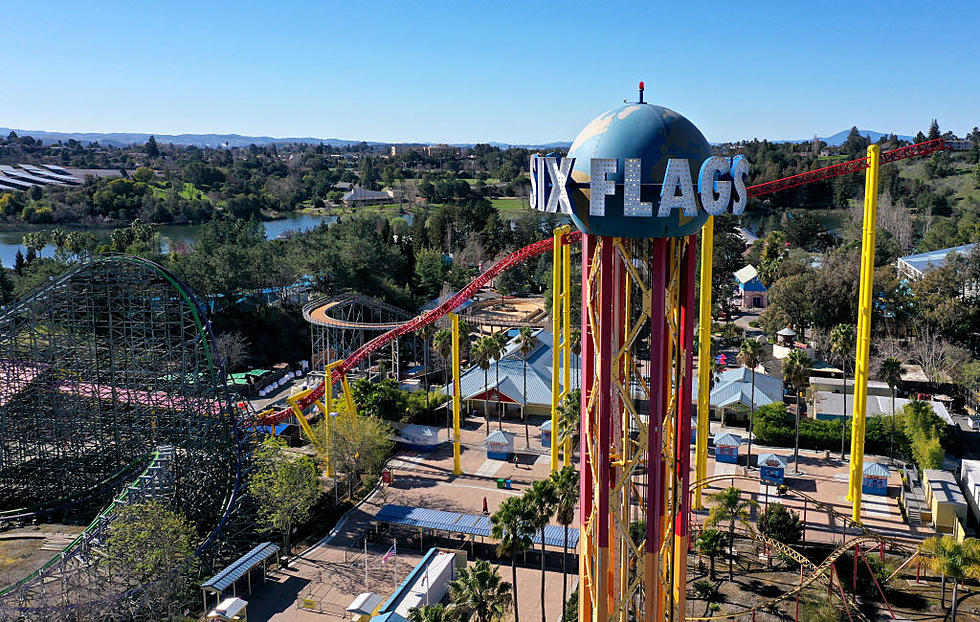 Five Forgotten Favorite Rides From Six Flags Over Texas
Getty Images
After all the winter weather that we've had the past couple of months, I've been wanting to get outside to enjoy this beautiful weather, and possibly take a road trip.  Since Wichita Falls isn't too far from the Dallas-Fort Worth Metroplex, I thought I'd make a trip down to Six Flags Over Texas, to ride a few roller coasters.
While I was browsing the Six Flags Over Texas website, I was checking out all the rides that they now have at the park.  Now, it's been a while since I've been to the theme park, and a lot has changed in the past several years.  Not only has the park built a few new rides, but they have unfortunately removed some old favorites as well.  While the amusement park still has tons of thrilling rides, I was disappointed to find out that two of my favorite roller coasters are no longer standing.
So, I thought that we'd take a trip down memory lane here, and showcase some old rides, and roller coasters that are no longer operational.  Here are five forgotten favorite rides from Six Flags Over Texas.  If you feel that I'm missing anything then let me know by either commenting on our Facebook page or messaging us on our station app.
Flashback
This was one of my favorite roller coasters in the park, so I was incredibly bummed when I found out that it wasn't around anymore.  I always thought that this was one of the most thrilling coasters in the park.  In addition to going through multiple loops and inversions, the train went both frontwards and backward.   Unfortunately, Flashback was removed in 2012.
Thankfully this roller coaster didn't end up in a landfill somewhere and was reassembled at Six Flags, St. Louis in the summer of 2013.
Texas Chute Out
While this wasn't a thrilling roller coaster, it was definitely a park favorite.  When the ride was originally built, you would stand in baskets attached to parachutes that looked like hot air balloons, as the ride went up and down.  However, due to safety concerns, in 1994, the baskets were replaced with seats, requiring the rider to sit down, instead of standing up.  It was removed in 2012 with Flashback, to make room for the Texas Sky Screamer.
Wildcatter – (aka Texas Cliffhanger)
Before this ride was torn down, it was known as the Wildcatter, but some may remember it as the Texas Cliffhanger.  In the fall of 2007, the ride was demolished to make room for Tony Hawk's Big Spin.
Big Bend
Unfortunately, l never got to enjoy this ride, since it was removed before I was even born.   Not only was it a fan favorite, but it was one of the first roller coasters ever installed in the park.  Today the new Aqua Man Power Wave, which is set to open later this summer, stands in its place.
The Texas Giant
Yes, I know that the Texas Giant is technically still around.  However, in 2009 the ride was partially torn down and was turned into a steel coaster with wooden supports, from a pure wooden roller coaster.  While The New Texas Giant is a lot smoother of a ride, roller coaster enthusiasts, such as myself miss the original design.
MORE: See 30 toys that every '90s kid wanted
Here are 50 of your favorite retail chains that no longer exist.