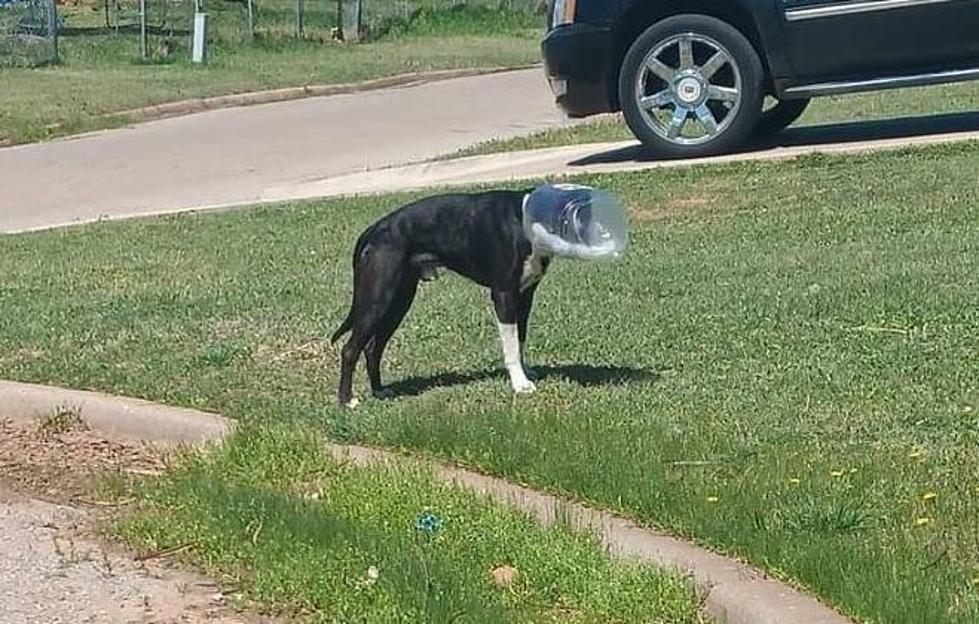 Way to Go Lawton, Fort Sill "Buckethead" The Dog Has Finally Been Freed
Facebook.com- Lawton Grapevine (Chris McGath)
It's the feel-good story of the year and the makings of what would be an awesome made-for-TV movie special. A story of love, adventure, kindness, triumph, and glory. The epic true tale of "Buckethead" the dog.
THANKS TO THE LAWTON GRAPEVINE & JENNIE BRISBY "BUCKETHEAD" IS FREE
For the past 4 days, the Lawton, Fort Sill community has been trying to find and help this stray dog who had a bucket stuck on his head. He was first spotted back on Tuesday (04-04-23) and has finally been freed.
The good news was immediately shared on the Lawton Grapevine Facebook groups, both the private and public pages. The Lawton Grapeview and its members were largely responsible for "Buckethead's" rescue.
Lawton Grapevine a local Facebook group was instrumental in helping "Buckethead."
Throughout the 4 day period, people organized and shared information on Lawton Grapevine's public and private groups in an attempt to locate and assist the dog. Scheduling searches and sharing updates.
AN INSPIRING TRUE STORY OF LOVE & KINDNESS, "BUCKETHEAD" THE DOG
If you've been on Facebook at all over the past couple of days and are a member of the Lawton Grapevine you probably heard of "Buckethead." Even better, the story has a happy ending and the dog is now free at last.
It was great to see the community come together and help this poor dog. It was also great to see social media being used in such a meaningful and humanitarian way. For all its faults it has its good points too.
After 4 long days the bucket was finally removed, "Buckethead" is now FREE!
People all over Lawton, Fort Sill were out looking for "Buckethead" and hoping to help him. In the end that's just what happened. Jennie Brisby and a group of teens managed to find him and get the bucket off his head.
AS A COMMUNITY LAWTON, FORT SILL CAME TOGETHER LIKE NEVER BEFORE
Not sure what his real name is, but we can't call him "Buckethead" any more thanks to Jennie Brisby and a group of caring teens. I'm sure despite being scared he's happy and finally able to eat and drink again.
To all those who helped and spent their time searching and trying to rescue "No Longer Called Buckethead" and to the Lawton Grapevine's public and private groups and membership. Job well done, we thank you!
Look inside this Lawton, OK. 1.5 million dollar mansion
Take a quick virtual tour of this massive 1.5-million-dollar mansion in Lawton, OK. It's one of the largest, most luxurious, and most expensive homes on the market right now. It's truly a one-of-a-kind property that boasts 4 bedrooms, 5 bathrooms, and 5,900 square feet on 2 acres. It's located at
350 North West Hillary Road in Lawton, OK.
and for
$1,500,000
it could all be yours! This impressive home is one of the most epic estates on
Zillow.com
. It's currently listed by
Barry Ezerski
of
RE/MAX Professionals
.
Scroll through the photo gallery below and take a peek inside this 1.5-million-dollar mansion for sale in Lawton, Oklahoma.
7 Oklahoma "Must Experience" Drive-In Movie Theaters
If it's been a while since you've been to the drive-in movie theater or if you've never had the chance to go before, now's the time. Oklahoma has several drive-in theaters all across the Sooner State. Chances are you're close to one or close enough no matter where you're at. We have drive-in theaters in OKC, Chickasha, Tulsa, Guthrie, Poteau, Springer, and Shattuck. And that's just to name a few places where you can find them. So if you're looking for a nostalgic good time and an epic evening head to any of these amazing drive-ins.
Take a tour of this epic Oklahoma 6.5 million dollar country club mansion
This EPIC-ESTATE is located at
3226 East 62nd Street in Tulsa, OK.
and is listed by
Stuart Gallagher
of
Coldwell Banker Select
. It's a HUGE 9,115 square foot 3 story home that was originally built back in 2010. It features 4 bedrooms, 7 bathrooms, a 5 car garage, and is centered on 2.11 acres. It's a one-of-a-kind Palatial Estate that's located right next to the
Southern Hills Country Club
right on the golf course's 12th tee box.
Check out the photo gallery below to take a quick virtual tour and see what $6,500,000 could buy you.
25 hilarious Oklahoma personalized tags DENIED by the DMV
A great way to personalize your vehicle is with a custom license plate. There are some pretty creative and funny tags running around the Sooner State. Some are easy to get, others will have you scratching your head trying to figure it out what it says. Personalized plates are very popular and we're seeing more of them on the road every day. However, there are some rules and restrictions when it comes to what you can and can't put on your plate. If it's considered obscene, vulgar, demeaning, or includes any mention of drugs, alcohol, or illegal activities it will be DENIED. Check out the photo gallery below of some of the most hilarious tags that were rejected by the Oklahoma Department of Motor Vehicles. WARNING: some of these could be considered offensive so if you're easily offended proceed with caution. You have been officially warned.