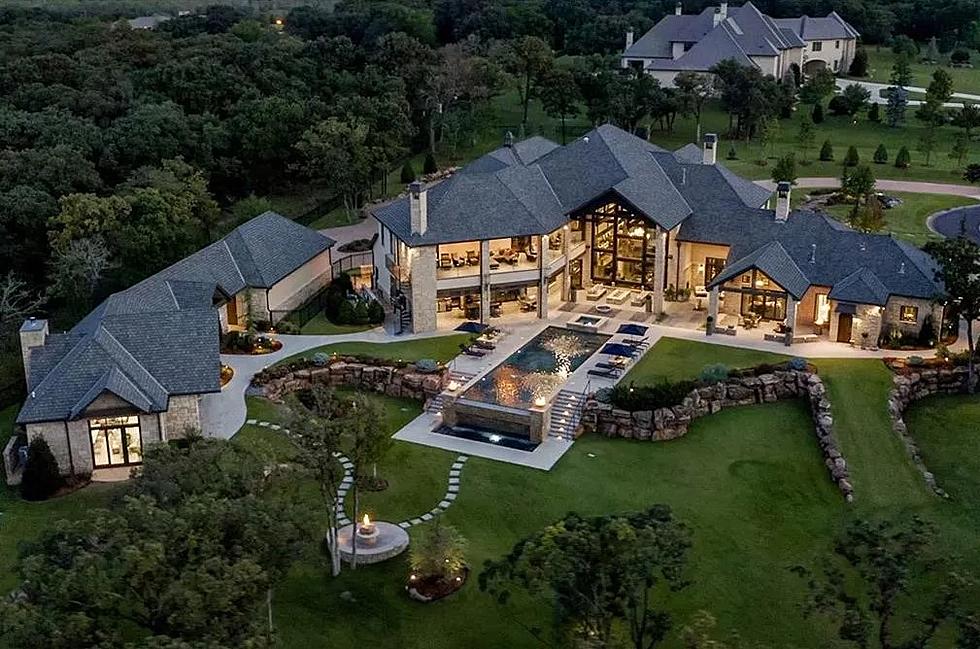 The Most Expensive House for Sale in Oklahoma City
Engel & Voelkers Edmond, Realtor.com
Sometimes it's fun to hop online and window shop the things you'll never be able to have.
Real estate is one of my favorite topics because even though the places I look at are way out of my price range, sometimes I'll see something in the pictures that'll inspire a change to my own home.
That's exactly why I put drawer pull-outs in all of my lower cabinets. No more reaching into the abyss for a pot lid, now they all just slide out to me. Saw it in a $600,000 home listing.
While looking around the internet I stumbled across something impressively unique among the carpet of tract homes in the OKC metro. A 12,000 square foot custom-built mansion that's been on the market for almost a year and a half.
On the outside, it straight up looks like the nice homes you would see while skiing in the ultra-nice resort towns of Colorado... Estes Park, Breckenridge, Winter Park, Aspen, etc... The inside seems a little more purposely designed for whoever built it, maybe a little too much.
As always, details and finishes that are intended as fancy and affluent generally come across as busy and ugly to us poors...
Maybe that's why it's been on the market for so long.
Originally listed in 2021 at just under $6million, here's what seven bedrooms, 8.5 baths, and parking for 15 cars looks like in Edmond, Oklahoma.
Look inside this EPIC $5,495,000 Oklahoma Estate
It's being called the premier luxury listing in all of Oklahoma on
Zillow.com
. This massive mansion in
Arcadia, OK. at 400 Deep Fork Circle
is listed by
Ty Burnett of Engel & Voelkers Edmond
. It currently has an asking price of
$5,495,000
making it one of the most expensive houses for sale in the Sooner State. This epic 12,020 square foot estate sits on over 2.5 acres and features 7 bedrooms and 9 bathrooms. It comes with its own guest house, resort infinity pool, cabana, and gym. The chef-inspired kitchen features all professional, commercial-grade appliances. There's a THX theater room and entertainment suite complete with its own bar. The master bedroom has a see-through fireplace, huge celebrity-style closets a garden room, and heated marble floors in the master bath. It has a basement a wine cellar and tons of outdoor patio and sitting areas.
Scroll through the pictures below and take a virtual tour of this epic estate in Arcadia, OK.
The Most Expensive Places to Live in Oklahoma
When you think of expensive places to live in Oklahoma, most people envision the ultra-wealthy areas like Nichols Hills or Cedar Valley... but having money doesn't always equate to being the most expensive. Compared to most places on this list, even Edmond would be a thrifty place to live. Here are the most expensive places to live in Oklahoma.
Top 10 safest towns & cities in Oklahoma
These 10 Oklahoma towns and cities have been ranked and named as the safest in the entire Sooner State. If you're looking for someplace to move, retire or visit and are worried about crime, these are the safest places. They have some of the lowest crime rates in the state, some have the lowest in the Nation according to
FBI crime statistics
and the most recent survey report from
safewise.com
. Most of the cities and towns that made the top 10 safest places this year are located in the southwest central portion of the state.
One town made it to the very top of the list at #1 for its 4th consecutive year, that's quite an accomplishment!
Check out Oklahoma's retro 1950s themed hotel
If you're looking to make your accommodations more than just a place to stay, but rather a part of the vacation experience itself then this is for you. There's a 1950s-themed hotel in Oklahoma that's the ultimate retro getaway for the entire family. The
Happy Days Hotel in McAlester, OK.
is like traveling back in time to the 1950s. It's the perfect place to relive or visit the greatest era of music, movies, and television. When rock n' roll was king and the King himself, Elvis Presley ruled! The entire hotel is decked out floor to ceiling in 50s memorabilia, even the rooms. It's more than a great place to stay, it's a vacation destination, Right next door is the
Great Balls of Fire Family Entertainment Center
a 50s-themed bowling alley. There's also a 50s diner on-site as well called
Angel's Diner
. It's your one-stop shop for 1950s-style retro rest and relaxation in OK.
Check out Oklahoma's Top 10 Irish pubs
Oklahoma is home to some of the very best and most famous Irish Pubs to be found anywhere in the U.S. While you might not think of the Sooner State when it comes to Irish pubs, you'd be surprised. Most major cities in Oklahoma have an Irish Pub of some kind, so you're never too far away from one no matter where you're at. These places are perfect anytime, any day, but on Saint Patrick's Day it's even better. Enjoy some of the very best food and drink to be had anywhere and celebrate St. Paddy's at any of these epic Irish pubs.