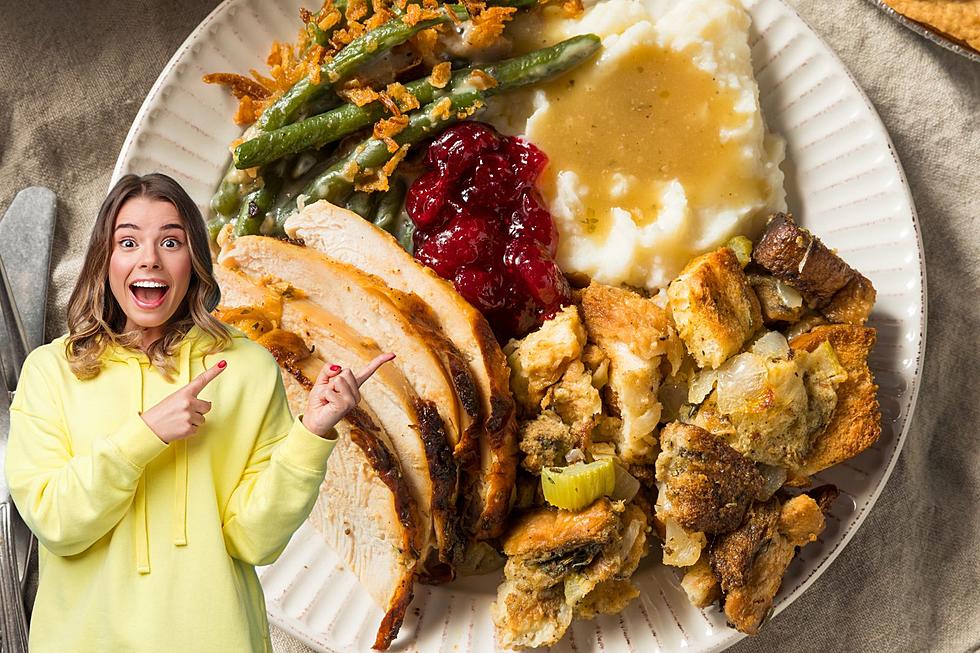 Check Out These Affordable Thanksgiving Meal Deals Available in Oklahoma
Canva
The holiday season can be an expensive time, especially when it comes to grocery shopping. Luckily, Oklahomans can save on holiday meals at some of the nation's largest grocery stores with dinner packages available for $30 or less!
Thanksgiving is right around the corner, so everyone will be pricing out turkeys, along with the sides and their ingredients, especially the Thanksgiving staples of stuffing and green bean casserole. Grocery prices have been at the forefront of everyone's minds ever since the pandemic, and prices haven't gotten any better in 2023 - sometimes it feels like they've been getting worse every year.
According to Move.org, "the average price of groceries in America in 2023 is $415.53 a month per person." Oklahoma averages in between the states that are most expensive and most affordable for groceries at $444.29 a month per person.
With the increase in prices, some bigger grocery stores have taken it upon themselves to offer affordable holiday meals.
So where will Americans be shopping for their Thanksgiving meals this weekend? Usually when grocery prices are high, people tend to not shop at larger retail stores or splurge on name-brand products. But this year, those larger retail stores might be the ones offering the best deals.
Aldi - 50 Percent Off Holiday Favorites
Earlier this month, Aldi announced that their America locations would be reducing its prices "up to 50 percent off on holiday favorites ranging from appetizers and sides to produce and baking essentials."
Aldi also announced that it would be offering a Thanksgiving meal for eight people priced at $63. But details have not yet be released about this meal deal.
Walmart - Thanksgiving Dinner Kits for as Low as $30
For the holidays, Walmart is offering Convenient Holiday Meals ranging from $30 to $77. Walmart has a Convenient Holiday Meal calculator on its website for shoppers to use to find the best meal package for their dinner. Say you're planning a dinner for eight people and the calculator will put the whole meal together from the turkey down to the dessert. All you have to do is add it to your cart.
Target - Thanksgiving Meal for Under $25
This is probably the best deal we've found so far if you're looking for an affordable yet delicious Thanksgiving dinner. Target is offering a Thanksgiving meal for under $25 online and in store. The meal serves four and includes the following:
Good & Gather Premium Basted Young Turkey (Frozen) – 10 lb.
Good & Gather Russet Potatoes – 5 lb.
Good & Gather Cut Green Beans – 14.5 oz.

Campbell's

 Cream of Mushroom Soup – 22 oz.
Ocean Spray Jellied Cranberry Sauce – 14 oz.
Stove Top Turkey Stuffing Mix – 6 oz.
Heinz HomeStyle Roasted Turkey Gravy – 12 oz.
In its announcement, Target said shoppers can double the list to serve eight guests, which would still make the total under $50. Shoppers just need to add the items on the list to their cart while in the store or online.
10 Oklahoma Hallmark holiday hometowns you can visit
Looking for someplace special to spend the holidays? The Sooner State has you covered with some of the best towns and cities to get into the Christmas spirit. If you've ever wanted to visit a place that feels like it came out of a Hallmark movie you're in luck. Check out these ten Oklahoma Hallmark holiday hometowns to experience the small-town charm and friendliness of some of Oklahoma's best-known holiday destinations. Each has its own unique traditions and holiday events that will surely get you into the spirit of the season. From amazing lights and displays to performances and festive family fun you'll find in the Sooner State.
Gallery Credit: Don "Critter" Brown
Top 10 Oklahoma Christmas Parades
Oklahoma is one of the best places in the nation to celebrate the holiday season! There's festive activities and bright light displays in almost every other town in the state. But one of the most magical events is a Christmas parade! Oklahoma has some awesome Christmas parades that are perfect for celebrating the holiday season.
Gallery Credit: Jeri Anderson