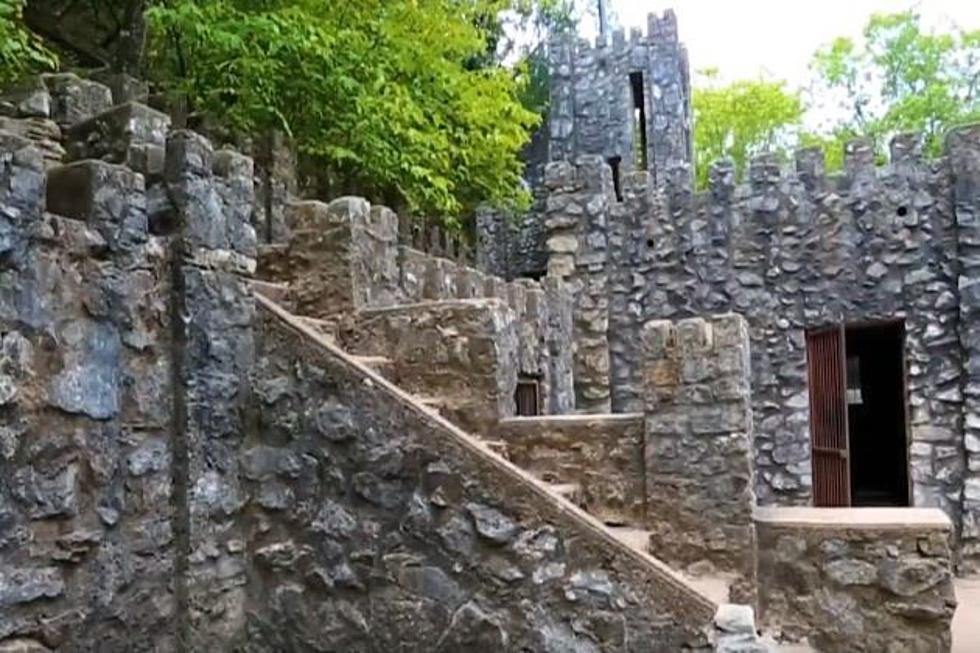 Take a Peek Inside This Abandoned Oklahoma Medieval Castle- Amazing Adventures Await
YouTube.com- DiscoverOklahoma
If you're looking for adventure you could explore this amazing abandoned Oklahoma castle. It's located in one of the most beautiful places in the Sooner State and is the perfect place for a day trip or staycation.
SCROLL DOWN TO LEARN MORE ABOUT THIS ABANDONED OK. CASTLE
Normally you don't think of Oklahoma when it comes to castles, but you'd be surprised. We actually have quite a few of them and some are even for sale. This one however is more of a medieval monument.
Explore the ruins of this amazing abandoned medieval style castle in Oklahoma
While this castle may not be ancient it was modeled after the medieval castles of thirteenth-century Europe. It looks just like the castles you've seen in movies, television, and books an exact replica built back in 1930.
 VISIT COLLINGS CASTLE IN DAVIS, OK. AND YOU COULD BE KING OR QUEEN FOR A DAY
So where can you find this Oklahoma castle? It's located in Davis, OK. at Turner Falls Park and is called Collings Castle. Named after its builder and owner Dr. Ellsworth Collings who was a professor at O.U.
Watch the video below to learn more about the historic Collings Castle of Oklahoma
Collings Castle was originally built during the Great Depression in the 1930s and served as a vacation or weekend getaway home for Dr. Ellsworth Collings and his family. It's an incredible place to visit and explore.
COLLINGS CASTLE HAS SOME OF THE MOST INCREDIBLE VIEWS IN THE STATE
The entire castle was constructed using natural rock and stone from the area and features towers, parapets, several bedrooms, living rooms, and a bunkhouse. This place is EPIC both inside and out. It's worth a visit.
Collings Castle is located in the beautiful Turner Falls Park in Davis, Oklahoma
You're welcome to explore the inside of the castle and walk the parapets if you'd like. It's a short hike and you'll have to climb quite a few stairs to get to the top, but it's well worth it. The view from the top is amazing.
THE PICTURESQUE VIEWS AT COLLINGS CASTLE ARE SECOND TO NONE
Collings Castle is a very popular place for people to take photos and selfies. Being in the Arbuckle Mountains at Turner Falls Park it boasts some of the best scenery to be found in the Sooner State.
Take a quick virtual tour of the Collings Castle at Turner Falls Park in Davis, OK.
Not only can you visit and explore Collings Castle at Turner Falls there are a ton of other great things to do as well. Take a hike, go fishing, check out the waterfalls and swimming areas, or go picnicking at Turner Falls.
THERE ARE ALL KINDS OF THINGS TO SEE & DO AT TURNER FALLS PARK
There's also camping, RV lots, and even cabins you could rent for a quick weekend getaway or staycation. Plus Arbuckle Wilderness Park is nearby so you could go on an Oklahoma safari and feed the animals.
While you're at Turner Falls Park you'll want to check out the trails and waterfalls
Also, no trip is complete to Davis, OK. without making a stop at Arbuckle Mountain Fried Pies. Without a doubt, they have the most delicious homemade fried pies you'll ever eat. You have to try them for yourself.
TURNER FALLS PARK IS THE ULTIMATE STAYCATION DESTINATION FOR ALL AGES
So if you're looking for an adventure or the perfect place for a quick vacation or weekend getaway head to Davis, OK. to Turner Falls Park. Click here to visit the official website for details and to plan your trip.
16 Unbelievable Sights to Behold in Oklahoma
Long thought of as just a 'fly-over' state, there's a ton of unbelievable destinations in Oklahoma that America is missing out on.
Five epic & unusual Oklahoma Airbnbs you should check out
Take a break from the boring and ordinary and make your next overnight stay more spectacular and memorable. These rentals are a lot more than just a place to stay, all of them could easily be a vacation destination and experience all on their own! If you're planning a staycation or vacation in Oklahoma you should definitely check out these epic and unusual
Airbnb
rentals versus booking just a plain old room at a hotel or motel. You could make your accommodations a part of the experience itself by staying at any of these amazing places in the Sooner State.
Scroll through the photo gallery below to check them out.
The Best Things About Oklahoma
It seems we've reached a point in human history where the norm is to sit around and complain about anything and everything. Oklahoma is a sore subject on both political sides of the aisle. So instead of adding to the morose nature of being bummed, here are some 100% pure Sooner State things Okies can't help but think positively about.
Oklahoma's Top 24 Terrific Towns & Prettiest Cities
It's the delightful double dozen, the top 24 most terrific Oklahoma towns and prettiest cities in the Sooner State. These incredible places are just as friendly and inviting, as they are beautiful and picturesque. While Oklahoma has more than just a few terrific towns and pretty cities these are the crème de la crème, and more than deserving of making the top 24 list. The list was created by using Google. It ranked each city by beauty, lifestyle, friendliness, scenery, entertainment, and overall positive feedback from those who have experienced their charm firsthand. Scroll through the photo gallery below to see the top 24 towns & cities in Oklahoma.