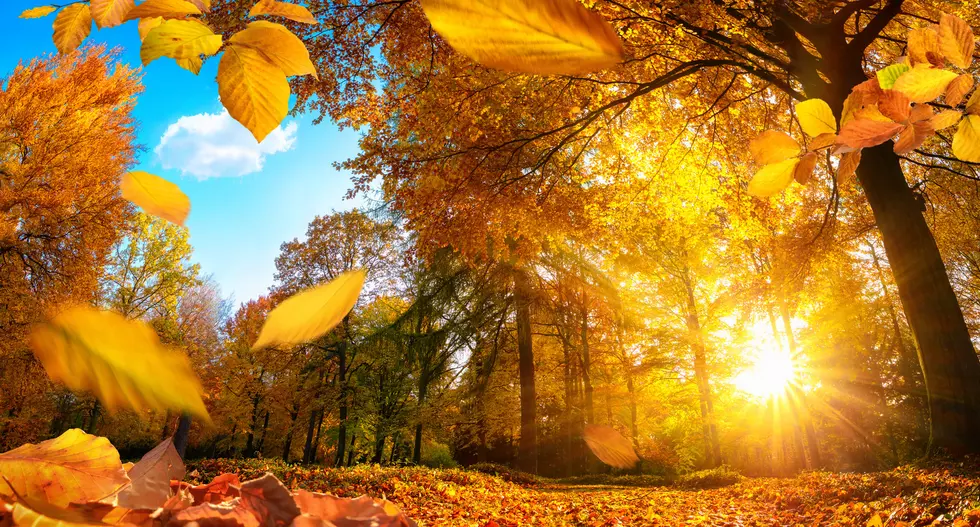 Experts Forecast Oklahoma's Fall Colors will Arrive Really Late This Year
Smileus
If you've been paying attention to your commute in the last week or so, you already know that some of the trees around Oklahoma are already starting to turn, but experts are predicting a very late peek season for fall colors thanks in part to El Nino.
Even though Summer 2023 was hotter than last year, we had just enough rain to keep the trees from turning off like they did last year... Remember? They all pretty much skipped the hues of orange and red only to turn brown and die.
While we did get a little dry in July and August, it wasn't nearly as bad as last year. Compile that with the lingering warm temps and the predicted El Nino effect, while the colors of fall will return like normal, they'll do so really late this year.
When will fall start to look like fall?
The forest experts over at AmericanForests.org are predicting Northern Oklahoma will start the transition around Halloween, but won't hit peek seasonal change until mid-November. That's about two weeks past normal.
Additionally, that late trend will hit the southern part of the state behind schedule too. Those living below I-40 won't see a big change until the middle of November, but we'll get to experience those colors through Thanksgiving... A rarity for our part of the state.
If you've ever wanted to see the best fall colors the Sooner State has to offer, start planning your trips now. Here's a quick rundown of the best places to see the colors of fall.
Where To See Fall Colors In Oklahoma
Whether it's the feeling you get when you see falls warm colors in the trees, or the comfort of a memory you recall from a younger time in your life, there are places in Oklahoma to see the beauty of autumn.
Gallery Credit: Kelso
Oklahoma's Best Motorcycle Road Trips
Since motorcycling is practically a year-round thing in Oklahoma, anytime is a good time to start planning your next road trip. Whether you're getting the moto-bros together for the ride, or packing up your significant other for a little two-wheel therapy, here are the best motorcycle road trips inside the Sooner State.
Gallery Credit: Kelso
Five epic & unusual Oklahoma Airbnbs you should check out
Take a break from the boring and ordinary and make your next overnight stay more spectacular and memorable. These rentals are a lot more than just a place to stay, all of them could easily be a vacation destination and experience all on their own! If you're planning a staycation or vacation in Oklahoma you should definitely check out these epic and unusual
Airbnb
rentals versus booking just a plain old room at a hotel or motel. You could make your accommodations a part of the experience itself by staying at any of these amazing places in the Sooner State.
Scroll through the photo gallery below to check them out.