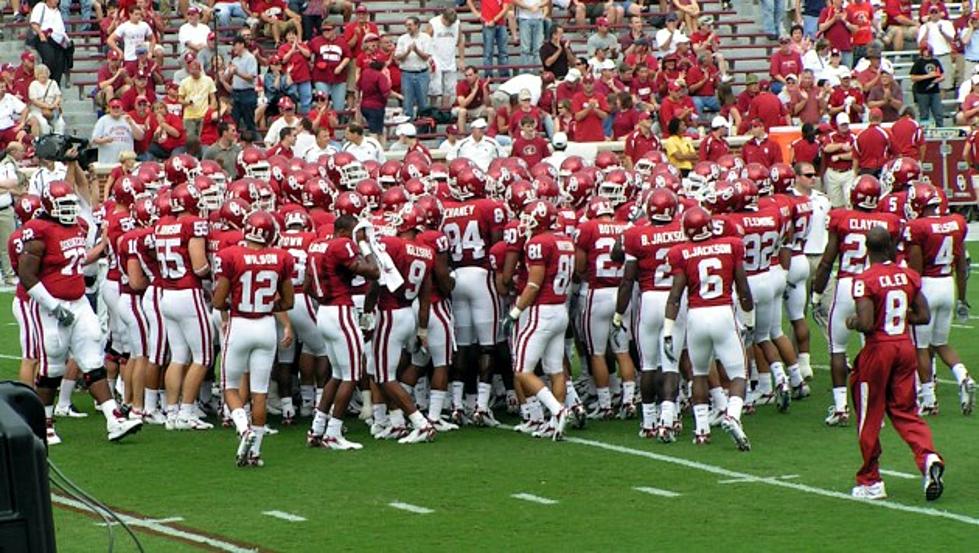 Oklahoma Sooners Announce They're Leaving The Big 12
Getty Images
In a bombshell announcement Monday morning, the University of Oklahoma formally announced their intention to leave the Big 12 athletic conference in 2025. In a weird moment of rivals becoming besties, the University of Texas got in on it too, making a joint statement to the media. Here's the full statement:
"The University of Oklahoma and The University of Texas at Austin notified the Big 12 Athletic Conference today that they will not be renewing their grants of media rights following expiration in 2025. Providing notice to the Big 12 at this point is important in advance of the expiration of the conference's current media rights agreement. The universities intend to honor their existing grant of rights agreements. However, both universities will continue to monitor the rapidly evolving collegiate athletics landscape as they consider how best to position their athletics programs for the future."
It's not exactly shocking. Ever since Nebraska, A&M, Missouri, and Colorado left and the conference left begging schools to join in their place, a ten team conference doesn't raise itself to the competitive level teams need to get the press on their side to push for big titles. Not to say OU and Texas doesn't have titles, but is must sting to dominate a conference then constantly get whipped playing teams from better conferences.
So where are they going to go? The big bad SEC... That's not official, just my guess. Everyone wants to be in the SEC because those teams earn the most money in addition to having enough teams to play for a legitimate and recognized conference championship in the key sport of football. They have their own dedicated broadcast channel, that money rolls in year round, not just during football. Add in the fact that OU already has a number of sports already a part of the SEC conference, it's only natural.
There is always a chance they'll opt for a different conference too, depends on where the money and easiest wins are. They could join the ACC and become Clemson's OSU for the next decade. They could also hit up the Big 10 so we could see a meaningful OU/Ohio State match-up every year.
While it's going to be quite a change for OU. They've been a charter member of basically the same conference since 1907 when it was originally the Big 8. Unless Oklahoma State University follows (which they won't), Bedlam will probably happen early in the season as there's going to be nothing on the line for it besides bragging rights after 2025.
Then again, it'll be nice for the Pokes to finally be the #1 team in the Big 12 again... We made it there once, if they can keep Gundy from calling plays, it should become the new norm.
LOOK: What major laws were passed the year you were born?
Data for this list was acquired from trusted online sources and news outlets. Read on to discover what major law was passed the year you were born and learn its name, the vote count (where relevant), and its impact and significance.