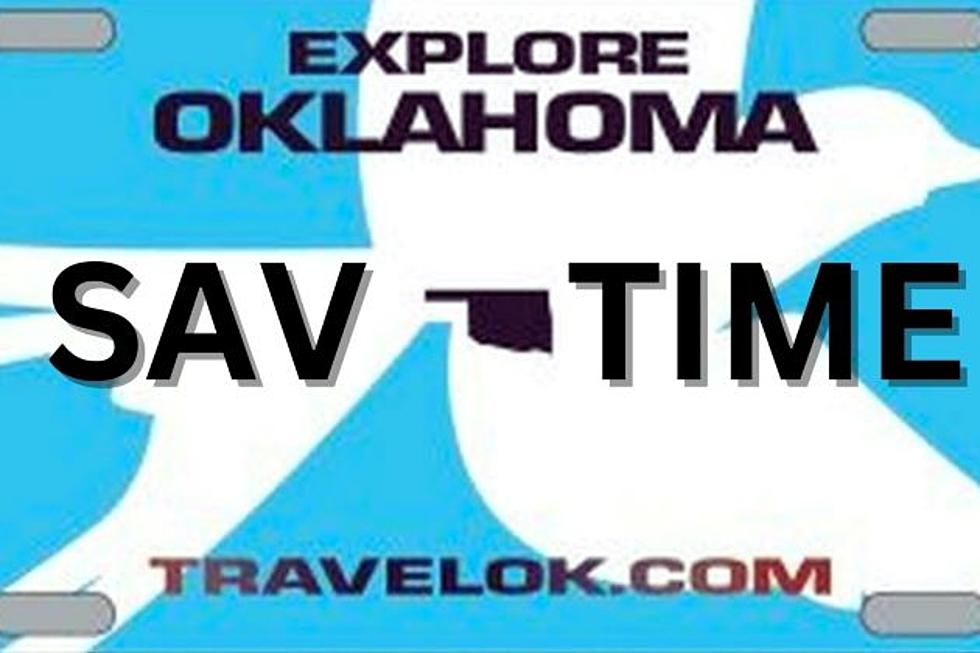 Oklahoma Looks to Change Vehicle Registrations to Every 2 Years vs Annually
Canva
There's a new bill (HB-2011) that has been introduced that would change Oklahoma's vehicle registration requirements. If passed we could go from registering our vehicles annually to every 2 years instead.
SEE 25 HILARIOUS PERSONALIZED TAGS DENIED BY THE OKLAHOMA DMV BELOW
House Bill 2011 was recently introduced and is making its way through the legislative process and will be heard by the full House and various subcommittees soon. It's got a decent chance of being passed.
The changes would apply to all vehicles with the exception being manufactured homes and vehicles which have permanent tags. Some commercial vehicles will also be excluded from biennial registration.
Watch the video below from News 9 for details on Oklahoma House Bill 2011
The bill was authored by Oklahoma Representative Dean Davis (R) District 98. The bill just recently passed the state House Committee unanimously, see the report here. It should be in front of the full House soon.
WILL CHANGING VEHICLE REGISTRATION TO EVERY 2 YEARS DOUBLE THE PRICE?
So why the changes? Here's a quote from Rep. Dean Davis: "This is a commonsense approach that will save the average Oklahoman time and create greater convenience when having to renew their personal vehicle registration." Makes sense to me, I'd much rather deal with the hassle of tags every 2 years vs annually.
Rep. Dean Davis went on to say: "We've taken steps in recent years to ease this process, and this is just a continuation of those efforts." The BIG QUESTION is, will it cost double? In other words, if we register our vehicles biennially will we pay the same amount as annual registration? Or will there be a discount? Otherwise, we'll end up paying for 2 years of registration all at once. Guess we'll wait and see what happens.
25 hilarious Oklahoma personalized tags DENIED by the DMV
A great way to personalize your vehicle is with a custom license plate. There are some pretty creative and funny tags running around the Sooner State. Some are easy to get, others will have you scratching your head trying to figure it out what it says. Personalized plates are very popular and we're seeing more of them on the road every day. However, there are some rules and restrictions when it comes to what you can and can't put on your plate. If it's considered obscene, vulgar, demeaning, or includes any mention of drugs, alcohol, or illegal activities it will be DENIED. Check out the photo gallery below of some of the most hilarious tags that were rejected by the Oklahoma Department of Motor Vehicles. WARNING: some of these could be considered offensive so if you're easily offended proceed with caution. You have been officially warned.
Check out Oklahoma's retro 1950s themed hotel
If you're looking to make your accommodations more than just a place to stay, but rather a part of the vacation experience itself then this is for you. There's a 1950s-themed hotel in Oklahoma that's the ultimate retro getaway for the entire family. The
Happy Days Hotel in McAlester, OK.
is like traveling back in time to the 1950s. It's the perfect place to relive or visit the greatest era of music, movies, and television. When rock n' roll was king and the King himself, Elvis Presley ruled! The entire hotel is decked out floor to ceiling in 50s memorabilia, even the rooms. It's more than a great place to stay, it's a vacation destination, Right next door is the
Great Balls of Fire Family Entertainment Center
a 50s-themed bowling alley. There's also a 50s diner on-site as well called
Angel's Diner
. It's your one-stop shop for 1950s-style retro rest and relaxation in OK.
16 Annoying Things Oklahoma Drivers Do
I can't even begin to tell you how often the conversation turns to bad driving in my circle. Now I've lived in a bunch of different states, and driven in many more as my family's safe vacation driver, I can tell you some of the most common driver complaints are universal... but as Oklahoma drivers seem to swear they're the best, here are some of the things that annoy the rest of us.
Take a virtual tour of this massive 7.5 million dollar Oklahoma mansion
Take a look inside this massive Oklahoma mansion that's up for sale. This epic estate is one of the most impressive and expensive houses currently for sale in the Sooner State with a price tag of
$7,500,000
. This one-of-a-kind property is located at
6907 Avondale Drive, Nichols Hills in Oklahoma City, OK.
It's one of the most incredible and luxurious homes on
Zillow.com
and is listed by
Cole Strickland
of
Metro Mark Realtors
. This 6 bedroom, 9 bathroom 11,412 square foot multi-story home boasts all the very best in features and amenities. It sits on 1.7 acres and even has its own tennis court and swimming pool. That's just the beginning.
Scroll through the pictures below to take a virtual tour of this EPIC MEGA-MANSION in OKC.