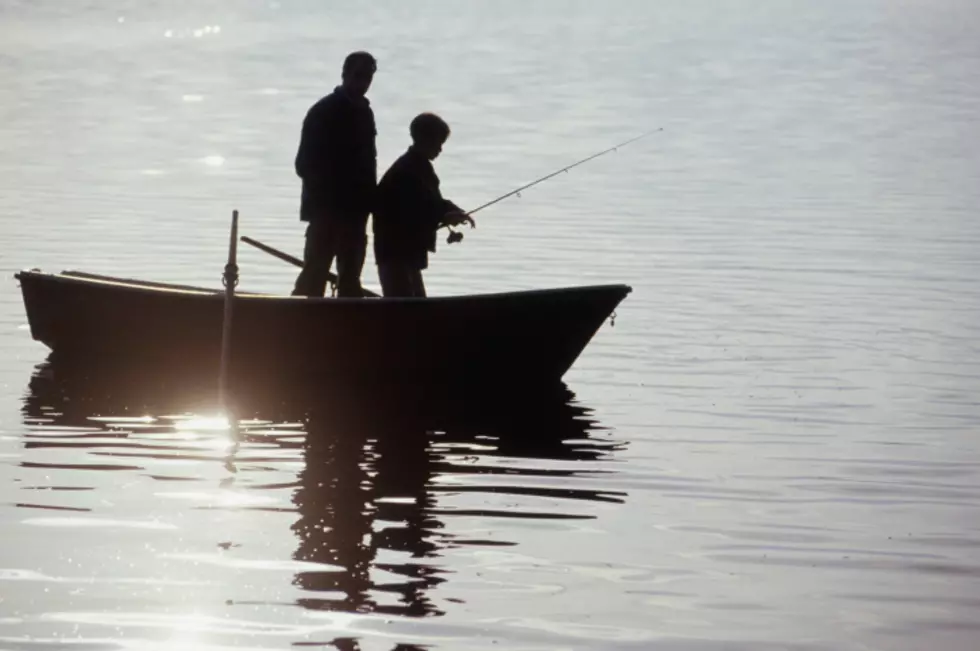 Oklahoma's Now Digital With Fishing/Hunting Licenses
David De Lossy
When I log into the Oklahoma Department of Wildlife and Conservation website every five years to renew my fishing license, I always think "This should be digital by now..." After all, your insurance verification for your vehicle, your drivers' license is now legally digitally too. When did the ODWC jump to making your hunting and fishing permits legally digital?
Full transparency, I haven't had to renew my license since 2017, so I would have found out about this next April anyway, but why wasn't this huge news in the first place?
In the past, I have asked every game warden I've ever known and befriended "Why can't I just take a picture of my fishing license and keep that on my phone?"
The answer I always got was "Pictures and digital material can be tampered with..."
Who in their right mind is trying to forge a fishing license? Also, when I hand that license over to be regularly checked when wardens go snooping around Oklahoma lakes, assuming everyone with a line in the water is breaking the law in that "guilty til proven innocent" sort of way, don't they just radio that information back to check if it's good anyway? Or at a minimum, run the numbers through their in-unit laptops?
I always had the opinion that if someone could fake a digital license, they could just print out the same fake... at least allowing a digital license would be one less thing to keep track of in my wallet.
So, now that the Oklahoma Department of Wildlife and Conservation has skipped ahead to the current century in terms of technology, there is a catch that goes along with the digital license system... You have to have the official ODWC app to access it on your mobile device.
On the face of it, it sounds really convenient. You would have your licenses, the full ODWC rulebook, and the wealth of knowledge they share with everyone at your fingertips... but what about those pesky permissions?
Go Outdoors Oklahoma, LLC
Showing permissions for all versions of this app

This app has access to:

Location

precise location (GPS and network-based)
access extra location provider commands
approximate location (network-based)

Storage

read the contents of your USB storage
modify or delete the contents of your USB storage

Wi-Fi connection information

Photos/Media/Files

read the contents of your USB storage
modify or delete the contents of your USB storage

Camera

receive data from Internet
run the application's scheduled background work
full network access
prevent device from sleeping
read Google service configuration
mock location sources for testing
view network connections
Seems pretty standard I suppose. Compared to most apps, the list of permissions is relatively lean, but there are a few red flags in there that would keep me from downloading this.
First off, would you willingly have law enforcement in your pocket all day with the ability to track your every movement through GPS at will? I'm no law-breaker, but there's something purely American about not trusting the government.
I'd bet you're not a law-breaker either, but anytime a police officer is cruising behind me in traffic, I think to myself "Please don't pull me over" even though I know, for a fact, I'm not breaking any law in that moment.
The other is the whole "prevent device from sleeping." It's another super-common permission of most apps, and most people look past it. I don't. Some apps will allow you to turn this feature off in the applications manager, but others do not.
The last thing is, who is Go Outdoors Oklahoma LLC? In all of my google-fu, the only information I can find on it is the LLC belongs to the ODWC. I'm sure there's some sort of legal jargon that required a separate entity to publish an app, but the very limited amount of information about it is vague. It'd be bad enough if the ODWC were tracking my every movement and killing my device battery, I'd hate to think they were data-mining and selling off information to pad the revenue stream too.
I'm not saying they are, let me make that clear. I'm just saying it would be a shame, and I generally just don't trust most application publishers. Honestly, I'm probably the only person under 70 that you know that doesn't have Facebook or Instagram on their phone. I don't even have my own companies app on my phone, too much opportunity for data-mining and I'm not giving up my gold.
Truth be told, in time when I renew my fishing license next April, maybe my mind will have changed. Maybe the convenience of it will outweigh the concerns. We won't know until that time comes and goes, but I might leave a reminder on my calendar to revisit it later. Until then, I'm going to just go about my normal, everyday "trust no government" life.
The Beauty Of Southwest Oklahoma
Too many people spend too much time complaining about being in Southwest Oklahoma. If only they'd shut their mouths and open their eyes from time to time, then they'd see the true beauty of this place.
Where To See Fall Colors In Oklahoma
Whether it's the feeling you get when you see falls warm colors in the trees, or the comfort of a memory you recall from a younger time in your life, there are places in Oklahoma to see the beauty of autumn.
See How The Ten Most Dangerous Cities In Oklahoma Rank
While some of Oklahoma's most dangerous cities may not be a total shocker, there are some real surprises on this Top Ten list.