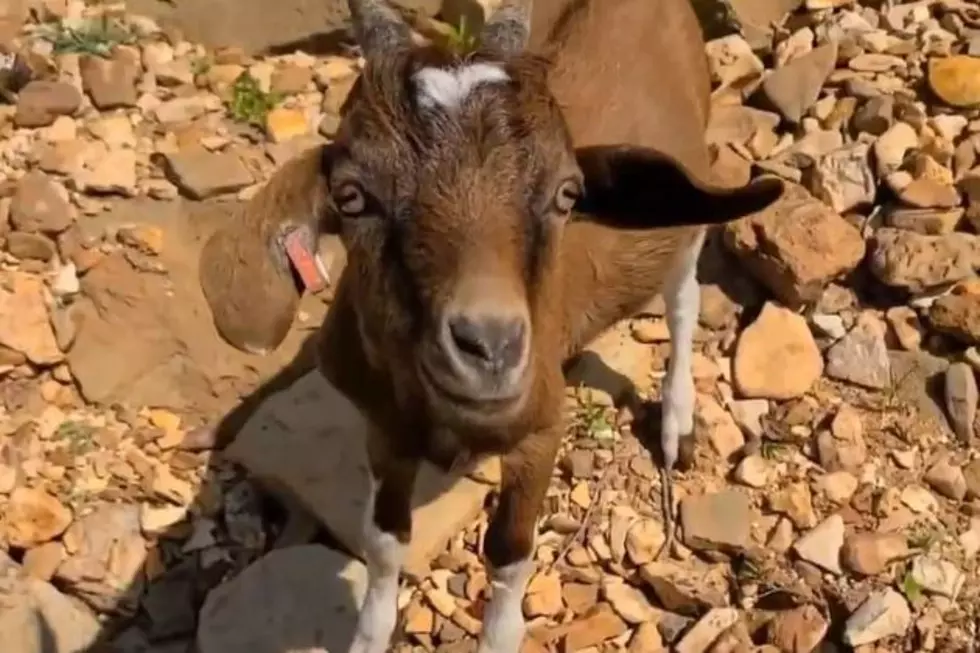 Visit Oklahoma's 'Goat Island' for an Unforgettable Vacation!
YouTube.com- SKC Adventures
Did you know that Oklahoma has a 'Goat Island?' Yep, that's right we have an island that's home to a group of goats at Lake Tenkiller in Cookson, OK. Here's the best part, you can take a boat or kayak and visit the island to see and feed the goats. They're super friendly and love having visitors, especially if you bring them treats!
So where is this island and exactly how do you get there? It's located in the Pettit Bay at Lake Tenkiller on the West side of the lake. You can camp out at Pettit Bay and take a quick boat ride or use a kayak to go to 'Goat Island.' What's that, you don't have a kayak? Not a problem, you can rent one or charter a boat at the marina.
Take a quick trip and visit 'Goat Island' at Lake Tenkiller in Cookson, Oklahoma
You can barely make out the goat in the photo above, it's standing right next to the fallen tree on the left-hand side. It's a black and white goat. I've never been to 'Goat Island' but you can bet that I'll be planning a visit soon. I mean what's not to love? An island filled with friendly goats that you can pet and feed. The problem will be when it comes time to leave, my daughter will want to stay behind and remain on the island forever.
It's been a while since I've been to Lake Tenkiller, the campgrounds are amazing. If camping isn't your thing they also have cabins and other places you can rent. There are lots of things to see and do from fishing, boating, hiking, and swimming to making a visit to 'Goat Island.' Sounds like the perfect vacation getaway!
Watch the video below around the (6:35) mark you'll arrive at 'Goat Island' at Lake Tenkiller
After visiting 'Goat Island' you can stop by Piddles Place at Pettit Bayside Resort to grab some 'Goat Island' merch like t-shirts, magnets, and other souvenirs. From what I've heard Piddle's Cajun Bar & Grill has some amazing food and drink. Right down the road, you can go to the Big Red Restaurant for family-style dining.
Other amenities and features at Lake Tenkiller include all the RV and camper parks that are either on-site or close by. Most have their own convenience stores to grab snacks and drinks and others even have their own bars and restaurants! How convenient is that? So you can camp, rent a cabin, or bring the RV or camper.
Yep, they're super friendly and love visitors, the goats on 'Goat Island' at Lake Tenkiller
Once things cool down some I'm thinking the family and I will load up and head to Lake Tenkiller for a quick weekend staycation. I have to visit 'Goat Island' and try some of that Cajun food at Piddle's, it looks amazing! It's only a 4-hour drive from Lawton, Ft. Sill so we can get there quick and enjoy a family vacation at the lake.
Visit the official Goat Island at Pettit Bay, Lake Tenkiller Facebook page for more information on this amazing and unusual Oklahoma vacation getaway. It also features links to other popular places and attractions at Lake Tenkiller and the surrounding area. in the meantime, I'm going to stock up on carrots, apples, and other treats in preparation for my visit to 'Goat Island.' Mission fatten up the goats is a GO!
Getaway, Relax, Unplug & Unwind at Oklahoma's Premier & Most Luxurious "Glampgrounds" Located in Lawton, OK.
Fun & Kid Friendly Oklahoma Vacation Destinations
Far too often, some bored Karen whose only personality trait is complaining about everything will say something along the lines of "There's nothing to do in Oklahoma..." That's simply not true. There is a ton of stuff to do in Oklahoma that you and the kids will love, you just have to know where to find that stuff and have the gumption to hop off the couch and go do some of it.
See the Most Epic & Unusual Oklahoma Airbnb Rentals!
Take a break from the boring and ordinary and make your next overnight stay more spectacular and memorable. These rentals are a lot more than just a place to stay, all of them could easily be a vacation destination and experience all on their own! If you're planning a staycation or vacation in Oklahoma you should definitely check out these epic and unusual
Airbnb
rentals versus booking just a plain old room at a hotel or motel. You could make your accommodations a part of the experience itself by staying at any of these amazing places in the Sooner State.
Scroll through the photo gallery below to check them out.
Oklahoma Diner's, Drive-In's, and Dive's Guy Fieri Raved About On TV
We all know Guy Fieri is the self-proclaimed Mayor of Flavortown, and as such, we generally trust his discerning palate to guide us to the best food any place has to offer. At least the places he tends to go often offer up some really good eats, and in looking at this list, having eaten at most of these places a handful of times, he's not wrong. Here are the Oklahoma original restaurants that have been featured on Triple-D.