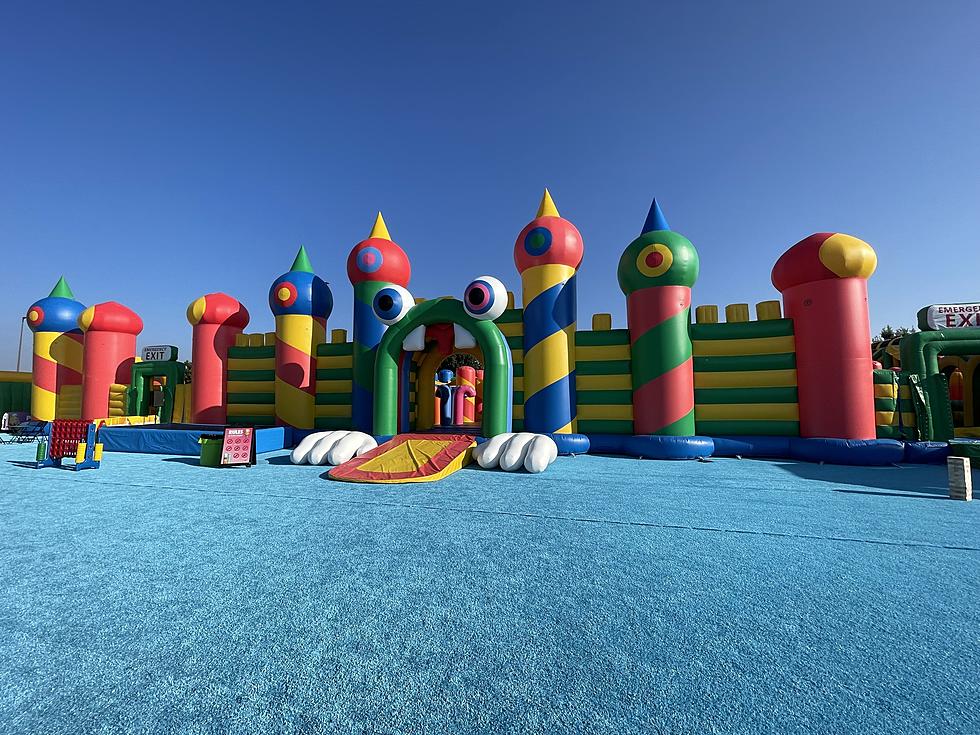 The World's Biggest Bounce House is Now Open in Oklahoma
Norman Chamber of Commerce Facebook
It was announced early this summer that Oklahoma would be getting a giant sprawling bounce house playground, and they've finally cut the red ribbon and opened up for fun.
It's called Funbox and it's in Norman.
It's hard to imagine how big 25,000 square feet of bounce house is, but early reviews suggest it's like running through an inflatable OKC neighborhood. It's huge.
Even though school is back on in the Sooner State, Funbox Norman is still open and offering tickets for 90-minute sessions starting after school each day, but you have to get them in advance.
While you're there, all of you can enjoy obstacles you wouldn't expect. There are huge slides of course, but also a massive inflated mountain. Even a ninja wall to live out your own Ninja Warrior aspirations.
Cost
Along with everything in life, especially in this inflated economy, parents are curious what the cost of this experience. Yes, it costs money, but it's not outrageous.
It's $19 per person for a 90-minute session in the park. There are a few discounts that are offered also, but you'll read through all of that when you shop for tickets.
Also, tickets are limited. In order to avoid a massive free-for-all in the park, occupancy limits are set within each session for the benefit of everyone. Funbox also has a whole section just for the littlest kids too.
When
Since school is back in session, tickets are offered for Friday afternoon and all day Saturday and Sunday. With the forecast trending to the much cooler fall side of the season, it's a perfect time to go enjoy this... sooner rather than later.
Along with anything that happens outdoors, the plan thus far isn't a year-round one. Funbox is currently scheduled through mid-November, but other locations around the country have been successful enough that they have become indoor year-round attractions.
That could realistically happen to Funbox Norman, but it's too soon to predict that.
Where
Funbox is right off I-35 at Main Street in Norman. Believe me, you'll know it when you see it.
16 Unbelievable Sights to Behold in Oklahoma
Long thought of as just a 'fly-over' state, there's a ton of unbelievable destinations in Oklahoma that America is missing out on.
Oklahoma Restaurants People Swear Are Worth The Drive
Eating out is entertainment. Sometimes it's you and your better half, other times you'll drag the family along with you. Either/or, if you've got time to kill and want to sample the best Oklahoma offers, here are the restaurants' everyone swears are worth every moment in the car to and from.
Check Out Oklahoma's Planned New Theme Park
American Heartland Theme Park is the latest huge investment announcement for the Sooner State. Slated to open in 2026 up in Vinita, it sure does look incredible from the renderings. With the project spearheaded by 20+ former Disney Imagineers, we'd expect nothing less than spectacular.