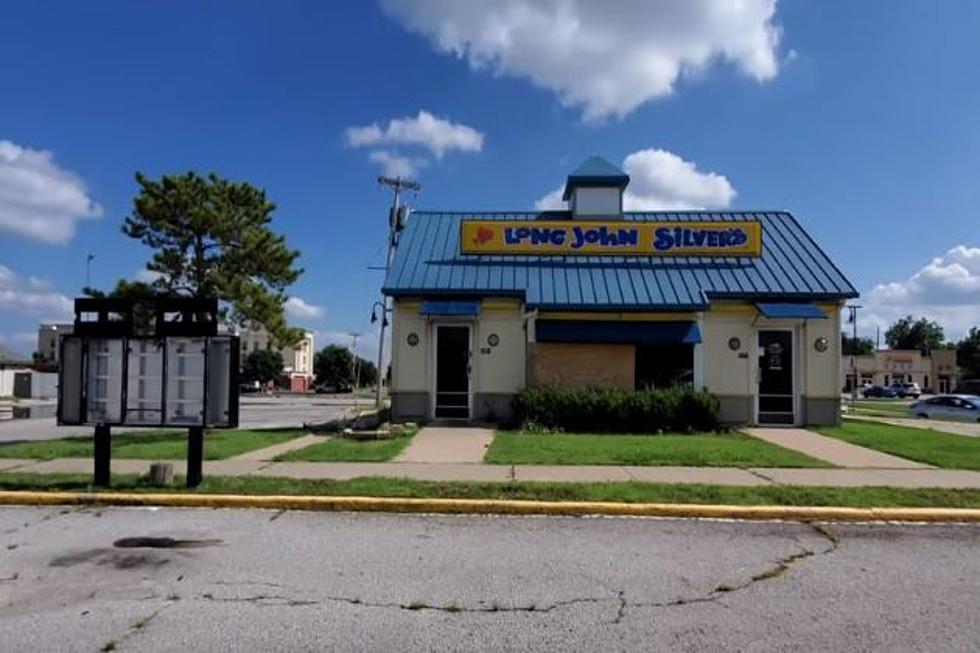 You Tuber Posts Video of Abandoned Long John Silver's in Lawton, OK.
YouTube.com- WallieB26
A while back I stumbled across a video while going down rabbit holes on YouTube about the abandoned K-Mart here in Lawton, Fort Sill. You can click here to check out the article and video. Well, the same thing happened again but this time I came across a video about the abandoned Long John Silver's on Cache Road. Oddly enough it's from the same You Tuber WallieB26. You'll definitely want to hit play on this one as well!
A fire closed the Long John Silver's on Cache Road back in 2020 and sadly it was never re-opened. Every now and then we'll see construction crews in the area (26th Street & Cache Road) and everyone's hopes get up that they're going to start rebuilding. Unfortunately, that hasn't been the case and it's sat empty for over 2 years now. Who knows, maybe someday someone will do something with it. *Fingers double crossed*
I guess WallieB26 has some family and friends that live in the area, or at least somewhat close by so he decided to shoot some videos. If you're unfamiliar with his YouTube channel WallieB26 it features all kinds of videos highlighting abandoned buildings and places he's visited. You can add Lawton, Fort Sill to that list now. His content contains creepy places and old buildings that have been shut down and shuttered up.
It's weird that a place that was once so active and inviting can become so scary and foreboding when abandoned. As soon as they're empty they almost instantly have that creepy, horror vibe to them and quickly become places you really don't want to go inside. For more videos like these check out his YouTube Channel WallieB26.  Now I'm going to have to go through all his videos and see if there are any more on Lawton.
The Dreadful Downtown Hauntings of Lawton, OK.
When it comes to ghost tales and hauntings Lawton, Fort Sill has more than a few scary stories to tell. The most active hauntings and paranormal/supernatural occurrences that have been reported seem to be centered around downtown Lawton. If you've lived here a while I'm sure you've heard a few of these terrifying tales yourself. If not check out the photo gallery below of the dreadful downtown hauntings of Lawton, OK.
The best Lawton, Fort Sill Facebook pages & groups to join, follow & be a part of.
If you just moved here, welcome to Lawton, Fort Sill we're glad you're here. It can be difficult moving and starting up in a new place. Trying to make friends, find things to do, get more information about the town itself, and just get acquainted with all the goings-on. We're here to try and help you out with a list of the best Lawton, Fort Sill Facebook pages and groups you should join, follow and be a part of.
Top 10 most terrifying towns & scary cities in Oklahoma
While Oklahoma is well known for its beauty and friendly people there are a few places in the Sooner State you'll want to avoid. These are the most terrifying towns and scary cities in the state. It's not that they're bad places, or plagued with crime and other negative factors. The towns and cities below have one single thing in common. They all have active paranormal and supernatural phenomenons. From ghost stories to urban legends and tragic tales. A lot of these places are well known to those who live in Oklahoma and even all over the nation. If you're looking to get scared or do a little ghost hunting you can start with the list below.
Where to Find the many murals by Justin Hackney's Spreading PAINT in Lawton, Fort Sill.
If you've driven around town you've probably seen all the murals we have in Lawton, Fort Sill. If you take the time to look you'll notice that they're everywhere. We're lucky to have so many talented artists that share their work with us regularly by painting murals. One name you've probably heard before is Justin Hackney and
Spreading PAINT
. His work of masterful murals can be found all over town. He's done some of the very best and has painted everything from rock stars to celebrities and everything in between. He has a style all his own and has painted murals in full color, vivid transposed negative style, and in black and white. Be on the lookout for his latest mural masterpiece he's going to keep painting them so long as people want them and there's wall space. Looking forward to seeing his next one! Check out the gallery below of Justin Hackney's Spreading PAINT murals and where to find them. We'll continue to add to the gallery as he paints them.