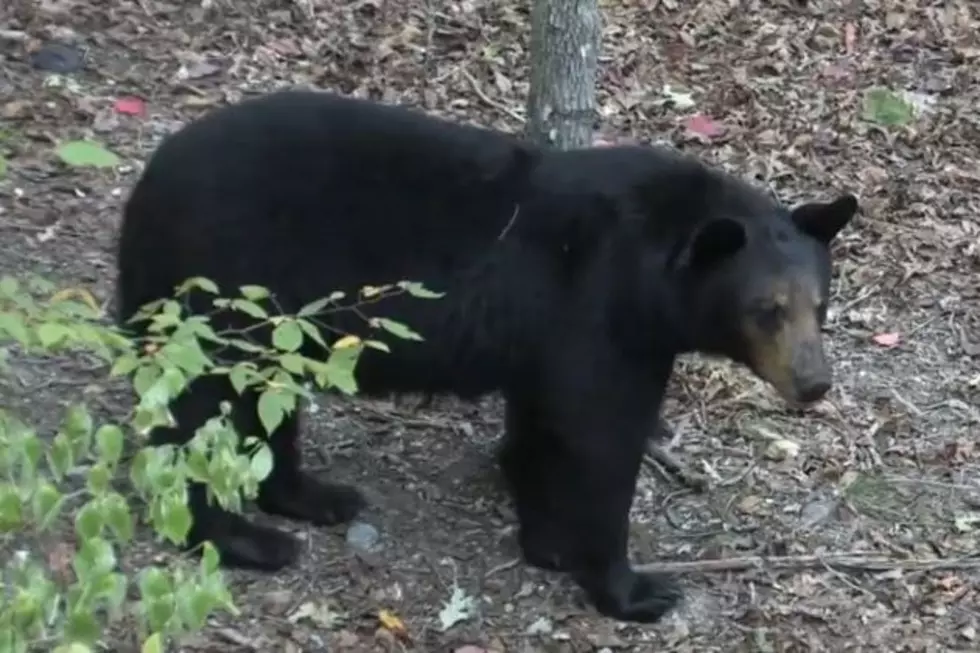 Beware of Bears this Summer in Oklahoma!
YouTube.com- OutdoorOklahoma (Arkansas Game and Fish Commission)
Wildlife officials are warning the general public that the Oklahoma black bear population is growing and to be on the lookout, especially during the early Summer months as more and more sightings have been reported.
You may or may not know that southeast and central Oklahoma is home to black bears. That's right, black bears. Most people don't think of the Sooner State when they think of bears, but we've got them so BEWARE!
I was just talking with someone earlier this week about Oklahoma black bears and to be careful when hiking and camping in areas known for sightings. The Oklahoman just published an article yesterday about our growing black bear population and to be on the lookout for bears this Summer. Click here to read the article.
Hit play on the video below to learn more about Oklahoma's black bear research
According to the article by the Oklahoman the state's black bear population is growing by around 6% each year. Not only that, the sightings are now happening in areas where black bears haven't been seen before. They're spreading out and covering more and more territory in search of food and seasonal mating habits.
While they are most often found in the southeastern and central parts of the state that hasn't stopped them from traveling to other parts of Oklahoma. Around this time last year a black bear was sighted and had to be euthanized in Norman, OK. It somehow managed to end up in a person's backyard in a neighborhood.
Wildlife officials attempted to tranquilize the bear but after several failed attempts they ended up having to euthanize it. This wasn't in some nearby woods or in rural Norman, it was in town, in a residential neighborhood. How crazy is that? Imagine looking out your backdoor and seeing a bear in your backyard.
Watch the video below about the black bear found in Norman, OK. in 2021  
So if your plans this Summer include camping or hiking you might want to be on the lookout for bears, especially in areas where they've been sighted before. There are some safety tips about bears and how to avoid them. Click here to review the article from the Oklahoman so you're informed and ready just in case.
As the population continues to grow and with sightings occurring more often and in places where black bears haven't been seen before you'll want to be extra vigilant. Carry some means to defend yourself and others when necessary and were allowed to do so. Depending on where you're at and what you're up to.
And yes there is an Oklahoma black bear hunting season. You can get all the details by visiting the official Oklahoma Department of Wildlife Conservation website. The site has all the specifics on harvesting black bears in the state and what dates the seasons run. It also lists all the required licensing, methods, and locations where you can legally hunt black bears in the Sooner State. Get all the details by clicking here.
Oklahoma's Venomous Snakes
If you spend any amount of time outdoors in Oklahoma, it's always a good idea to familiarize yourself with the natural world around you. While only seven of Oklahoma's native 46 species of snake are venomous, it's those seven species that are seen the most in the wilds of the Sooner State.
The most unusual and beautiful Airbnb rental in Oklahoma
Check out
the Silo at Lake Tenkiller
. It has to be one of the most unusual and beautiful Airbnb rentals in Oklahoma. It's a 3 bedroom, 1.5 bath home located at Lake Tenkiller and yes it's a silo. It can comfortably sleep up to 6 people and comes with all the best creature comforts including a fire pit out back where you can kick back, relax and take in the view. Not only is this one of the most unusual rentals available on Airbnb in Oklahoma it's also one of the highest-rated. It currently boasts a solid 5 out of 5 stars and everyone who has stayed there have been very complimentary about how wonderful it is. This place looks amazing!
The Beauty Of Southwest Oklahoma
Too many people spend too much time complaining about being in Southwest Oklahoma. If only they'd shut their mouths and open their eyes from time to time, then they'd see the true beauty of this place.
Check out this Amazing Castle for Sale in Oklahoma
You could be the king or queen of this castle in Tahlequah, OK. It's an amazing home that features a 2 story 4 bedroom, 2.5 bath house along with a 2 story chapel on the property. There are lots of gardens, outdoor scenery, patios, a gazebo, and there's even a waterfall. It's the ultimate kingdom and it could all be yours for just $750,000. So are you interested? If so contact
Sherri Sanders of McGraw Realtors
for all the details.