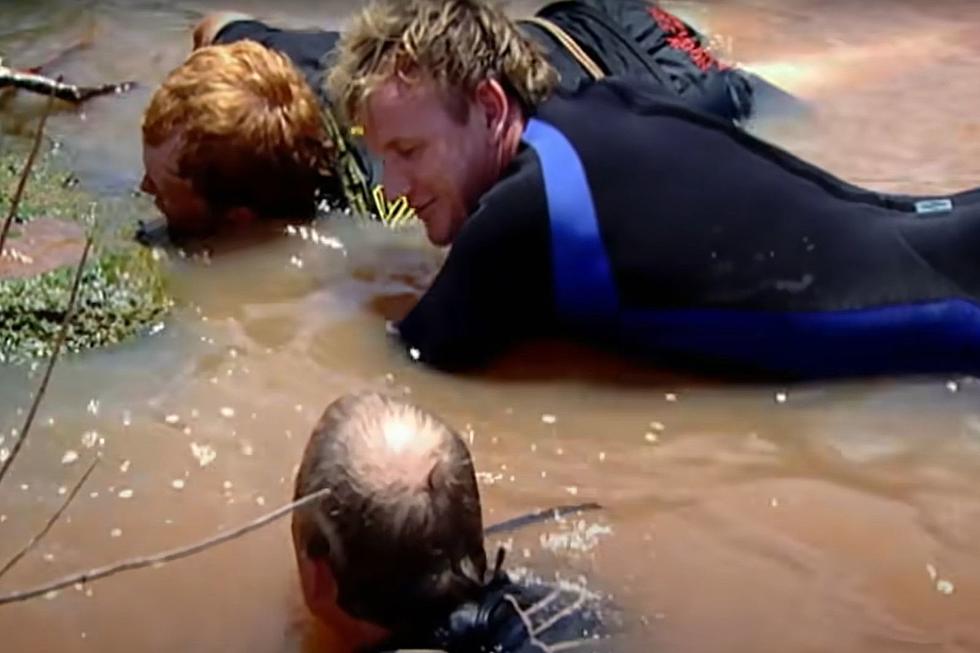 Remember When Gordon Ramsay Went Noodling In Oklahoma?
Gordon Ramsay YouTube Screenshot
The Brits have their fish and chips, while us Okies have our fried catfish and hushpuppies. Gordon Ramsay talks about this briefly in an episode of his cooking show, "The F Word," when he ventured to Oklahoma to fish for catfish in a seemingly unconventional way.
In the episode from 2016, Chef Ramsay travels to Guthrie, Oklahoma, to meet up with Lee McFarlane, who is a local noodling champion. Chef Ramsay and McFarlane travel to a lake near Guthrie to go noodling. If you're not familiar with noodling, it's basically fishing with your bare hands. So, in the episode, Chef Ramsay asks McFarlane to give him an explanation.
"It's the act of getting in the water and catching giant catfish with your bare hands," McFarlane explains.
Chef Ramsay asks a pretty logical follow-up question, "And what are the chances of being bitten?"
And I love McFarlane's response: "It'll be like a pit bull; when he grabs a hold of you, he'll bite you and make you say words you haven't said in a long time."
That's pretty cheeky of McFarlane because Chef Ramsay is not only known for his exceptional cooking, but also his colorful language. (But, honestly, we love him for it.)
So how did Chef Ramsay do noodling in Oklahoma?
Well, he was a bit nervous about the red water, for one. He couldn't see "f*** all." So he was a bit hesitant to start feeling around the bed of the lake with his feet to find the catfish holes. But he eventually mustered up the courage and dived in.
After checking more holes around the lake, Chef Ramsay and McFarlane found a catfish along the riverbed. You can watch the full clip of Chef Ramsay's noodling adventure in Guthrie, Oklahoma, below!
Oklahoma's Award Winning Restaurants and Bars
Over the past decade, several Oklahoma restaurants and bars have been recognized nationally for their innovative cuisine, cocktails and longstanding dedication to serving quality drinks and dishes to their fellow Oklahomans.
Top Oklahoma Wineries and Vineyards
Wineries and vineyards have been popping up all over Oklahoma over the last few years! Here are some that you should check out.