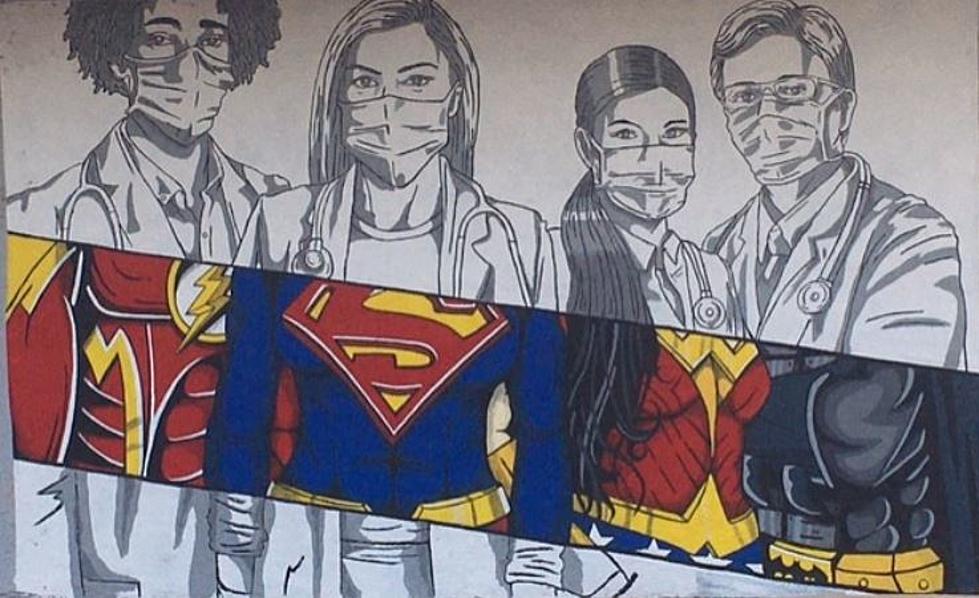 Lawton's Newest Mural Pays Tribute to Healthcare Workers
TSM Lawton: Critter
We have a brand new mural in Lawton, Fort Sill thanks to Justin Hackney and Spreading PAINT. You can see the new mural on the corner of Gore Blvd and 14th Street on the side of Hearts That Care Volunteer Clinic at 1313 W. Gore Blvd. Hackney's latest masterpiece is located on the west side of the building.
The mural is a tribute and thanks to all of our healthcare professionals for all they've done and continue to do for us throughout the pandemic. They certainly deserve our thanks and appreciation that's for sure and this mural does a great job of doing just that. Justin has been working on it for a while now and just recently completed it right before the holidays. you'll definitely want to stop by and check it out in person.
The mural features healthcare workers as superheroes. There's the Flash, Superman, Wonder Woman, and Batman. When we last spoke with Justin he told us he was working on a new mural and wanted to do something that honored our 'Medial Heroes' and he certainly delivered. A BIG THANKS to Justin Hackney of Spreading PAINT and Willy Paulus of Spectrum Paint for all their time, effort, and generosity.
Justin Hackney's murals are a popular place for people to go to take selfies and other photos. He's done a lot of them, so it can be challenging to find them all. We put together a photo list complete with addresses so you can check them all out for yourself. As impressive as they are from the road they're really impressive up close and personal. So scroll through the photo gallery below, pick your favorites, and head that way! 
Where to Find the many murals by Justin Hackney's Spreading PAINT in Lawton, Fort Sill.
If you've driven around town you've probably seen all the murals we have in Lawton, Fort Sill. If you take the time to look you'll notice that they're everywhere. We're lucky to have so many talented artists that share their work with us regularly by painting murals. One name you've probably heard before is Justin Hackney and
Spreading PAINT
. His work of masterful murals can be found all over town. He's done some of the very best and has painted everything from rock stars to celebrities and everything in between. He has a style all his own and has painted murals in full color, vivid transposed negative style, and in black and white. Be on the lookout for his latest mural masterpiece he's going to keep painting them so long as people want them and there's wall space. Looking forward to seeing his next one! Check out the gallery below of Justin Hackney's Spreading PAINT murals and where to find them. We'll continue to add to the gallery as he paints them.
The Dreadful Downtown Hauntings of Lawton, OK.
When it comes to ghost tales and hauntings Lawton, Fort Sill has more than a few scary stories to tell. The most active hauntings and paranormal/supernatural occurrences that have been reported seem to be centered around downtown Lawton. If you've lived here a while I'm sure you've heard a few of these terrifying tales yourself. If not check out the photo gallery below of the dreadful downtown hauntings of Lawton, OK.
Look inside this Epic Eastside estate for sale in Lawton, OK.
Take a look inside of the most expensive house for sale in Lawton, Fort Sill. This mini-mansion is an epic Eastside estate that's listed for
$1,500,000
by
Jeanne Rock of Re/Max Professionals
. If you've been on the Eastside on Flowermound Road you may have seen this house, it's
located at 610 N.E. Flowermound Road.
It's a 3,900 square foot, 4 bedroom, 3 bath, 3 living room, 3 car garage home that sits on 54 plus acres!
If you'd like to see what $1,500,000 would buy you take a virtual tour, scroll through all the photos below:
Things To Do In Lawton - Fort Sill
Odds are, if you live here long enough, you'll simply forget how much awesomeness surrounds this community. It's like getting tired of an old toy, the new simply wears off... but, no matter what time of year it is, here are some things to do when you come to Lawton - Fort Sill